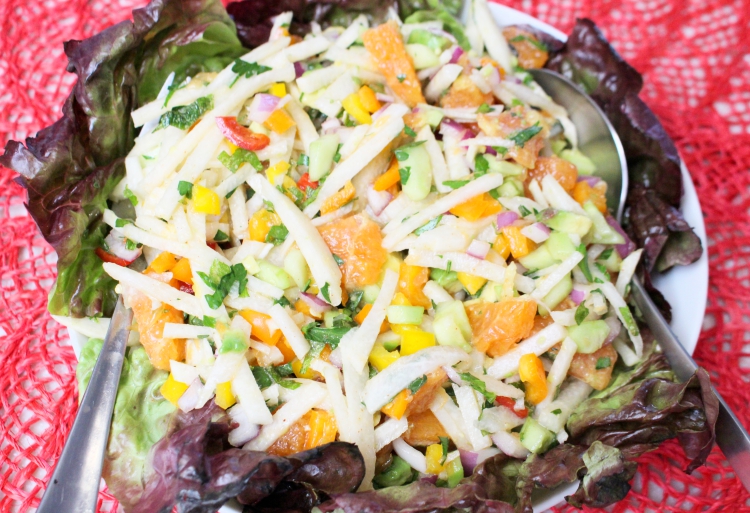 If you have never prepared or even tasted jicama (hee-cah-mah), you're in good company. These odd looking vegetables don't offer a clue about how to use them, yet they are are a wonderfully crisp, mild and refreshing treat, perfect for a summer salad or as finger food to dip in guacamole or other light dips.
Jicama is a New-World plant, likely originating in Mexico, and is the root of a legume that produces a bean that is toxic. However, the jicama root is quite edible and nutritious, especially high in vitamin C, magnesium and potassium, and very low in calories. It's globe-shaped and usually weighs in the range of 1 -3 pounds, with a papery skin that needs to be peeled off before eating. It has a slightly sweet, neutral flavor, and is crisp like a water chestnut.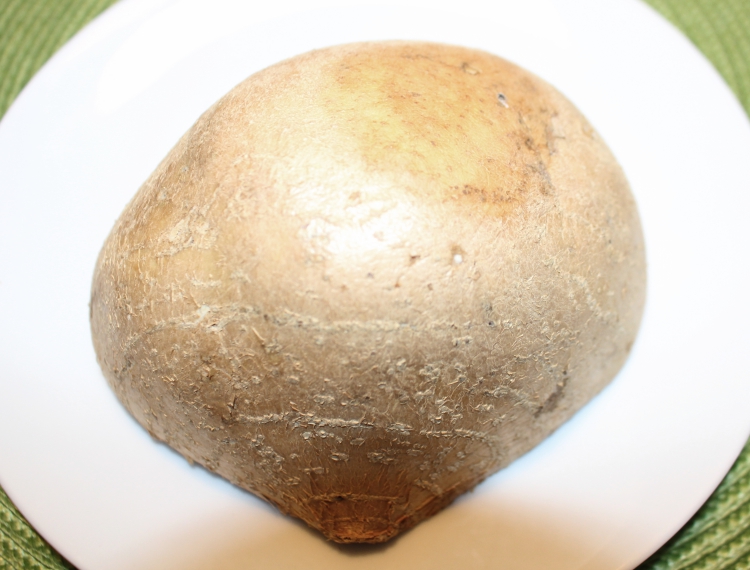 A friend of mine made a jicama salad, this spring that was very, very good. As a serious salad lover, I wanted to make it too and have created my own spin on the recipe. The original recipe calls for a naval orange. I purchased some Cara-cara navel oranges in late February (which I highly recommend if you haven't tried them, as they are truly exceptional), and I had hoarded them so I used one in this recipe. However, if it's mid-summer, I strongly suggest substituting a large nectarine or peach as the ideal substitute.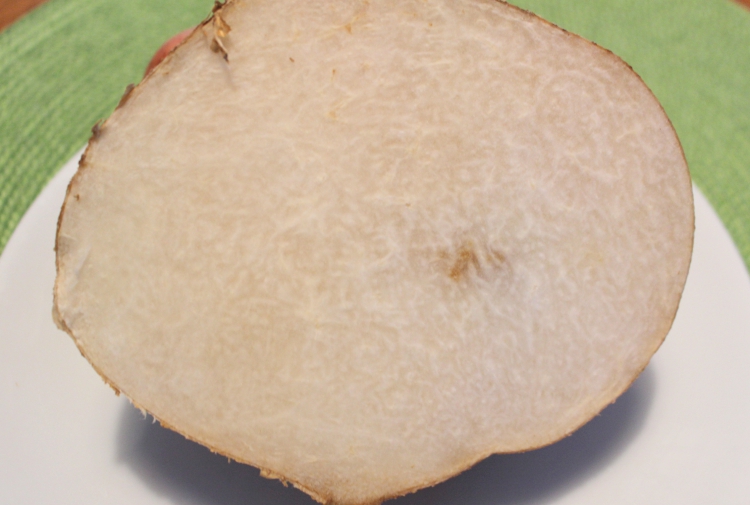 As I didn't need a 2-1/2 pound jicama, I asked a produce worker if it was possible to purchase half a jicama. He happily obliged. I have seen smaller ones in the market, but they are usually available in the late winter. They store well in the refrigerator, so even if you end up with a big one, you'll likely want to make the salad a couple of times at the least. If you have leftover jicama, make guacamole or another favorite dip, cut the jicama into julienne strips, and feel virtuous as you enjoy them as much as the salty, calorie laden chips you would have otherwise used.
This recipe makes a fair amount of salad, so feel free to cut it in half — or not. It's a perfect picnic salad as it won't wilt or be dangerous if it's a hot day.
Print
Crisp, Refreshing Jicama Salad
Author:
Yield:

At least 4
1 large jicama (about 1 – 1–1/2 pounds), peeled, then julienned or cubed (easiest to work with if you cut the jicama in half first)
1/2 red bell pepper, diced
1/2 yellow bell pepper, diced (or substitute whole, small, colored sweet peppers, diced)
1/2 cup red onion chopped
1/2 large cucumber, peeled, seeded and chopped
1 navel orange, peel cut away, sliced crosswise, then each round quartered (or cut in eighths if the orange is large)
1/2 large avocado, chopped
1/2 cup chopped fresh cilantro (can substitute flat leaf parsley)
3 tablespoons avocado oil or extra virgin olive oil
1/3 cup lime juice (lemon juice is fine)
1 teaspoon Rain's Choice pure vanilla extract
Large pinch of smoked paprika

1/2 teaspoon sugar or 3/4 teaspoon agave or honey
Salt and white pepper
Instructions
Toss together the jicama, bell peppers, red onion, cucumber, orange, avocado and cilantro in a large serving bowl.
Blend avocado or olive oil with lime juice. Add sugar, honey or agave, vanilla, paprika, and salt and freshly ground white pepper to taste.
Let the salad rest for half an hour before serving.
Notes
If oranges or mandarins are not in season, substitute mango, peach, nectarine or apple. If you don't tolerate cilantro, substitute flat-leaf parsley.
The jicama skin peels off easily using a knife; a peeler is a little more awkward to use.
Latest posts by Patricia Rain
(see all)