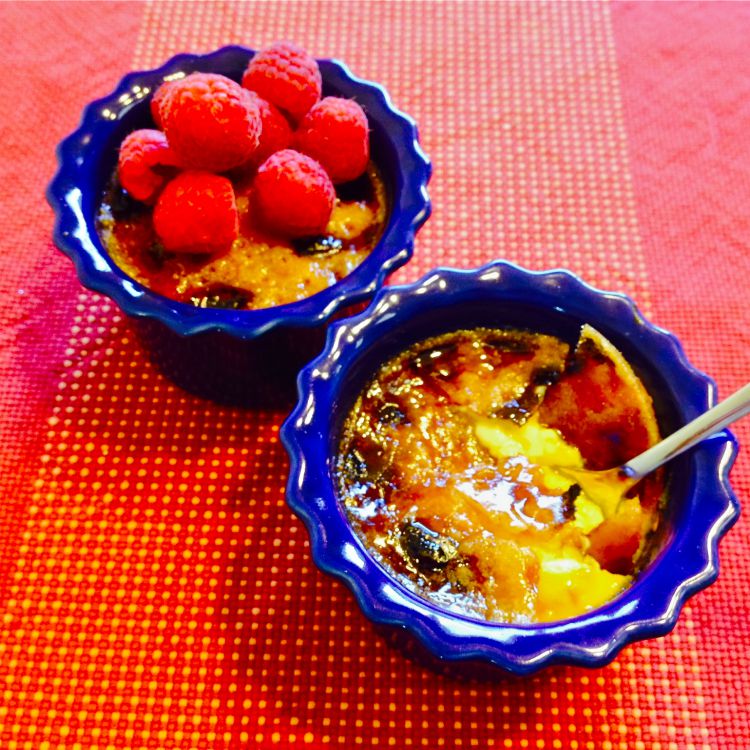 This is a very popular dessert as most of us love the rich and homey taste and texture of custard. The warm crunchy sugar crust, in contrast with the silken cold custard makes each bite a total sensory pleasure. Serve just as it is or with fresh berries on top.
Note: You may substitute 2 teaspoons of Rain's Choice vanilla paste instead of the bean, vanilla bean powder and extract. Eliminate the bean, powder and extract and add vanilla bean paste to the cooled custard mixture before baking.
Print
Very Vanilla Creme Brulee Plus Variations
Instructions
Combine cream and sugar, and vanilla bean in a heavy saucepan and bring to scalding point. Remove from heat, and allow to cool slightly. Beat egg yolks in a stainless steel bowl. Combine with cream mixture, and allow to cool several hours or in refrigerator overnight.
Remove the vanilla bean and scrape seeds into the cream mixture. Add ground vanilla bean powder and extract. Pour cream mixture into 6 ounce ramekins or a shallow 2 quart casserole. Place in a larger baking dish. Fill dish with hot water so that water comes halfway up custard container's sides. Bake at 350 degrees until a knife inserted 1 inch from edge of custard comes out clean (center will be soft), about 25 – 30 minutes, depending on containers.
Remove custard from water bath and allow to cool, then cover and refrigerate overnight.
To serve, cover custard (s) with an even 1/4 inch layer of vanilla sugar. Using a kitchen torch, heat sugar topping until it caramelizes and becomes hard. Serve immediately.
Chocolate Crème Brulee
Melt 5 ounces finely chopped high-quality bittersweet chocolate in the top of a double boiler over simmering water. Whisk the melted cooled chocolate into the warm egg and cream mixture, then proceed with the recipe.
Notes
Note: Chef Beth Hensperger offers two alternative methods for creating caramelized sugar topping for crème brulee. While the torch method is the easiest, you can use the oven broiler. She suggests that you place ice cubes on the baking sheet to help the custards keep their cool while the sugar topping browns.
You also can make a hard, lollipop-like topping, which can then be refrigerated and will last up to 12 hours before it softens. Place a bowl of cold water next to the stove. Combine 2/3 cup vanilla sugar and 1/4 cup water in a small, heavy saucepan. Cook over medium heat, without stirring. Swirl pan, holding it by the handle. Bring syrup to boil over high heat, cover and boil 2 minutes. Uncover and cook until syrup just darkens to amber. Do not stir. Dip bottom of pan into cold water to stop cooking.
Working quickly, spoon 1 tablespoon syrup over top of 1 cold custard; tilt custard to completely cover with caramel (it will bubble, then become smooth). Repeat with each remaining custard. Serve or refrigerate.
Latest posts by Patricia Rain
(see all)