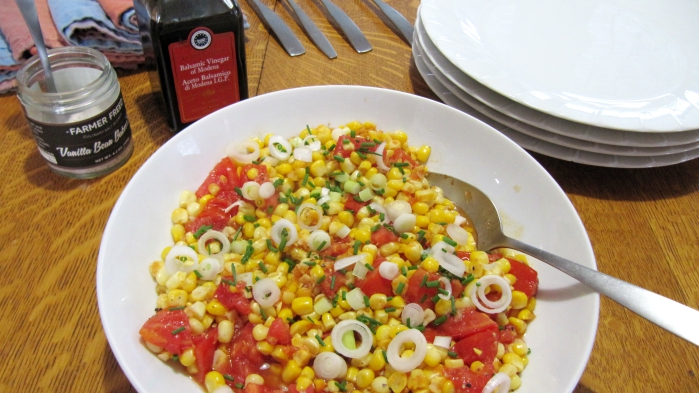 The creamy sweetness of corn and vanilla pair together perfectly. So here's an easy late summer recipe to get you started with Vanilla Salt. This is also a nice, low-fat, low-calorie dish that is great for dieters or to serve as a side dish with grilled meat or fish. As it's delicious at room temperature and it's finished with balsamic vinegar, it easily doubles as a salad.
You will need roughly an ounce of pure ground vanilla beans and four ounces of good-quality sea salt. Blend the two together and package in a tightly sealed container. You now have a wonderful flavored salt that is delicious with vegetables, fish, poultry, meats and grains. Here's the perfect recipe to try out your new salt. If you don't feel like making your own you buy it ready-made here

Print
Corn and Tomato Saute with Vanilla Salt
6 – 8 ears of white or bi-colored corn, shucked, and kernels cut off
1–1/2 tablespoons extra-virgin olive oil
1 clove garlic chopped
2 – 3 ripe tomatoes, chopped
1/2 teaspoon vanilla salt
pepper to taste
1 tablespoon balsamic vinegar (can substitute sherry or wine vinegar if preferred)
3 scallions, green and white parts, chopped
Instructions
Heat oil in large sauté pan on medium heat. Add garlic and sauté until golden. Stir in corn kernels and cook for about 4 minutes. Add tomatoes plus juices and continue cooking for another 2 minutes, until they just soften, stirring occasionally. Season with vanilla salt and pepper. Add vinegar, and allow to cook for about 1 minute, or until most of the liquid has evaporated. Turn off heat and stir in scallions.
Serve immediately as a hot side dish, or chill for a salad.
Look Delicious?
Pin it for the world to see!
Latest posts by Patricia Rain
(see all)