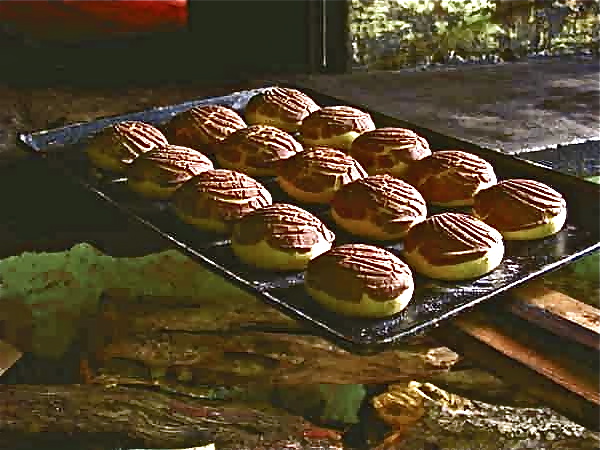 Sweet Breakfast Breads with Flavored Shell-Shaped Toppings
From Yucatan: A Culinary Expedition by David Sterling
David says, "The Conchas I enjoyed on my first trip to Mexico many years ago still stand out as the benchmarks: gently sweet, yeasty dough–almost creamy–topped with crumbly, sugary caps in different flavors. None that I have tried since come close to that original ecstasy–except for homemade ones. "Conchas" means "shells" and refers to the characteristic pattern traced in the flavored toppings."
Prepare ahead note: Like many breads, Conchas are unbelievably addictive eaten right out of the oven, but they will keep well for 2–3 days in an airtight container. Reheat before serving by wrapping in paper towels and heating in the microwave oven for 20 seconds, or heat without a wrapper for 2–3 minutes in a toaster oven.
Print
Conchas – Sweet Mexican Breakfast Bread
Dough
1/2 cup (125 ml) warm water
2 packets (2 teaspoons / 2 oz. / 14 g) active dry yeast
1/2 cup (125 ml) canned evaporated milk
1/3 cup (75 g) butter, melted
1 egg, beaten
4 cups (500 g) all-purpose flour
1/4 cup + 2 Tbs. (74 g) granulated sugar
1 tsp. (6 g) sea salt
1/2 tsp. (1.5 g) ground canela (Mexican cinnamon)
Flavored Toppings
2/3 cup (135 g) granulated sugar
1/2 cup (112 g) butter
1 cup (125 g) plus 1 Tbs. (8 g) all-purpose flour, divided
1 teaspoon (5 ml) Rain's Choice pure Vanilla Extract
1 teaspoon (3g) ground canela
1 tablespoon (8 g) unsweetened cocoa powder
Instructions
Prepare Dough
Place the water and yeast in the bowl of a stand mixer fitted with a dough hook and beat to incorporate. Allow the mixture to rest a few minutes as you continue.
Mix the milk, butter, and egg together in one bowl and the remaining dry dough ingredients in another. With the mixer on low speed, add the liquid ingredients to the yeast mixture and beat 15 seconds, until incorporated. Add half the dry ingredients and beat slowly until blended, about 1 minute. Add the remaining dry ingredients and beat again until blended. With the mixer on medium-high, beat 3–4 minutes, or until the dough starts pulling away from the sides of the bowl. Stop and pull some of the dough between your fingers: it should be very elastic and only slightly sticky.
First Rising
Transfer the dough to a lightly floured surface and knead until smooth, 3–4 minutes. Place it in a large buttered bowl and turn to coat with the butter. Cover with a towel and allow to rise in a warm place 1 hour, or until doubled in volume.
Prepare Flavored Toppings
Cream the sugar and butter in the bowl of the mixer until lightened and fluffy. Beat 1 cup (125 g) of the flour into the mixture until a stiff paste forms. Divide this paste into thirds and place each third in a small mixing bowl.
Mix the vanilla and the remaining 1 tablespoon (8 g) of flour into one-third of the paste; mix the canela into another; and mix the cocoa into the final third. Divide each of these flavored toppings into 4 equal balls of about 1 ounce (32 g) each. Pat them into round, flat shapes and set aside. You will have 12 of the flavored toppings.
Form Conchas and Second Rising
Butter a baking sheet and set aside. When the yeast dough has doubled, punch it down and transfer to a lightly floured surface. Pat the dough into a large pie shape and, with a long knife, cut it into 12 equal wedges as you would a pie. Shape the wedges into balls, turning the floured, dry side in and the damper side out.
Place the dough balls on the baking sheet about 3 inches (8 cm) apart. Pat them into round and slightly flatter shapes. Place the circles of flavored toppings on top of the dough balls and pat down lightly to seal; the toppings will cover the entire top of the dough ball and extend down the sides about halfway. Cover with a towel and allow to rise in a warm place until doubled in volume, about 45 minutes.
Preheat the oven to 375 degrees F (190 degrees C). When the Conchas have risen and just before baking, use a sharp knife or a razor blade to cut radiating grooves like a scallop shell into the topping. Bake until pale golden brown, 30–45 minutes, depending on your climate and oven conditions.
Look Delicious?
Pin it for the world to see!
Latest posts by Patricia Rain
(see all)