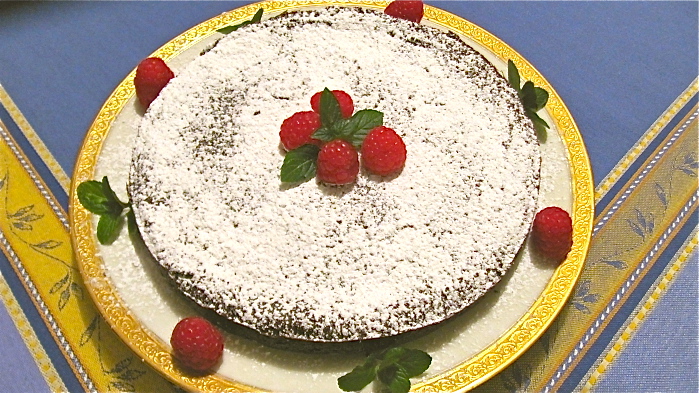 Densely rich and chocolatey, this gluten-free, dairy-free torte will surpass your expectations. It did mine. It's perfect for vegans as well as those of us who can't tolerate gluten or dairy. A sensational, show-stopping dessert, it's especially good with raspberries and raspberry coulis. Even those people who recoil at the idea of tofu, would never guess that this dessert contains tofu.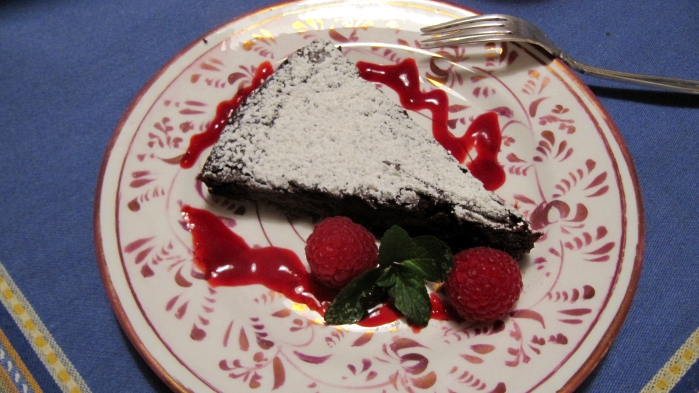 Print
Double Chocolate Raspberry Tofu Torte With Raspberry Coulis
Double Chocolate Raspberry Tofu Torte
1/2 package silken tofu
1/2 cup granulated sugar
2 tablespoons coconut or sunflower oil
1/4 cup natural cocoa powder, sifted
1 tablespoon Rain's Choice pure Vanilla Extract
1 tablespoon raspberry liqueur or wine
1/4 teaspoon salt
4 ounces 65% high quality chocolate such as Guittard, Lindt, Callebaut, etc.
1 cup almonds, finely ground (or 1 cup almond meal)
1 cup frozen or fresh raspberries
Raspberry Coulis
1 package frozen raspberries or 1 pint fresh raspberries
2 – 4 tablespoons sugar (to taste)
1 tablespoon raspberry liqueur or wine
Instructions
Double Chocolate Raspberry Tofu Torte
Preheat the oven to 350ºF. Line an 8-inch cake or spring form pan with parchment paper.
Purée the tofu in the food processor, until very smooth, then add the sugar, oil, cocoa, vanilla, raspberry liqueur, and salt. Pour into a large bowl.
Using a glass bowl or a double boiler, heat water to a simmer in the lower pan to gently melt the chocolate. Pour the melted chocolate into the tofu mixture, mixing just enough to fully incorporate ingredients. Fold in the ground almonds, using a rubber spatula.
Pour half of the batter into the prepared pan, then evenly sprinkle the raspberries over the top. Cover the raspberries with the remaining batter.
Bake for 45 – 50 minutes or until the sides have cracked and the center is just firm.
Cool the cake completely in the pan or refrigerate until serving.
To serve, run a knife around the edge and release the sides of the pan.
Dust with confectioners sugar and serve with a raspberry coulis.
Raspberry Coulis
Place berries and sugar in a heavy, medium saucepan over medium heat. Cook until berries begin to release juices. Press berries down to release more juices.
Remove from heat, add liqueur, and run through a sieve to remove seeds.
Spoon a tablespoon or 2 of coulis on plate and place slice of torte on top. Top torte with a raspberry or mint leaves.
Look Delicious?
Pin it for the world to see!
Latest posts by Patricia Rain
(see all)