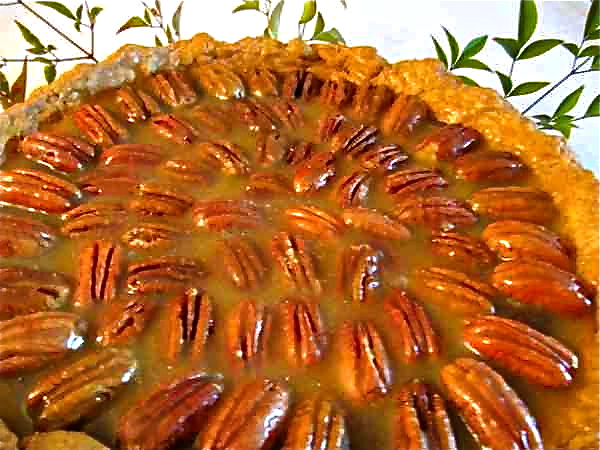 This is killer, no way around it. And it's worth every bite! I don't like corn syrup so I use honey or agave as a substitute. It works just fine. If you do use corn syrup, you may want to add a little more sugar to the recipe as agave is sweeter than sugar.
Print
The Queen's Chocolate Pecan Pie
1 unbaked pie crust
8 ounces dark chocolate cut in chunks
3 extra large eggs
3/4 cup brown sugar, packed
1 cup agave syrup
1 tablespoon Rain's Choice pure Vanilla Extract
1/2 teaspoon Ceylon cinnamon
1/2 teaspoon nutmeg
1 cup toasted pecan pieces (walnuts may be substituted)
1/2 cup toasted pecan halves
Instructions
Preheat oven to 350 degrees.
Place chocolate in a microwave-safe bowl and carefully melt it. If not using a microwave, place in a small saucepan and place on a heat diffuser on stove. Melt on very low heat. (you can also use a double boiler if you prefer). Set aside to cool.
In a large bowl mix eggs with brown sugar and agave and beat until well blended. Add vanilla, cinnamon and nutmeg.
Spread chocolate over pie crust and cover with pecan pieces. Carefully pour in egg/sugar mixture. Place pecan halves decoratively on top.
Bake for 50 – 60 minutes or until pie no longer jiggles. Allow to cool on rack until completely set.
Serve with whipped cream if desired.
Look Delicious?
Pin it for the world to see!
Latest posts by Patricia Rain
(see all)