While these Chocolate Macaroon Bars qualify as cake, they're really more of a confection. Rich and gooey, they are so delicious and can easily become a must have for chocolate and coconut lovers.
Print
Chocolate Macaroon Bars
Chocolate Cake
4 oz. Unsweetened Baking Chocolate
3/4 cup butter
1 1/2 cup sugar
3 eggs
2 teaspoons Rain's Choice pure Vanilla Extract
1 cup flour
Macaroon
3 cups unsweetened coconut
1/4 cup almond meal
3/4 cup sugar
4 egg whites
1 teaspoon Rain's Choice pure Vanilla Extract
Chocolate Ganache Topping
5 oz bittersweet chocolate chips
1 tablespoon coconut oil
1/3 cup heavy cream
Instructions
Preheat oven to 350 degrees F.
Prepare a glass 8×8 baking pan with cooking spray. Set to side.
In a glass bowl, microwave the unsweetened chocolate and butter for 1 minute on high. Remove and stir. If the chocolate and butter are not fully melted microwave an additional 30 seconds and stir.
Stir in the sugar, eggs and vanilla until all ingredients and mixed well. Fold the flour into the chocolate mixture.
Set aside.
In a medium sized mixing bowl, combine the shredded coconut, almond meal, sugar and egg whites and stir until all ingredient are fully incorporated and moist.
Pour half of the chocolate cake mixture into the glass pan.
Spread the coconut macaroons evenly over the chocolate layer and pour the remaining chocolate cake over the coconut.
Bake for 35 – 40. Do not overcook – Bake just long enough for a toothpick to come out clean.
Let cool.
To make the chocolate ganache, place the chocolate chips in a glass bowl with the coconut oil and microwave for 1 minute. Remove and stir until melted, microwaving an additional 30 seconds if necessary. Let cool and then stir in the heavy cream.
Once the cake has cooled, pour the ganache over the cake and let set 1 1/2 -2 hours.
Cut into squares and serve.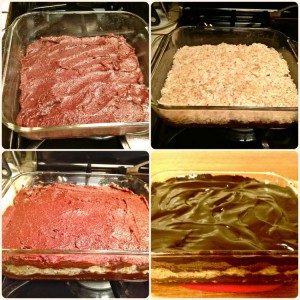 Look Delicious?
Pin it for the world to see!
Latest posts by Serena Rain
(see all)