Chocolate Dipped Honeycomb Crisps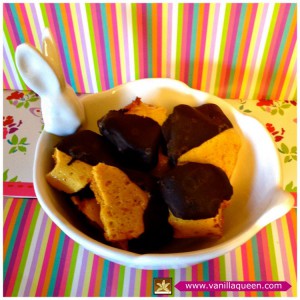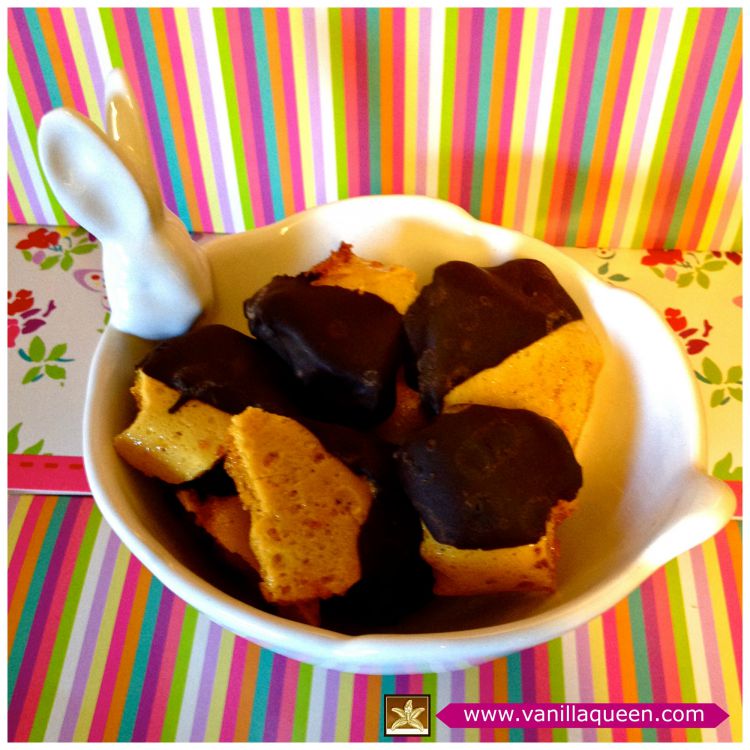 While these deliciously crunchy candies do not actually contain honey, the bubbles that give them their light air airy texture and their deep golden color, conjure up images of bees and nature's sweet treat. Perfect for topping cakes and desserts or just served on their own, we think you'll be pleased with their surprising texture and rich flavor.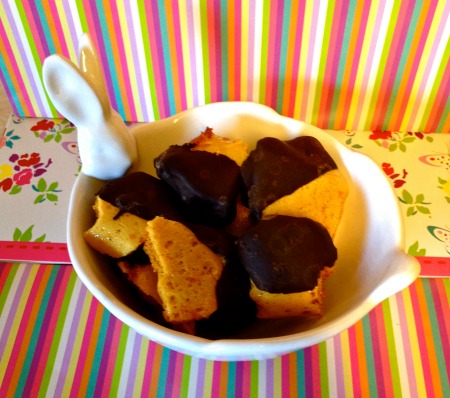 Chocolate Dipped Honeycomb Crisps
2018-03-18 15:42:38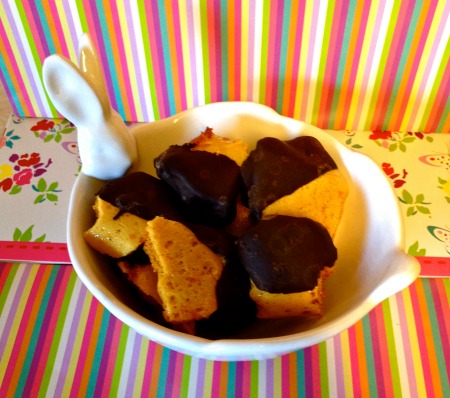 Ingredients
2 cups Rain's Choice Vanilla Sugar
1/2 cup organic corn syrup
1/3 cup water
1 tablespoon baking soda
Dipping Chocolate
10 ounces dark or bittersweet chocolate chips - We like Guittard
1 tablespoon of butter
Instructions
Line an 8x8 glass pan with 2 layers of parchment paper, criss-crossed so that both sides of the pan are covered. Set aside.
In a medium sized sauce pan, over medium heat, combine the sugar, corn syrup and water, stir and bring to a boil. Allow to boil 5-10 minutes, until it reaches 300 degrees fahrenheit. Remove from heat.
Sprinkle the baking soda over the caramel and stir. The caramel will start to bubble and rise. Pour the caramel into the lined pan and let set for 1-2 hours until fully hardened and cooled.
Lift the hardened candy from the pan, remove the parchment paper and place on a cutting board. With the blunt end of a spoon handle, crack the candy into bite size pieces.
Dip in chocolate
Place the chocolate chips and butter into a medium sized glass bowl and microwave for 30 seconds. Stir. Repeat until chocolate is melted and smooth.
Dip the ends of the honeycomb candy into the chocolate and place on a parchment lined baking sheet or cooling rack to set. Return the chocolate to the microwave periodically to re-temper until all honeycomb is dipped.
https://vanillaqueen.com/
Latest posts by Serena Rain (see all)
Tags: dipped chocolate, holiday candy, honey comb