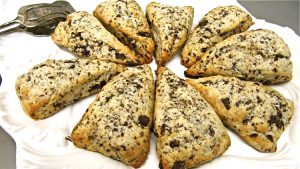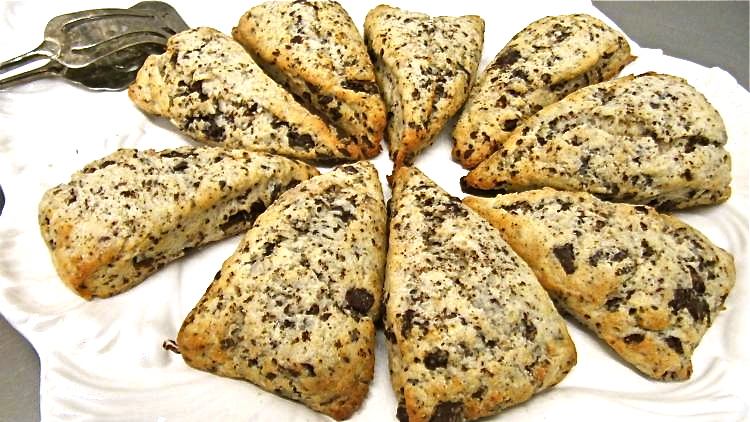 Who wouldn't want a plate of scones fresh from the oven? Especially cream scones! Delicate, tender, with flecks of melted chocolate, these scones were originally the brain-child of the chocolate diva, Alice Medrich. My friend and co-instructor of classes on vanilla at our local community college, Anne Baldzikowsky, tweaked the recipe slightly by dusting Rain's Choice Vanilla Sugar over the tops of the dough, making them sparkly and slightly crunchy.
Serve these scones for breakfast, brunch or afternoon tea. Don't expect leftovers!
Print
Chocolate Cream Scones
2 cups all-purpose unbleached flour
1/4 cup granulated sugar
2–1/2 teaspoons baking powder
1/2 teaspoon salt
4 ounces semi-sweet chocolate, coarsely chopped
1–1/4 cups heavy cream
1–1/2 teaspoons Rain's Choice pure Vanilla Extract
1 tablespoon cream
1 tablespoon Rain's Choice Vanilla Sugar
Instructions
Preheat oven to 425 degrees conventional oven or 375 convection oven.
Take an 8″ cake pan and generously dust it with flour.
In a medium -size bowl, sift together flour, sugar, baking powder, and salt.
Stir in the chopped chocolate.
Make a well in the center of the dry ingredients and pour in the whipping cream and vanilla. Stir the mixture with a large spatula, pressing down the dough along the sides of the bowl to moisten all of the dry ingredients. The dough will look a little shaggy.
Place the dough into the floured 8:" pan and press the dought into the pan with your fingertips. Work quickly as you don't want the dough to become warm.
Invert the disk of dough onto a lightly floured counter-top and brush off excess flour with a dry pastry brush.
Slice the dough into 12 wedges and place scones onto a parchment-lined baking pan.
Brush with the remaining 1 tablespoon cream and sprinkle with vanilla sugar.
Bake for 12-15 minutes in a conventional or 1-10 minutes in a convection oven or until tops a light golden hue.
Serve warm.
Notes
from Alice Medrich, Bittersweet
Latest posts by Patricia Rain
(see all)