Chewy Chocolate Chocolate Chip Cookies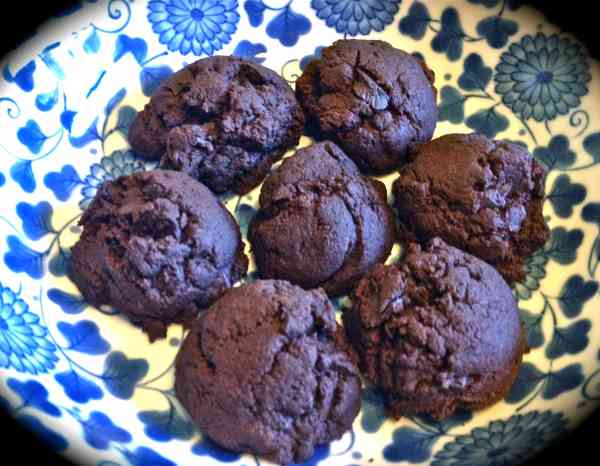 Print
Chewy Chocolate Chocolate Chip Cookies
Scale
Ingredients
2 cups unbleached, all-purpose flour (or mix whole wheat pastry flour with all-purpose flour)
½ cup unsweetened cocoa powder (not Dutch-processed)
1/2 teaspoon baking soda
1/2 teaspoon salt
1/2 teaspoon ground cinnamon, optional
2 sticks unsalted butter, softened
1 cup (firmly packed) light brown sugar
1/2 cup granulated sugar
1 generous tablespoon "Lyles" Golden syrup (in the supermarket with the corn syrup, honey and molasses)
1 teaspoon Rain's Choice pure Vanilla Extract
1 extra-large egg
1 teaspoon instant espresso powder (optional)
1 ½ to 2 cups semi-sweet chocolate chips (or use half chopped walnuts and half chips)
Powdered sugar (optional, for dusting)
Instructions
If planning on making the batter and chilling or freezing, lay a 14-inch sheet of plastic wrap on your counter and overlap another sheet on top, just to one side, to widen the plastic surface. Do this once more on other areas of your counter (if you don't have enough counter space, just work with one plastic set-up at a time.) If planning to bake, straight away, preheat the oven to 350F and line a few cushioned cookie sheets with parchment paper.
In a medium bowl, use a whisk to combine the flour, baking soda, salt, cocoa, and cinnamon, if using. Using an electric mixer, fitted with the paddle attachment, (alternatively, use a wooden spoon), cream the butter with the sugars (including the syrup) until light. Add the egg, espresso powder and the vanilla, and beat until well incorporated. On low speed, mix in dry ingredients until well combined. Stir in the chocolate chips (or nuts and chips) and mix until well-distributed (expect the batter to be stiff). If using all whole wheat pastry flour, mix 2 tablespoons boiling water with the espresso powder and allow it to cool to just warm. Add this to the machine when you would add the vanilla.)
Using a large, sturdy rubber spatula, divide the mixture into two or more sections, placing one on each plastic wrap setup. Lift up one long edge of one piece of plastic and lay it over the cookie mixture. Roll mixture in the plastic until you reach the opposite edge. Using your hands, gently hold and press the plastic, over the cookie mixture while moving your hands, going in the opposite direction, to create a long log of cookie dough, about 2-inches in diameter. Smooth and correct the shape, then twist ends of plastic and secure them with twist ties. Repeat with the remaining portion(s) of dough. Store the logs in a doubled, jumbo heavy-duty freezer bag (if logs are longer than your bags can accommodate, wrap the logs in heavy-duty foil. Refrigerate the logs for up to 3 days or freeze them for up to 2 months.
If dough is frozen, place as many logs as desired in the refrigerator overnight to thaw, but keep chilled until ready to bake. Position the oven racks to the upper and lower levels and preheat the oven to 350oF. Line one or two cookie sheets with parchment paper but do not grease paper. Unwrap a log of dough and, using a knife or the blade of a pastry scraper, cut off chunks of dough about 1 1/2 to 2 inches thick. Round off any squared edges, if needed, and place the cookie dough pieces 2 inches apart on the prepared cookie sheet(s). Using the palm of your hand, flatten each cookie slightly and correct the shape a bit.
Bake in preheated oven for 9 to 12 minutes, switching the shelf position of the sheets after half the baking time. When done, cookies will be low yet puffed and will seem underdone in the center. If very chilled, the dough will take the full 12 minutes and, if baking right after assembling the batter, the cookies could be done after 9 (baking time will also depend on the size of your chunks of batter). Most important is to avoid over-baking. The texture will be best if it seems a bit more underdone than you think appropriate.
Remove sheets from the oven and place it on a wire rack. Use a metal turning spatula to lightly tap the tops of each cookie, deflating their "poofiness" and then let them sit on the hot sheets, on the rack, for 10 to 20 minutes. Using the metal spatula, transfer the cookies to a wire rack to cool further. Serve warm (they're really good warm) or completely cooled. Store cookies in an airtight tin or tightly covered cookie jar. If desired, right before serving, dust with sifted powdered sugar.
Look Delicious?
Pin it for the world to see!
Latest posts by Patricia Rain
(see all)
Tags: chewy chocolate chocolate chip cookies, Chocolate, cookies
Trackback from your site.
Patricia Rain
Patricia Rain
is an author, educator, culinary historian, and owner of The Vanilla Company (www.vanillaqueen.com), a socially conscious, product-driven information and education site dedicated to the promotion of pure, natural vanilla, and the support of vanilla farmers worldwide. She also does culinary presentations for food professionals, cooking schools, trade shows, food fairs, and private groups, and is a regular radio and TV guest.