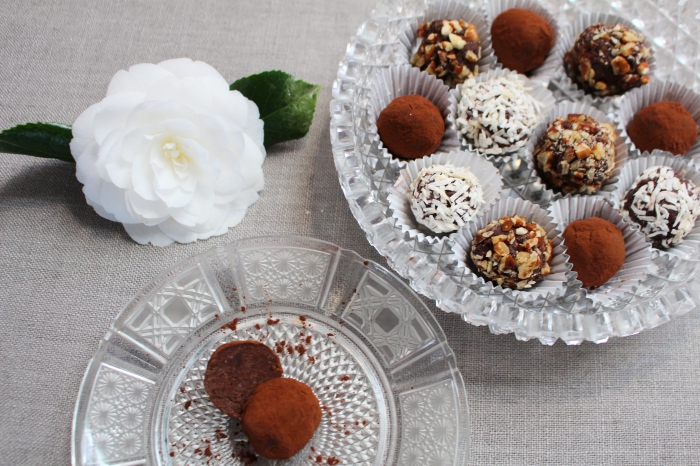 Chocolate Speaks: Who can resist Dark Chocolate Truffles? If you are new at candy making, truffles are one of the easiest candies to make. Even better, you can make traditional truffles using heavy cream and butter, or you can choose a healthier version by making them vegan. Follow the directions and I guarantee you'll be a star. The trick is using the best ingredients.
I use our 70% Nacional chocolate from Ecuador in this recipe. As both chocolate and vanilla are foods of the Americas and the way each is grown and processed is very similar (they are sometimes grown together with the cacao tree acting as the tutor for the vanilla vines), the two iconic flavors complement one another. You will taste both flavors when you take your first bite. They're subtly sweet, with a rich, full flavor, and they're perfect for dessert, as a small plates finish, or on a chilly day by a fireplace with Sherry or Port. Or, maybe a lunch box dessert, a consolation prize, or even just because.
If you like your chocolate a bit sweeter, blend the Nacional chocolate with some 60 -65 % bittersweet chocolate. Or, add a tablespoon of sugar, agave or honey with the cream or coconut milk, taste and add more if you wish. However, increasingly people are eating chocolate that is less sweet. I've had really good feedback from friends who have said they prefer the sweetness to be subtle as you can taste more of the chocolate's over 500 flavor components that are hidden when chocolate is heavily sweetened.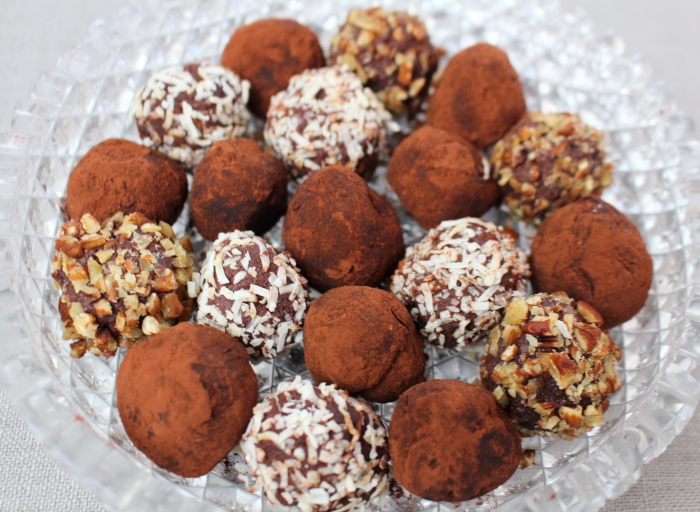 Full-fat coconut milk or a blend of coconut milk and coconut cream are an ideal substitute for heavy cream. The truffles in this photo are made from canned coconut milk; I recommend choosing a brand that is in a container that doesn't contain BPA. (This last matters because high-fat products leach BPA (a proven hormone disruptor) from the can.)
It's very important to melt chocolate carefully to keep it from burning. It's equally important to add cream or coconut milk/cream that is hot and to carefully blend it as chocolate can sometimes "seize" and become gritty and inedible. (This is most likely to happen if water gets into the chocolate mixture.) You are adding liquids with a lot of fat, in this case, so it will blend easily. This gives you an idea of how the mixture will look (with or without the fork marks) when it is cool enough to roll into balls: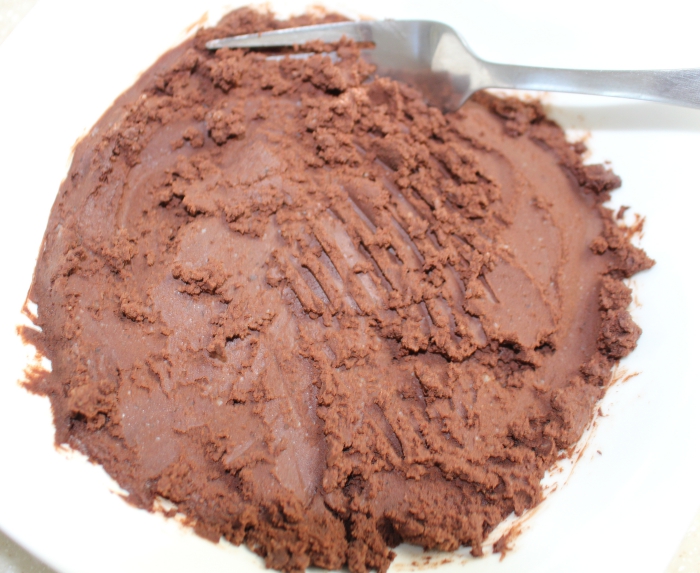 If you have prepared the chocolate, cream and butter (or coconut milk and cream), but have run out of time to roll the truffles, it may look like this: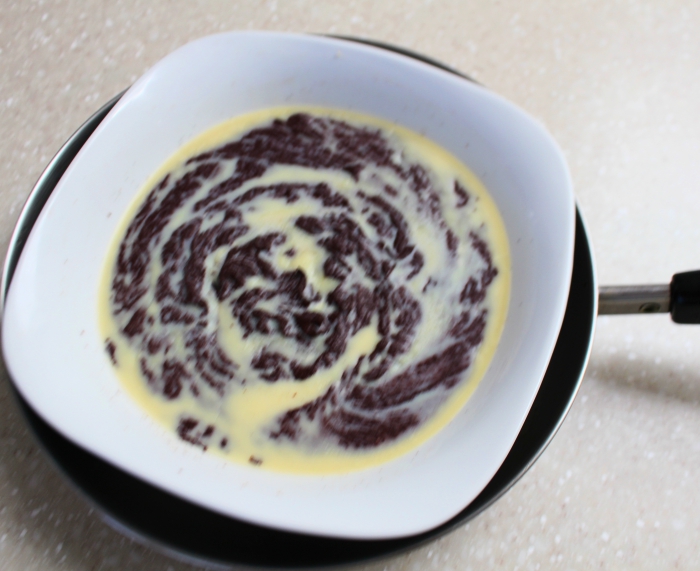 Don't worry; the butterfat or cocoa butter has separated from the chocolate. Simply reheat it over warm water on low heat, using a shallow pan, or very carefully melt it in the microwave. It will be fine.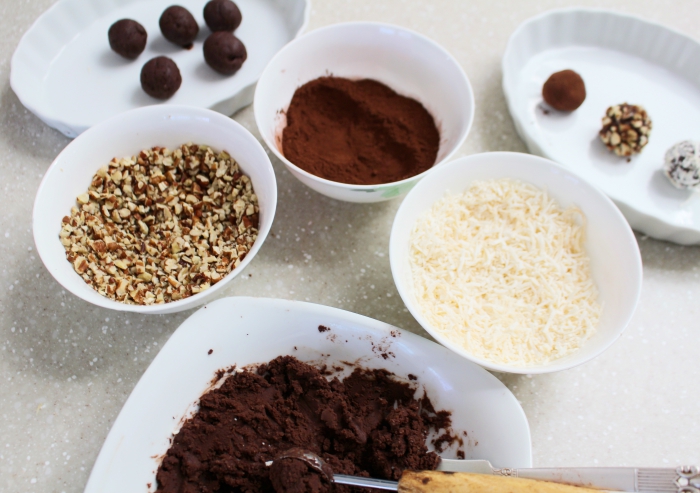 Rolling Truffles
You can add a small amount of different liquors or natural oils to create a variety of flavors and you can roll the truffles in lightly toasted chopped nuts, coconut, cocoa, crushed peppermint, cacao nibs or tiny candies to create interesting textures. However you do it, make some as a delectable gift for a friend and save some for yourself!
Print
Dark Chocolate Truffles – Traditional or Vegan
10 ounces good-quality semisweet or bittersweet chocolate, finely chopped
1 cup heavy cream (or full-fat coconut milk or part coconut milk and part coconut cream)
4 tablespoons unsalted butter, room temperature (If you are using a blend of coconut milk and coconut cream, you don't need additional coconut cream or oil. If you are just using coconut milk, you can add 1 – 2 tablespoons coconut oil or coconut cream.)
1 tablespoon light agave or non-gmo corn syrup
1 teaspoon Tahitian Vanilla Bean Paste
About 1/2 cup unsweetened cocoa powder, dried coconut, lightly toasted nuts, etc. in a bowl or on a plate
Instructions
Using a heat-diffuser melt chocolate over very low heat on the stove, stirring until it is just melted, or melt in a microwave-safe container and heat, at medium power, stirring every minute until most of the chocolate is melted.
Bring the cream or coconut milk to a boil in a saucepan on the stove or in the microwave. Remove from the heat; pour the cream over the chocolate, stirring until the mixture is thick, smooth and shiny.
Stir the butter or coconut oil if using into the mixture in pieces, stirring gently until the mixture is smooth and shiny. Stir in the agave or corn syrup and vanilla paste.
Place the chocolate mixture in a bowl, cover with plastic wrap, and put into the refrigerator for about 2 hours or until the mixture is firm.
Line a baking sheet with waxed paper. Using a melon baller or small spoon, scoop out chocolate and roll between your palms to make balls, then roll each one into the cocoa powder, nuts, coconut, etc. Put the finished truffles on the baking sheet. Return to refrigerator until firm. Store in an airtight container in the refrigerator until ready to serve. Allow to come to room temperature before serving.
Notes
Makes about 36 truffles or more, depending on size.
Latest posts by Patricia Rain
(see all)