Dark Chocolate Truffles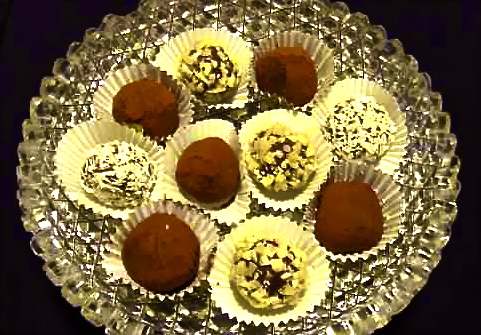 Chocolate truffles are one of the easiest candies to make, and they're always a hit as dessert, with tea or coffee.
Full-fat coconut milk or a blend of coconut milk and coconut cream are an ideal substitute for heavy cream. The truffles in this photo are made from canned coconut milk; I prefer Native Forest brand because it is rich and is in a container that doesn't contain BPA. (This last matters because high-fat products leach the BPA in the can.)
You can add a small amount of different liquors or natural oils to create a variety of flavors and you can roll the truffles in lightly toasted chopped nuts, coconut, cocoa, crushed peppermint or cacao nibs to create interesting textures. However you do it, make some as a delectable gift for a friend and save some for yourself!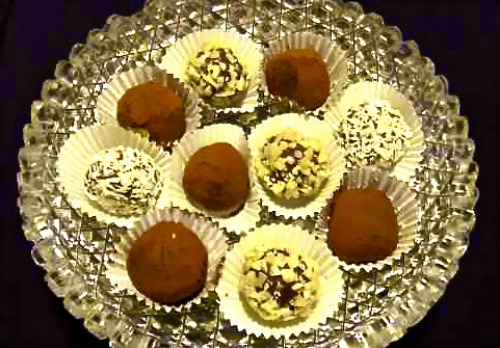 Dark Chocolate Truffles
2018-03-18 14:44:36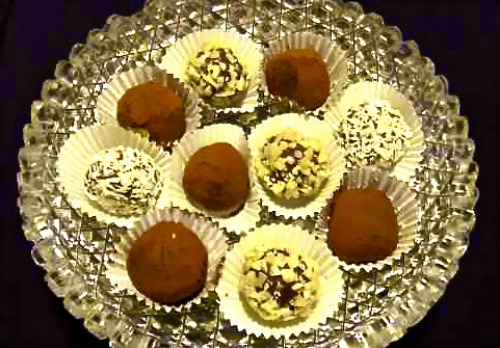 Ingredients
10 ounces good-quality semisweet or bittersweet
chocolate, finely chopped
1 cup heavy cream (or full-fat coconut milk or part coconut milk and part coconut cream)
4 tablespoons unsalted butter, room temperature (If you are using a blend of coconut milk and coconut cream, you don't need additional coconut cream or oil. If you are just using coconut milk, you can add 1 - 2 tablespoons coconut oil or coconut cream.)
1 tablespoon light agave or non-gmo corn syrup
1 teaspoon vanilla bean paste
About 1/2 cup unsweetened cocoa powder, dried coconut, lightly toasted nuts, etc. in a bowl or on a plate
Instructions
Using a heat-diffuser melt chocolate over very low heat on the stove, stirring until it is just melted, or melt in a microwave-safe container and heat, at medium power, stirring every minute until most of the chocolate is melted.
Bring the cream or coconut milk to a boil in a saucepan on the stove or in the microwave. Remove from the heat; pour the cream over the chocolate, stirring until the mixture is thick, smooth and shiny.
Stir the butter or coconut oil if using into the mixture in pieces, stirring gently until the mixture is smooth and shiny. Stir in the agave or corn syrup and vanilla paste.
Place the chocolate mixture in a bowl, cover with plastic wrap, and put into the refrigerator for about 2 hours or until the mixture is firm.
Line a baking sheet with waxed paper. Using a melon baller or small spoon, scoop out chocolate and roll between your palms to make balls, then roll each one into the cocoa powder, nuts, coconut, etc. Put the finished truffles on the baking sheet. Return to refrigerator until firm. Store in an airtight container in the refrigerator until ready to serve. Allow to come to room temperature before serving.
https://vanillaqueen.com/
Patricia Rain
is an author, educator, culinary historian, and owner of The Vanilla Company (www.vanillaqueen.com), a socially conscious, product-driven information and education site dedicated to the promotion of pure, natural vanilla, and the support of vanilla farmers worldwide. She also does culinary presentations for food professionals, cooking schools, trade shows, food fairs, and private groups, and is a regular radio and TV guest.
Latest posts by Patricia Rain (see all)
Tags: Chocolate, Chocolate Hazelnut Truffles, Chocolate Truffles, Dark Chocolate Truffles with Coconut Milk, hazelnut, Truffles, Truffles with nuts, Vegan Chocolate Truffles
Trackback from your site.