If you enjoy good food and love to cook or bake, you'll understand how excited I get when I discover a must-make recipe, sample a tropical fruit I've never heard of (longon and guanabana are two that caught my breath!) or have an exceptional meal that features a memorable entree. It kind of evokes the feeling of being a little richer or at least culturally richer if not financially.
The most recent show-stopper was in Peru last autumn when I visited my friend Sol and her mother Esther in Lima. We went to a very popular seafood restaurant close to their home. When they asked what I would enjoy I replied, "Surprise me with something new!" They did, which is how I fell in love with Causa. In fact, it was a two-for-one win as Causa has a history that makes it all the more unique as well as delicious.
Causa a la Limena (there's a tilda over the letter "n") is the formal name for Peru's national dish, Limena meaning that it's from Lima. It originated as a Pre-Columbian dish, no surprise as potatoes originated in Peru, Bolivia and Ecuador, with more than 4200 varieties of native potatoes. Causa also traditionally featured several different varieties of aji, the Peruvian word for peppers. It was a blend of mashed potatoes and aji that was layered with fish, crab, and seafood sandwiched between the layers.
After the Spanish arrived, they adopted and adapted Causa, adding lime juice and onions to the potato mixture, flavors that originated in Asia and were new to the native Peruvians. Other additions included the use of oil blended into the potatoes as well as black Mediterranean olives similar to botija or Kalamata olives decorating the top layer. Over time the recipe has been updated; additions now used for decorating the top layer of Causa include olives, hard boiled eggs peeled and cut in half, avocado slices, and a spicy golfo sauce. Each family has their preferred version of Causa, which allows opportunity for creativity.
Regarding the Name: In Quechua, one of the primary indigenous Peruvian languages, Kausay means food or sustenance. Kausay is the earliest possible explanation for the name Causa.
However, the word causa means cause in Spanish. It is said that during the fight for independence from Spain, José de San Martín held a dinner in honor of Simón Bolívar and Causa was served. San Martín made a toast: "¡Por la causa!"– for the cause — in honor of their battle for Independence.
The final possible source of the name Causa comes from the War of the Pacific, which occurred between 1879 and 1884. Peruvian women sold Causa in the streets to support themselves and their families while the men were away from home fighting the Chileans. Once again, "Por la causa." All three of these explanations are plausible.
Whatever the origination of Causa, it is so ingrained in Peru's history and culture that Causa is popular slang for friend. Often young people will greet one another with, "Hola Causa." I think this storied national dish lives up to its illustrious history. I think you'll agree.
Once home, I studied various Causa recipes on the Internet to determine proportions. I was amused to find that there was even a Causa recipe on the Betty Crocker site.
Most of the Causa recipes called for chicken salad: poached chicken cut into pieces and mixed with mayonnaise and chopped, cooked carrots and peas. Some of the Causa recipes were layered in molds and some were made in rectangular glass casserole dishes and cut into squares. The seafood Causa recipes called primarily for tuna as in canned tuna fish.
I had Causa twice — first in Lima and then in Cusco, high in the Andes. Both were made with sea bass and both were made in circular molds. The first was made in a 5 or 6-inch mold and had three layers. In the Andes, the Causa was formed in an individual mold and was two layers. Both contained the traditional olives and hard boiled eggs as well as avocado, known as palta in South America. (The English word avocado comes from Ahuacatl, a Nahuatl Mesoamerican word.) Both were exquisitely delicious.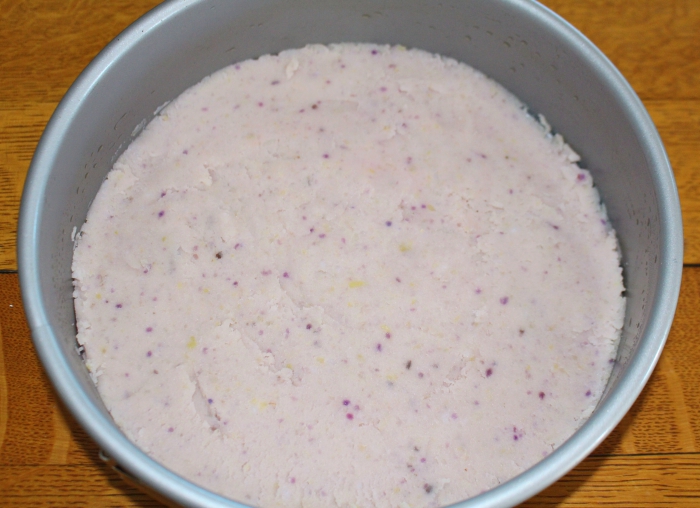 Once I knew the proportions of potatoes, lime juice and oil, I was ready to make Causa. Unfortunately, I was unable to locate yellow aji, the pepper most commonly used in making Causa. The suggested substitute was habanero, which is hotter than I wanted. I decided to go ahead without it. I have since learned that you can buy aji paste at Amazon or Walmart. If you are fortunate enough to find the spicy yellow peppers fresh, there is a simple recipe for making aji at Peru Delights. In Peru the yellow aji is used in many dishes. It beautifully colors the potato mixture and the Causa I had was very delicately spiced.
The potato mixture that I made had light purple flecks as I used little Peruvian potatoes and some were purple. Sol also suggested using at least two russet potatoes as they are drier than most American potatoes. So many subtle details for making Causa, which is as it should be with a national dish!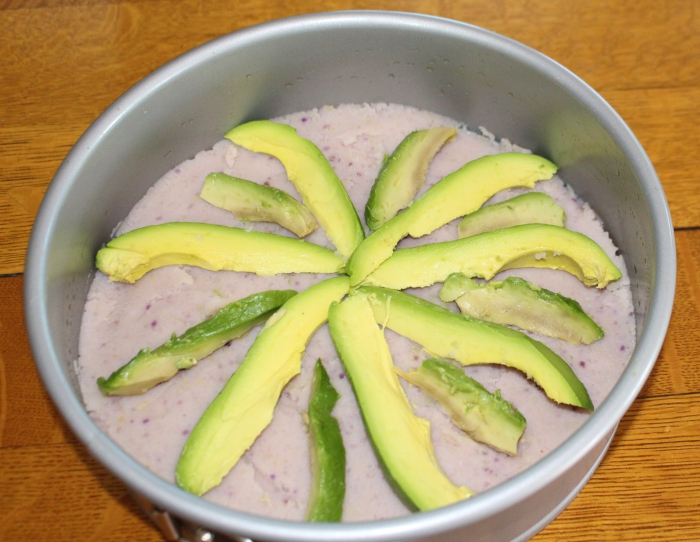 One decision you will need to make is whether you want the Causa to be two or three layers. Mine is three layers. If you decide to make three layers, you may want to add an additional russet and 3 small potatoes so that the layers are a bit thicker. Add more oil, lime juice and aji accordingly. You will also need 2 large avocados as your first layer will have avocado slices and the second layer will have fish salad. If you are only making two layers, ignore these instructions.
Here's my version. This is not a difficult dish to prepare but it does require a number of steps and it is time consuming and it's easiest if you make it the day before serving or early in the morning if you are serving it for a dinner party.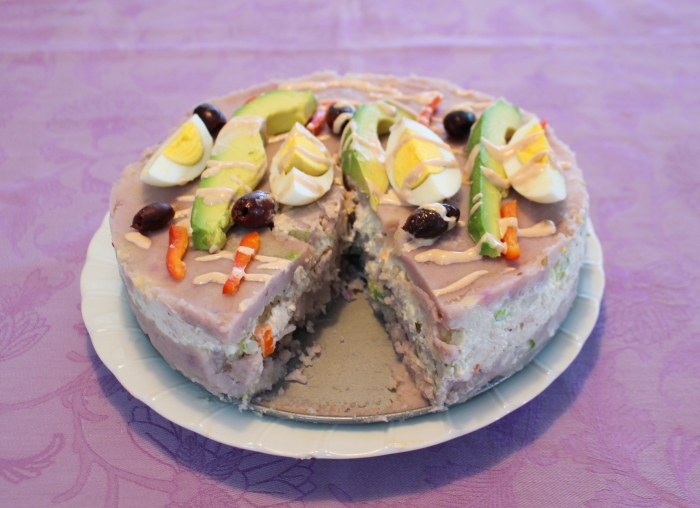 Print
Causa a la Limena
3 pounds of potatoes — Yukon Gold or Peruvian potato blend plus 2 russet potatoes, skins on
1/2 onion, peeled
2 large garlic cloves, slightly mashed
1 pound firm fleshed fish, poached until it flakes easily
1/4 pound bay shrimp (optional)
2 scallions, thinly sliced
2 tablespoons chopped chives (optional)
1 cup mayonnaise or 1/2 cup mayonnaise and 1/2 cup Greek yogurt
1/4 teaspoon Rain's Choice pure Vanilla Extract
Sea salt and freshly ground pepper to taste
Smoked Spanish paprika or sweet paprika to taste
Juice of 3 to 4 limes
2 tablespoons vegetable oil plus extra to grease mold (I used avocado oil)
2 tablespoons aji paste (or to taste)
2 large avocados if making 3 layers of Causa. Otherwise, 1 medium avocado
1 – 2 hard boiled eggs, peeled
Pitted botija or Kalamata olives
Salsa Golfo
1/2 cup mayonnaise
2 tablespoons Ketchup
lime juice to taste
1 tablespoon Pisco, Brandy, Vodka or Sherry (optional)
1/2 teaspoon Rain's Choice pure Vanilla Extract
Sea salt and pepper to taste
Instructions
Place potatoes in a large, heavy bottomed pot. Fill pot with enough cold water to cover potatoes and add yellow onion and garlic cloves.
Bring the pot to a boil over high heat. When boiling, reduce the heat to medium low and simmer until potatoes are cooked through, about 25 minutes. Use a knife to pierce the potatoes. If it goes through easily, the potatoes are cooked. Because you are using different sizes of potatoes, the smaller ones will be done in about 15 minutes. Remove them from the pot until all potatoes are cooked.
Turn off the burner, drain the water from the pot, add put the small potatoes back in the pot, return the lid to the pot, and allow the potatoes to rest and finish cooking for 15 minutes.
Peel potatoes and cut the bigger potatoes in chunks. Press first the potatoes and then the onion and garlic through a ricer or food mill into a large bowl and set aside to cool to room temperature.
While potato mixture cools, make the seafood salad. In a medium mixing bowl, flake the fish carefully with a fork. Remove any small bones. Add shrimp if using, scallions and chives if using.
In a small bowl blend the mayonnaise and Greek yogurt (if using), adding lime juice, vanilla extract, salt and pepper and paprika to taste. If you are using shrimp and fish, add another 1-1/2 tablespoons of mayonnaise or mayonnaise/yogurt blend to the salad.
When riced potatoes have cooled to room temperature, add 2 tablespoons vegetable oil, half of the remaining lime juice, and ají amarillo paste and continue to mix until potatoes are a uniform yellow color. Add salt to taste. Adjust lime juice and/or ají amarillo paste, if necessary. The flavor of the potatoes should be tart and somewhat spicy. If the mixture is dry, add in more oil, a teaspoon at a time, until the potato mixture holds together well.
Peel and slice avocado(s) and add a small amount of lime juice with the avocado to prevent discoloration.
Lightly grease the inside of a 9-inch springform pan with oil, being sure to coat the sides. Use your hands or a spatula to evenly spread 1/3 of the potato mixture inside the pan. (I found it helps to divide the potato mixture into two or three segments so that the layers will be equal sizes.)
If making 3 layers, add avocado slices, laying them lengthwise like a pinwheel over the potatoes. Fill the center with more avocado slices if necessary.
Very carefully add the next layer of the potato mixture using a spatula and hands. Gently press the potato mixture down.
Now, add the seafood on top of the potato mixture, then add the third layer of the potato mixture, again pressing very gently.
Cover the mold with plastic wrap and refrigerate to set Causa for at least 2 hours or up to 8 hours.
Before unmolding the Causa to serve, prepare the Salsa Golfo by blending the ingredients in a small bowl. You can drizzle the salsa onto the Causa with a spoon, but it's a lot easier to use a small squeeze bottle and you won't end up with blobs of salsa.
At the same time, prepare avocado slices, hard boiled eggs and olives for topping the Causa..
To unmold the Causa, remove the plastic wrap, and set the mold onto a serving plate. Run a flat spatula or knife carefully around the inner rim of the mold, then unlatch the mold and remove the outer ring. Using the spatula, smooth the top layer and sides of the Causa.
You can allow the Causa to rest before serving until it is a bit closer to room temperature. However, in hot weather, serve cold.
Decorate the top with olives, avocado and eggs. Squeeze the salsa onto the top layer.
To serve, cut the Causa as you would a cake.
Uneaten Causa will be good for another few days if you cover with the plastic wrap and return it to the refrigerator as soon as servings have been plated.
Notes
It is worth investing in a potato ricer if you don't already have one. Riced potatoes are easier to make the potato layers light and delicate. A ricer makes far better mashed potatoes as well.
Regarding toppings and salad, you can add additional ingredients if you wish. I used slivers of red bell pepper in the salad and cut in thin slices for decorating the top of the salad. For chicken salad, use the same proportions as the seafood salad, but substitute poached chicken.
Latest posts by Patricia Rain
(see all)