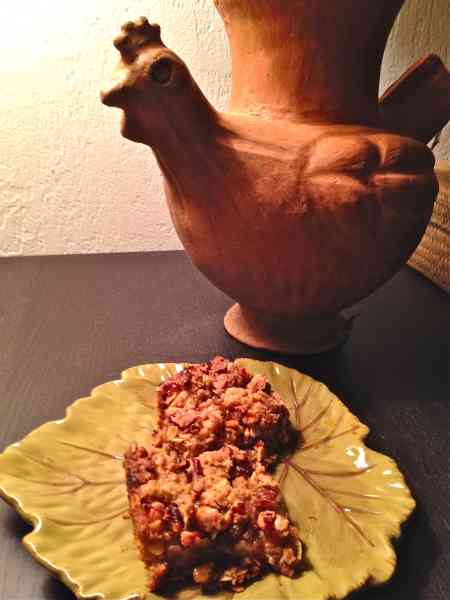 Served warm, topped with ice-cream after dinner or for breakfast on a crisp fall day, Caramel Apple Bars are a comforting treat any way you slice them. Perfect for an autumn picnic, these are like a bite of fresh apple pie, conveniently packaged as a cookie bar. If you like caramel and apples, you'll be sure to love these Caramel Apple Bars.
Print
Caramel Apple Bars
1 cup brown sugar, packed
3/4 cup butter (1–1/2 sticks)
1–3/4 cups flour plus 3 tablespoons flour for separate use
1 teaspoon Rain's Choice pure Vanilla Extract
1–1/2 cups oatmeal
1/2 tsp. salt
1/2 tsp. baking soda
4–1/2 cups coarsely chopped peeled tart apples (about 3 medium)
1 14 ounce bag of vanilla caramels
Instructions
Preheat oven to 400 degrees.
In a medium bowl, combine 1-3/4 cups flour, the oatmeal salt and baking soda.
In a medium-large bowl, mix brown sugar, butter and vanilla together until smooth. Add dry ingredients and mix until all ingredients are absorbed. Set aside two cups of the dough and reserve. Press the remaining dough into a greased 13 x 9 inch baking pan.
Sprinkle the remaining 3 tablespoons of flour over the apples and toss until well-blended, then spread over the dough in the baking pan.
Heat caramels over low heat, stirring occasionally until melted. Pour evenly over apples. Top with reserved 2 cups of mixture. Press lightly.
Bake for 25-30 minutes, or until the crust is golden brown and apples are tender.
Set baked caramel bars on a cooling rack and allow to rest for about 10 minutes. Cut into bars while still warm.
Notes
Yields about 3 dozen bars.
Note: For those of you who enjoy tree nuts, add 3/4 cup coarsely chopped and lightly toasted walnuts or pecans to the 3 tablespoons of flour that is blended with the apples.
Look Delicious?
Pin it for the world to see!
Latest posts by Patricia Rain
(see all)