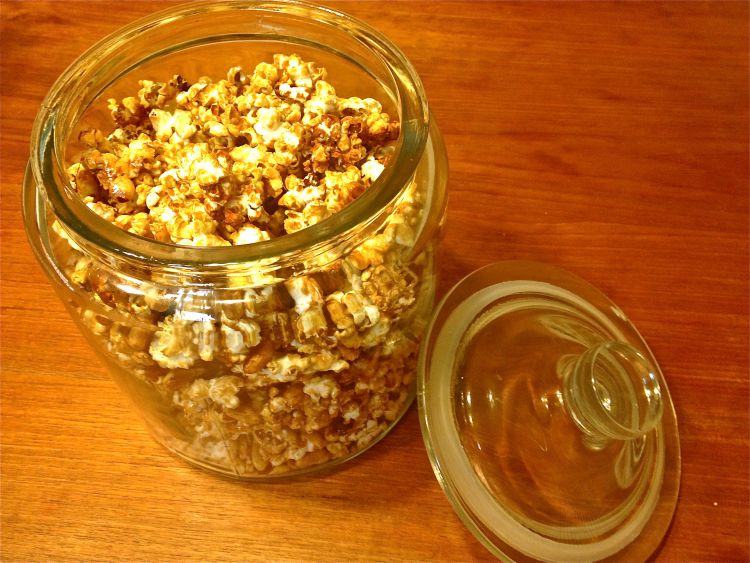 This Caramel Peanut Popcorn has been a family favorite for years. If you grew up loving Cracker Jacks, you're going to love this crunchy treat. It makes a great gift over the holidays, or is delicious as a light snack any time of the year.
Print
Caramel Peanut Popcorn
2 quarts freshly popped popcorn
2 cups unsalted roasted peanuts (You can also use almonds, walnuts or sunflower seeds, depending on your preference.)
1 cup brown sugar
1/3 cup water
1/3 cup honey
1/2 cup butter
1 teaspoon Rain's Choice pure Vanilla Extract
1/2 teaspoon salt
Instructions
Preheat over to 300 degrees.
Cover two, 10×15 baking pans, with parchment paper. Set aside.
In a large bowl or kettle, toss together popcorn and peanuts. Set aside.
In a large saucepan stir together the sugar, water and honey, then cook over medium heat, stirring frequently. Continue cooking until syrup reaches 250 degrees on a candy thermometer (or when a drop in cold water for a ball that is plastic, yet hard enough to hold its shape). Add butter and stir until melted. Stir in vanilla and salt.
Pour syrup over popcorn mixture and toss together until evenly coated. Spread onto the two baking pans, then bake, uncovered, for 30 minutes, stirring once after 15 minutes.
I have found that it is easier to mix the popcorn-nut mixture in two batches because it makes a lot to try and mix easily.
Latest posts by Serena Rain
(see all)