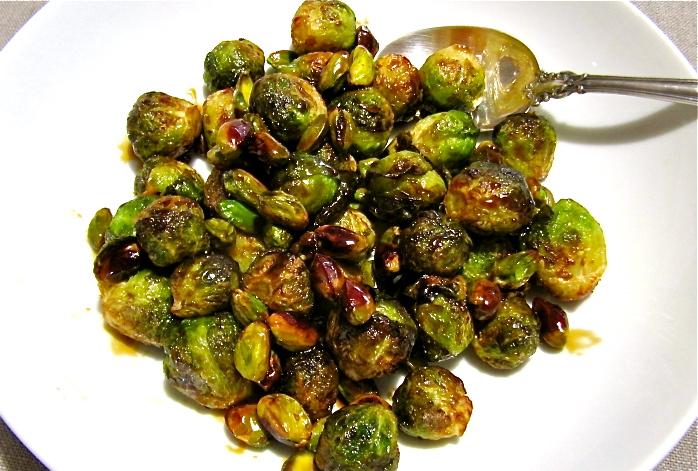 In the mid-1980s I wrote the Artichoke Cookbook. It was quite successful and so the Brussels sprouts growers on California's Central Coast asked me to write a cookbook for them. My then husband said he would leave me if I did; he hated them that much. I didn't write the book though we did part ways a few years later and, after he left, I brought Brussels sprouts, among other things, back into my life.
After having Brussels sprouts with an apple gastrique and hazel nuts at a local restaurant, I was inspired to come up with something equally delicious but a little faster to assemble. Something you could even prepare ahead for a holiday meal or potluck that would pop but not overwhelm the main course. And here it is!
If you can find baby Brussels sprouts, that's the ideal size. Fresh also matters as sprouts can get a little too sulfuric if they've been hanging out in the market too long. You can find Pomegranate Molasses in specialty food stores, online and some supermarkets in the ethnic section. I like the Sadaf brand if you can locate it as it is the right balance of sweet and tart and doesn't contain fructose.
These sprouts are fantastic freshly made, but they hold up well if you make them ahead of time. You can serve them hot or at room temperature. I have to say, they're a bit addictive.
Print
Brussels Sprouts with Pistachios and Pomegranate-Vanilla Glaze
1 pound baby Brussels sprouts
2/3 cup shelled whole pistachios
1/2 – 1 cup vegetable oil, depending on size of pot used for frying
2 tablespoons Pomegranate Molasses
1 teaspoon Rain's Choice pure Vanilla Extract
Instructions
Using a paring knife, remove any tough or old outer leaves on the sprouts. Cut the bottom flat and even, but don't core the sprouts. If you have larger sprouts, cut them in half. Set aside.
In a Dutch oven or heavy bottomed 6 – 8 quart pot, pour in oil to between 1/4 – 1/3 – inch. Heat to medium high. Test heat by gently dropping a leaf into the pot. If it sizzles, it's ready. If it spatters, it's too hot and drop the heat slightly.
Lower the sprouts into the hot oil using a slotted spoon. Turn the heat up a bit to compensate for the heat drop. Using the slotted spoon, gently stir the sprouts so that they brown evenly. Keep doing this for 10 – 15 minutes, depending on the size of the sprouts. Adjust the heat as necessary. You want golden brown, not charred sprouts, and you want them cooked through. Test with a knife after 10 minutes to see if they're ready.
Remove the sprouts with the slotted spoon and set sprouts on paper towels to absorb extra oil.
Very carefully add pistachios to the oil and stir constantly so that they don't burn. Again, you want to liglhtly burnish them but not heavily fry them. Remove to paper towels when ready.
Blend Pomegranate Molasses and vanilla in a small bowl. Put sprouts and pistachios in a serving bowl and pour Molasses mixture over them, stirring with a spoon until covered. Add salt and pepper to taste and serve.
Notes
Pomegranate Molasses can be purchased in specialty food stores, some super markets and online. I like the Azad brand.
Sprouts can be served hot or at room temperature.
Latest posts by Patricia Rain
(see all)