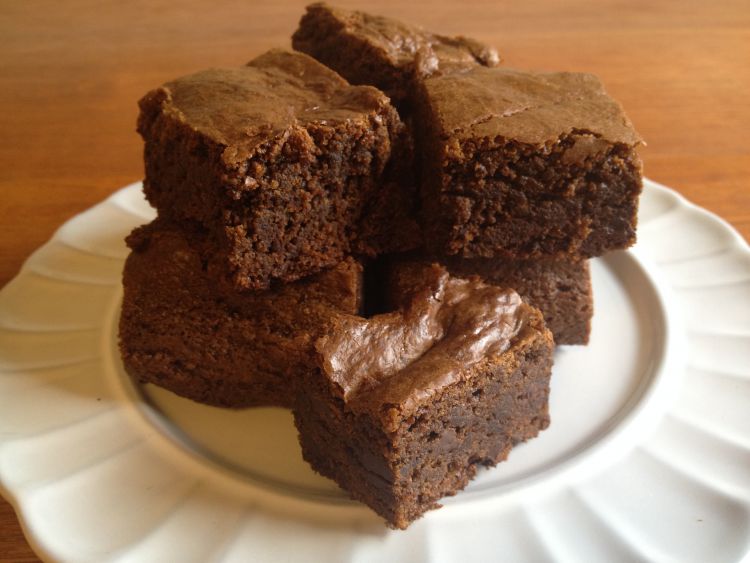 These rich, chocolaty spice bars are delicious year round, but are particularly comforting curled up next to a fire with a good book and a strong cup of tea!
Print
Brown Butter & Chocolate Spiced Molasses Brownies
1 cup butter
1 1/2 cups brown sugar
1/2 cup light molasses
2 eggs
1 teaspoon Rain's Choice pure Vanilla Extract
2 1/2 cups flour
1 teaspoon baking soda
2 teaspoons ground ginger
1 teaspoon ground cinnamon
1/4 teaspoon ground cloves
1/4 teaspoon ground nutmeg
pinch of salt

5 ounces (half a bag) of chocolate chips
Instructions
Preheat oven 350 degrees.
Line a 9×13 inch baking pan with parchment paper.
In a medium sized saucepan, over medium heat, melt the butter and let simmer for 10-15 minutes until it starts to turn brown and smells nutty. Let cool.
Stir the brown sugar and molasses into the butter.
In a large bowl beat the eggs, one at a time into the butter mixture.
Add vanilla.
In a medium sized mixing bowl combine the flour, baking soda, salt and spices.
Gradually stir the flour mixture into the butter and sugar, stirring until smooth. Add the chocolate chips and stir.
Pour the batter into the prepared pan and bake for 30-35 minutes.
Notes
Adapted from Crosby's Scrumptious Brown Butter Molasses Blondies
Latest posts by Serena Rain
(see all)