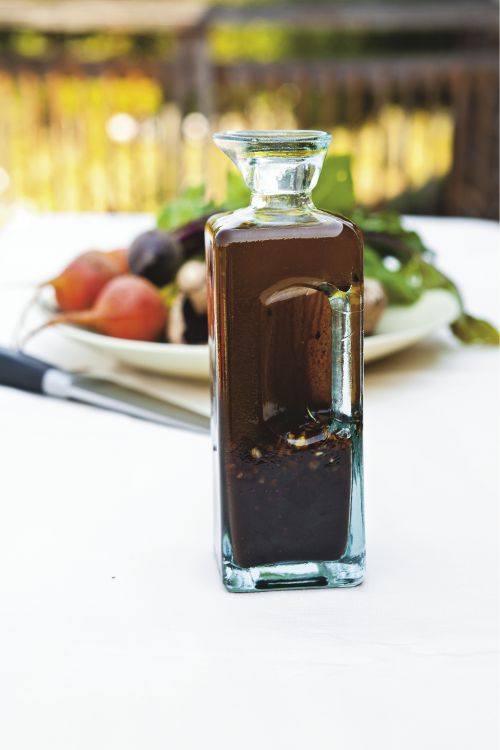 This delicious dressing recipe comes from Michele Anna Jordan's book, Vinaigrettes and Other Dressings: 60 Sensational Recipes to Liven up Greens, Grains, Slaws and Every kind of Salad. Here's what she says about Balsamic dressings: The simplest balsamic vinaigrette requires nothing more than good vinegar, good olive oil, a bit of salt, and a few turns of black pepper; it's a perfect daily salad dressing, if your preferences lean toward this popular vinegar. This version is richer than that simple mixture with a layering of flavors that is quite compelling, especially when made with excellent ingredients.
Michele loves vanilla fortunately as I have added a little vanilla to this dressing, especially as the dressing as a sweet/tart component and vanilla is a good backup chorus for the balsamic vinegar. She would agree.
Print
Balsamic Vinaigrette
1 shallot, minced
1 garlic clove, minced
1 oil-packed anchovy, drained and mashed
Kosher salt
3 tablespoons balsamic vinegar
2 teaspoons honey, warmed or 2 teaspoons sugar
1/4 teaspoon Rain's Choice pure Vanilla Extract
2 teaspoons Dijon mustard
Black pepper in a mill
1 tablespoon minced fresh herbs (any combination of Italian parsley, chives, oregano, thyme, marjoram, and/or rosemary.)
½ cup plus 1 tablespoon extra-virgin olive oil
Instructions
Put the shallot, garlic and anchovy in a small bowl, season with salt and stir in the vinegar. Let sit for 15 to 20 minutes.
Add the honey, vanilla and Dijon mustard and mix well. Season with several turns of black pepper, add the herbs, and then add the olive oil and whisk thoroughly. Taste, and correct for salt, pepper, sweetness, and acid as needed. Use immediately, or refrigerate, covered, for up to 3 days.
Latest posts by Patricia Rain
(see all)