Bake Sale Lemon Bars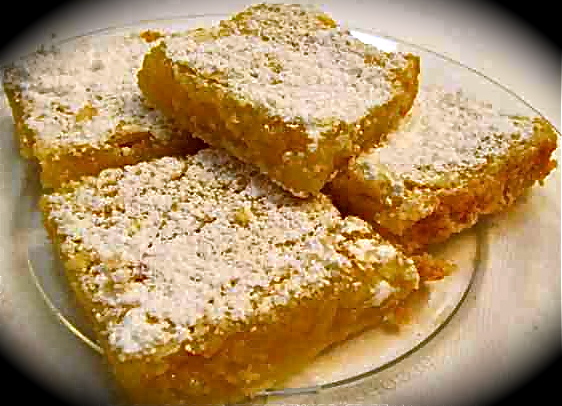 This is a great lemon bar recipe – bright, tart-sweet and with a buttery crust with nice vanilla notes. Meyer lemons aren't quite as tart as Eureka and other American lemon varieties. If you're using Meyer lemons, you might need a little extra lemon juice.
Print
Bake Sale Lemon Bars
1–1/2 cups unbleached all purpose flour
1/4 teaspoon salt
2/3 cup confectioners sugar
1/2 teaspoon Rain's Choice ground Vanilla Bean Powder
3/4 cup unsalted butter, softened
3 eggs
1–1/2 cups granulated sugar
3 tablespoons unbleached all purpose flour
zest of one lemon
1/4 cup lemon juice
1 teaspoon Rain's Choice pure Vanilla Extract
1/3 cup confectioners sugar to finish
Instructions
Preheat oven to 375. Grease a 9 x 13 inch baking ban. Combine the flour, 2/3 cup of confectioners sugar, ground vanilla beans, and butter until it forms a dough. Pat evenly into the pan. Bake for 20 minutes until slightly golden. Remove from oven.

Whisk together the eggs, granulated sugar, flour, and lemon juice until frothy. Pour over the hot crust. Return to the oven and bake for 20 – 25 minutes or until light golden brown. Cool on a wire rack. Sift confectioners sugar over top, then cut into squares.

Look Delicious? Pin it for the world to see!
Latest posts by Patricia Rain
(see all)
Tags: bar cookies, cookies, Dessert, lemon, Lemon Bars
Patricia Rain
Patricia Rain
is an author, educator, culinary historian, and owner of The Vanilla Company (www.vanillaqueen.com), a socially conscious, product-driven information and education site dedicated to the promotion of pure, natural vanilla, and the support of vanilla farmers worldwide. She also does culinary presentations for food professionals, cooking schools, trade shows, food fairs, and private groups, and is a regular radio and TV guest.