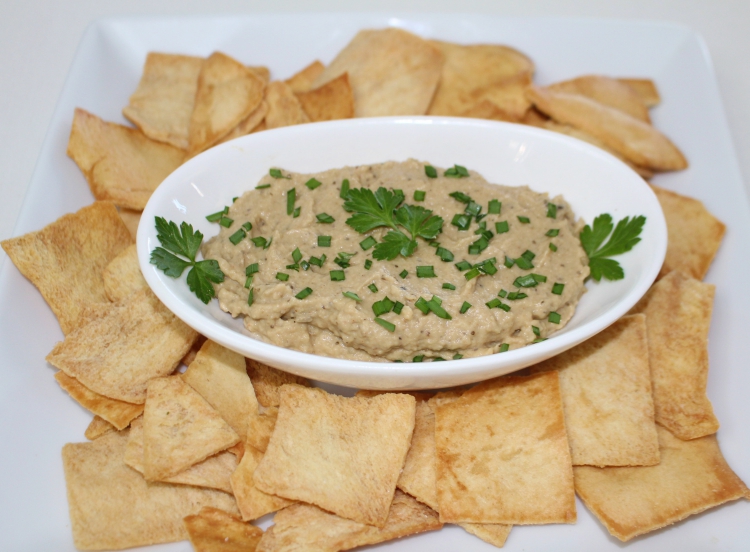 A lot of people have a love/hate relationship with eggplant. Believe me, I get it. Unless eggplant is cooked properly, it can be a chewy, rubbery, unpleasant experience. Baked until tender, eggplant yields and absorbs the wonderful flavors of the vegetables, sauce, and spices that envelop it. And this is true of silky-smooth Baba Ghanoush, a very popular dip that originated in Lebanon (the Levant) and popular throughout Mediterranean and Middle-Eastern countries. While Baba Ghanoush is available in many markets, like so many things, homemade is often the best.
Baba Ghanoush is a heart-healthy, mineral-rich, low-fat dip, made from roasted eggplant, tahini (ground sesame seeds), roasted garlic, spices, lemon juice and olive oil. I like serving it along with Hummus as an appetizer. Baba Ghanoush and Hummus also make a nice workday lunch. You can use pita chips, warm pita bread or naan, crackers and raw or cooked vegetables to enjoy this sensual dip. For those of you who are gluten-free, my favorite dipping chip is Food Should Taste Good's Sweet Potato Tortilla Chips.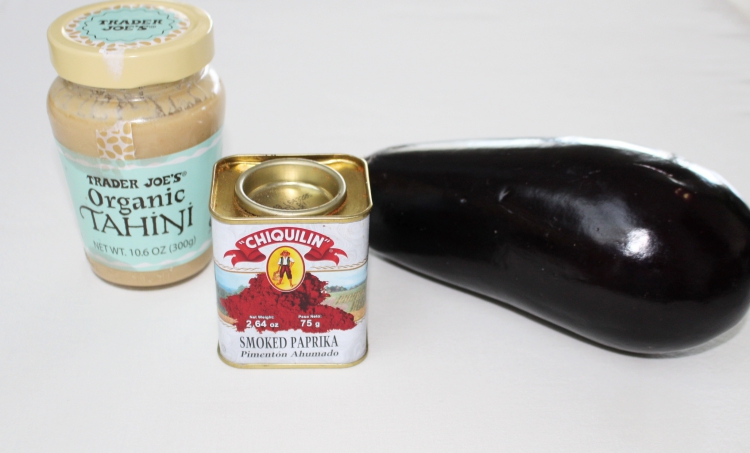 If you have a barbecue grill, lightly coat the cut side of the eggplants with vegetable oil and roast until fork-tender. This will give it a lovely smoky flavor. If you are baking it in the oven, I've added two ingredients that will help give it the depth of flavor that grilling provides — smoky paprika and a splash of soy sauce (gluten-free, use Tamari sauce). Hopefully you will find this silky dip as addictive as I do.
Print
Baba Ghanoush
Author:
Yield: About

2 cups

1

x
2 large eggplants, cut in half lengthwise
1/4 cup tahini
2 tablespoons lemon juice
2 cloves garlic, finely minced or four cloves of garlic roasted alongside eggplant
2 tablespoons olive oil
1–1/2 teaspoons salt or to taste
1/2 teaspoon ground white pepper
1/4 teaspoon cumin
3/4 teaspoon smoked paprika
1/8 teaspoon chili powder
1/4 teaspoon Rain's Choice vanilla extract or to taste
Splash of Soy Sauce (optional)
Optional Garnishes
Drizzle of olive oil
Chopped fresh parsley and/or chives
Instructions
Preheat the oven to 400 degrees F.
Line a baking sheet with parchment paper, and place eggplants face down on the baking sheet. Roast for 30-35 minutes, or until the eggplant is fork tender. If you are roasting garlic cloves, roast them in their natural covering alongside the eggplant for about 20 minutes, or until soft.
Let the roasted eggplant cool, then scoop out the softened flesh with a spoon. Cut off one end of the garlic cloves and squeeze out the softened garlic.
In a large food processor, blend together the eggplant pulp with the tahini, lemon juice, garlic, olive oil, and spices. Adjust seasonings to taste.
Garnish with a drizzle of olive oil, parsley, or chives.
Keywords: Baba Ghanoush Eggplant Dip
Latest posts by Patricia Rain
(see all)