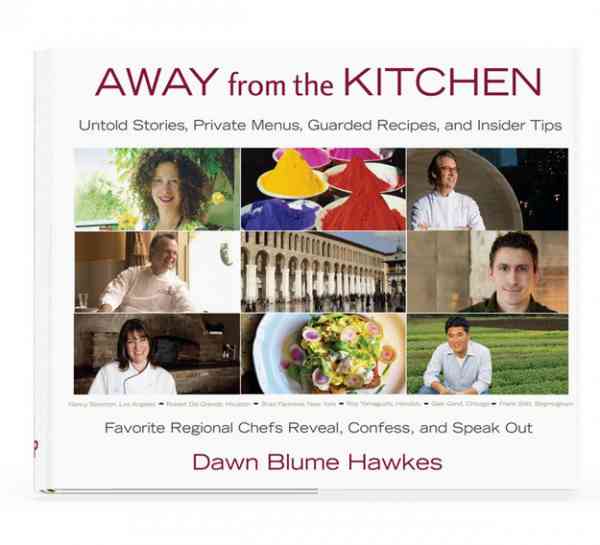 Away from the Kitchen
Untold Stories, Private Menus, and Insider Tips —
Favorite Regional Chefs Reveal, Confess and Speak Out
By Dawn Blume Hawkes; She Writes Press; 2014


Sumptuous, imaginative recipes. Pictures that make you pause as you soak in their expansive possibilities then savor the flavors and textures, if only in your mind. Celebrated regional chefs offer their personal specialties, some served in their restaurants, some created for momentous personal occasions. A book that delivers all this would be enough to entice us to settle in with a cup of tea or glass of wine and read more. But, this is only part of the magic.
Have you ever secretly fantasized about being a talented, sought-out chef, if even for a night? Imagined how it would be to create unique signature meals? Or to peek into their lives outside the kitchen?
Dawn Blume Hawkes did. Growing up in Hollywood with an eclectic family of artists, writers and raconteurs, she lived and breathed food. She accompanied her grandmother as she shopped, dined with her family in elegant restaurants, and reveled in the joys of soda fountain specialties.
Dawn's exposure to the joys of food led to an obsession about the restaurant kitchens and the chefs who inhabited these normally off-limits domains. Eventually she followed her passion and gained access into the lives of a wide spectrum of chefs, their kitchens, and an intimate glimpse into their dreams.
In Away from the Kitchen, Dawn takes us on a glorious adventure into the lives of a dozen of these extraordinary chefs who, to quote Dawn, "…have the conviction and courage to pursue something that sets them apart."
With each chef we get: The story, the truth, the dreams, the confessions, the revelations. We learn what the chefs consider notable and unique, bits and pieces about them, as well as the tools and tips that set them apart. And then, there's the food!
Away from the Kitchen is divided into the following sections:
Chef Stories and Other Juicy Fruit
Breakfast Menu Recipes
The Chefs Speak Out and Things Get Spicy
Lunch Menu Recipes
A Chef's Yarn or Two More…And Amusements
Dinner Menu Recipes
Don't Forget the Dessert: Multi-textured Deliciousness
Dessert Menu Recipes
Each section overflows with colorful, flavorful, fresh-from-the-farm or garden recipes that stretch the boundaries of daily fare in unexpected and delicious ways. Beautiful photography and graphics pop out from the pages. Dawn's eloquent prose will hold you captive until you reach the final pages, feeling both well fed and entertained.
I highly recommend this book for yourself, as a gift for a food-adoring friend, or perhaps for you both!
Dawn generously shared three recipes with us – two with pictures and one for your imagination. Hopefully the recipes will make you yearn for more.
Buckwheat Pancakes with Pecans and Fresh Blackberry Syrup
Baked Ricotta Custard with Cherries in Port Wine with Star Anise
Latest posts by Patricia Rain
(see all)