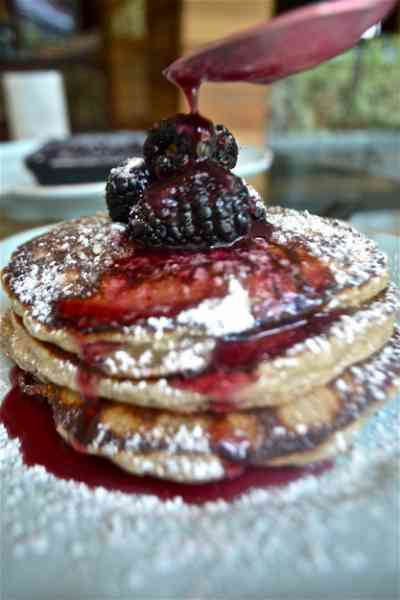 Away from the Kitchen by Dawn Blume Hawkes
Recipe by Chef Robert del Grande
There is something about the sound of "buckwheat" when you say it before "pancakes." It suggests another depth of flavor—an old-time flavor, a bit of tradition, something a little more intriguing than the usual. Buckwheat adds a wonderful nutty, earthy flavor and a deeper, richer color to pancakes. It gives the pancakes a nice country feel. When you add the pecans and the blackberry syrup, it becomes another wonderful world.
Print
Buckwheat Pancakes with fresh Pecans and Blackberry Syrup
Pancakes
1/2 cup all-purpose flour
1/2 cup buckwheat flour
1/4 teaspoon dry yeast
1 tablespoon sugar
1 teaspoon baking powder
1/4 teaspoon baking soda
1/2 teaspoon salt
1–1/2 cups buttermilk
1 egg
1 teaspoon Rain's Choice pure Vanilla Extract
2 tablespoons unsalted butter, melted
Blackberry Syrup
2 tablespoons unsalted butter
1/2 pint blackberries
2 tablespoons sugar
1/4 cup pure maple syrup
Instructions
Pancakes
In a mixing bowl, combine all the dry ingredients and blend.
In a separate mixing bowl, combine the buttermilk, egg, and vanilla and blend until smooth.
Add the buttermilk mixture and melted butter to the dry mix. Stir to form a smooth batter. Chef's note: Do not overmix.
Let the mixture stand for at least 30 minutes so that the yeast begins to rise.
Heat a pancake griddle to 400 degrees F. Lightly butter or oil the griddle.
Spoon the pancake batter onto the griddle and cook until golden brown.
Blackberry Syrup
In a skillet over medium heat, melt the butter.
Add the blackberries and sugar.
Gently cook the blackberries until a light syrup forms.
Add the maple syrup and stir.
Serve warm.
Notes
To Serve
1/2 cup pecans, toasted and chopped
Serve pancakes with the warm blackberry syrup and toasted pecans. Garnish with powdered sugar.
Chef Robert Del Grande
Away from the Kitchen by Dawn Blume
Look Delicious?
Pin it for the world to see!
Latest posts by Patricia Rain
(see all)