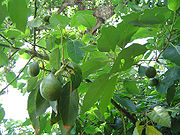 Avocado, Persea Americana, is native to Mexico, the Caribbean, Central and South America. "Avocado" so-named for its shape, comes from the Nahuatl word "ahuacatl" which means testicle. It is pear or egg-shaped, with a thin green skin, green creamy flesh that becomes more yellow closer to the seed, and contains one large seed. Technically it is a large berry, but because it isn't sweet it is often considered a vegetable.
Avocado trees can grow to 65 feet in their native habitat, but are typically around 25 feet. To produce well, they prefer full sun. Trees are partially self-pollinating but do best with cross-pollination with other trees, and with bees and other insects acting as pollinators. Fruits are mature but still firm when they are harvested, and ripen off-tree. To meet commercial standards, they must contain a minimum of 8% oil when they are harvested. Some avocado varieties have up to 18% oil content.
Avocados now grow in many tropical and temperate regions of the world and are very popular to eat out of hand, in salads, sandwiches, soups and even desserts. Brought to California in 1871, they are an important US crop.
There are a number of avocado varieties that range from very small to quite large. West Indian type avocados produce enormous, smooth, round, glossy green fruits that are low in oil and weigh up to 2 pounds. Guatemalan types produce medium ovoid or pear-shaped, pebbled green fruits that turn blackish-green when ripe. The fruit of Mexican varieties are small (6 – 10 ounces) with paper-thin skins that turn glossy green or black when ripe. I was given a giant avocado in Hawaii by a 90-year-old horticulturist. It weighed at least two pounds.
High in monosaturates, the oil content of avocados is second only to olives among fruits, and some varieties contain more oil than olives. Clinical studies in humans have shown that avocado oil can reduce blood cholesterol.
Latest posts by Patricia Rain
(see all)