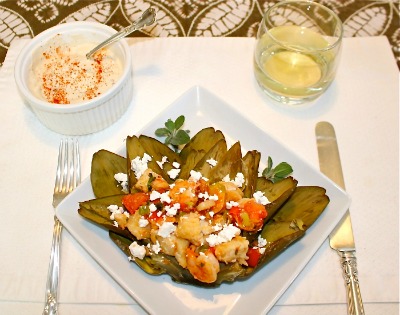 Living in the heart of artichoke country, we get the delicious thistles in all sizes nearly year 'round. However, late March through May and then again in September, are the two big harvest periods when the artichokes are at their most plentiful and the prices are good. Until relatively recently, artichokes were mainly enjoyed here in California; fortunately they're now available all through the States and most people have enjoyed an artichoke or two (or more) just about everywhere. Prepared properly, they are so delicious and fun to eat as well.
Recently I was at the farmers market and decided I wanted to stuff an artichoke with Seafood Provencal. As I looked through the crate of large artichokes, the largest terminal bud I've ever seen caught my eye. This is saying something as I grew up eating artichokes, wrote The Artichoke Cookbook (Celestial Arts, 1986), and have worked in the produce industry. Terminal buds are the top thistle buds in the very top-center of the plant. They're always the largest artichokes; then come the large ones, further down the medium and small ones, and near the bottom of the plant are the "baby" ones, though they are all the same age.
It was a bargain at $3.50 and I couldn't resist this insanely humongous choke just begging to be cooked and filled with fresh rock fish and prawns. I brought it home and soaked it in a pot of cool water and a good squeeze of lemon juice to rehydrate it (this helps them to cook faster as well). I cooked it by itself in a pot, filling the water half-way up the artichoke. I would have steamed it but it was too big to fit in the pot inside the vegetable steamer. I cooked it the night before and put it in a bowl in the refrigerator. I'm sorry now that I didn't take a picture of it before I cooked it, but you will see in this picture just how huge it was.
You can see that the center or thistle is well developed with purple-tinged tips. As children, my friend told me that the center was poisonous and would "choke us." Just in case you heard this too, it's not. However, a mouth full of this fuzzy, inedible fluff is not tasty. Take a spoon and scoop it out after the artichoke is cooked and cut in half.
A couple of comments on fillings: You can use whatever you'd like — chicken, fish, or crab salad make lovely fillings. For warm fillings any kind of seafood makes a delicious entree but you can use whatever you'd like including a vegetarian filling of sauteed shallots, mushrooms, tomatoes and spinach with or without cheese. I like sheep's milk Feta in the seafood stew because it's neither overly salty nor sharp. If you're not fond of Feta, choose another semi-soft cheese like Ricotta or goat's milk cheese or use grated Parmesan or Romano cheese.
Print
Artichokes Stuffed with Seafood Provencal
2 tablespoons shallots (or green onions), finely chopped
2 large garlic cloves, minced
2 tablespoons olive oil
3/4 cup fresh tomato, diced
1 tablespoon fresh thyme, oregano and/or tarragon leaves, chopped
1/2 pound fresh ling cod or other rock fish, cut into bite-sized pieces
12 large prawns, peeled and deveined
1/4 cup white wine
2 tablespoons butter
1/4 – 1/2 teaspoon Rain's Choice pure Vanilla Extract
1 tablespoon fresh lemon juice, or to taste
sea salt and freshly ground black pepper
1 large artichoke, steamed or boiled, cut in half lengthwise, thistle removed
2 – 3 tablespoons Feta cheese (preferably French or sheep's milk)
chopped parsley and/or chives and parsley and lemon wedges on the side
Additional butter melted for dipping artichoke leaves
Instructions
Remove artichoke from refrigerator to allow it to come to room temperature.
In a large skillet, saute shallots (or scallions) and garlic in olive oil on medium heat until they turn golden and are become slightly transparent. Add the diced tomatoes and herbs and cook until tomatoes are nearly soft. Turn up heat to medium high and add wine, fish and prawns and cook for 3 – 4 minutes.
Remove from heat then, using a slotted spoon, remove seafood and set aside. Return the pan to the heat and allow juices to reduce by at least 1/3. Add in butter, lemon juice and salt and pepper, stir well, then remove from heat. Return seafood and any juices to the skillet, then taste the sauce and adjust seasonings. Cover, and allow to rest for 20 – 30 minutes to allow flavors to meld.
Set oven to 350 degrees F. Place artichoke halves in a shallow pan. Add 1/4 inch of water, broth or wine to bottom of pan. Stuff the artichoke halves with the seafood mixture and add Feta cheese on top. Rub a little olive oil over the exposed heart of the artichoke halves. Cover with foil and heat in the oven 20 minutes or until the seafood and artichoke are thoroughly heated.
Plate the artichokes then sprinkle with parsley and/or chives and add a lemon wedge. Serve with warm, crusty bread, and melted butter for dipping artichoke leaves.
Did you like this post? "Like" it, and share your thoughts in the comments below!
Latest posts by Patricia Rain
(see all)