Many years ago I swore that I would never live where I couldn't easily get artichokes, asparagus, and avocados. Times have changed and we can now get just about anything anywhere, but living on California's Central Coast, I live at ground zero for all three of these favorites of mine.
Just about everyone knows how to use avocados but artichokes and asparagus some have special secrets worth sharing. And while I could easily dedicate an entire blog to each of these two vegetables, they have certain shared characteristics and sauces worthy of each so, for the time being at least, I'm combining them into one meaty blog with links to recipes.
Asparagus
Asparagus is a fern. If you look carefully at the tips of asparagus, you'll see that it has little segments that turn into a fern that looks like the asparagus ferns we grow in pots (and are likely closely related to the ones we eat). It can be grown from seed, but most asparagus that is grown commercially is grown from crowns that take around a year before they produce. Growing by seed takes longer.
Asparagus grows well here on the Central Coast, primarily in Monterey and San Benito counties and also thrives in the Sacramento-San Joaquin delta area of Central California. Some asparagus is also grown in the Imperial Valley. The first US asparagus comes into the market in February and has about a twelve week harvesting period. It is a labor-intensive vegetable to harvest; each stalk is hand-cut with a knife, a slow, "backbreaking" process. Ironically, the majority of the California crop is sold overseas, though locally we can buy it in our local farmers markets.
Buying Asparagus
Asparagus often is bundled by the pound and by size – either thin or thick. The thin stalks are not "baby" asparagus; they're the same age as the thicker stalks, but frequently come from older root stock. If you're making a stir-fry or want faster cooking asparagus, choose the thin; if you're roasting, grilling, boiling or steaming the asparagus, choose the thicker stalks.
The stalks should be well-hydrated, not limp. They are, after all, fern buds. When you get the asparagus home, if it is "thirsty," cut off a half-inch of the bottom of the stalks and stand them in a large glass of water or put them in a pan filled with water and allow them to rehydrate. This is especially good to do if you plan to roast or grill the stalks.
The stalks you choose should be brilliant green. Purple near the base of the stalks indicates freshness as well. No matter how you plan to use the asparagus, don't snap off the bottom third of the stalk. Just cut a small amount off the bottom, then peel the bottom third of the stalk with a vegetable peeler. You'll find that nearly the entire stalk is edible if it's peeled, a score considering it's not a cheap veggie.
For the best flavor, use asparagus as soon as possible after purchasing it. While it will usually keep up to a week without problems, the flavor won't be quite so rich.
Artichokes
In "another lifetime" I wrote The Artichoke Cookbook, (Celestial Arts, 1985), which curiously enough triggered my first book on vanilla, which catapulted me into my current life as the Vanilla Queen. At the time I was living in the countryside surrounded by a creek, rolling hills and artichoke fields. It was great fun to sit with the growers and hear their stories as farmers and often as immigrants on the Central California coast. Needless to say, I've learned a lotta ways to prepare the "chokes."
Artichokes are a flower bud which, if left unpicked, turns into a beautiful purple thistle. The best artichokes are not grown from seed as they tend to revert back to a wilder variety. The Globe artichoke is the variety you want to purchase. Ones grown from seed have a rounder base and rounder leaves. They don't have as much edible "meat" on the leaf base and the heart is smaller.
When purchasing artichokes, look for ones that are a bright green and have tightly closed leaves. In late winter/early spring some artichokes may be bronze-tinged or have slightly split or open leaves. This is caused by light frost, which produces the sweetest artichokes as they have matured more slowly.
Summer artichokes will have more open leaves and a reddish-purple tinge as well as longer spines than the winter and spring flower buds. Discard the outer leaves of summer artichokes before cooking as they are often inedible.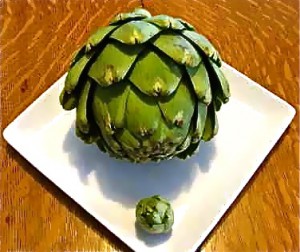 Size is not an indication of quality or maturity. The largest artichokes grow on the center stalk with the smaller ones on the side branches, and the tiny but mature artichokes are at the base of the plant. They're all the same age. The largest are best for stuffing or as a hot or cold entree, the medium are great for all recipes, and the smallest (sometimes the size of a large egg), are good for marinating, sauteing or deep frying.
Store fresh artichokes unwashed in plastic bags in the refrigerator. They will keep two-to-three weeks though they're most flavorful the first week or so. Before cooking, cut part of the stem off and place artichokes in a pot or large bowl filled with water and some lemon juice or vinegar, and allow to soak for 30 – 45 minutes. This rehydrates the artichokes so they cook more quickly. I prefer steaming artichokes to boiling. I place them on a flat rack so that only the stem and lower part of the artichoke are in the boiling water. It takes a little longer to cook this way but they don't become water-logged.
Note: You don't need to trim the leaves or snip off thorns before cooking unless you want to as the thorns will soften in the cooking process. If you are stuffing whole artichokes, cook them first. When they have cooled, turn the artichoke upside down with the top on a flat surface. Pressing firmly, turn the artichokes clockwise to open up the leaves. Bring them right side up, and carefully remove the inside leaves and the furry center "choke," spreading the outside leaves slightly to allow maximum space for filling the artichoke.
Microwaving: It's most effective to microwave two artichokes at a time as the time increases considerably with more than two. Place pre-soaked artichokes upside down in a microwave-safe cup or bowl. Add up to one cup of water. You can cover them with a plate or leave them as is. Cook for 7 – 11 minutes (depends on size of artichokes and strength of microwave). Allow to sit for five minutes after cooking for the artichoke to fully soften. Be careful removing them as the water may still be hot.
Recipes
Both asparagus and artichokes are just fine with some butter or mayonnaise, salt and a squeeze of lemon. Actually, they're delicious just plain. That said, here are a couple of easy, terrific toppings as well as a recipe for sauteed "baby" artichokes if you are fortunate enough to find them in the marketplace.
The Queen's Hearty Hollandaise Sauce
The Queen's Favorite Almond Sauce
Sauteed Artichokes with Honey-Mustard Sauce
Chicken Stir-Fry with Asparagus
Herbed Asparagus, Peas, Onions and Arugula with Penne

Did you like this post? "Like" it, and share your thoughts in the comments below!
Latest posts by Patricia Rain
(see all)