This is one of the most versatile sauces you'll want in your bag of culinary tricks. You can switch out toasted pecans, walnuts or macadamia nuts for the almonds, use sour cream instead of Greek yogurt, add pepper flakes or Siracha sauce…the list goes on. Even the basic ingredient measurements are flexible.
I developed this recipe several decades ago when I was working with the artichoke industry. Although it was initially intended to use as an artichoke dipping sauce, I quickly realized it held huge promise for nearly everything savory.
For instance, if you are oven-baking fish filets or steaks, coat them with this sauce. It will turn light brown and toasty and, at the same time, hold in the fish juices. When the fish is cooked, plate it, add a slice of lemon, and you have an elegant, moist fish entree.
I still love it with artichokes or with a platter of crudites, but it's also great for dipping roasted asparagus or potatoes, and even boiled shrimp. Mix it into freshly cooked green beans or sauce some warm poached chicken. How versatile can you get??
Here's the basic recipe. Feel free to make it your own special go-to sauce by adding, subtracting or simply enjoying it as it is.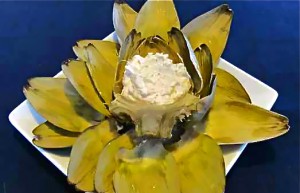 Print
The Queen's Favorite Almond-Vanilla Dipping Sauce
½ cup mayonnaise
½ cup Greek yogurt or sour cream
½ cup toasted chopped almonds (with or without skins)
2 – 3 cloves of garlic, minced
soy sauce and lemon juice to taste
a few drops of Rain's Choice pure Vanilla Extract
Instructions
Lightly toast the almonds, then chop or put into a food processor and process until the almonds are between medium and finely chopped.
In a medium mixing bowl, Blend the mayonnaise and yogurt or sour cream. Add almonds and garlic, then add lemon juice and soy sauce to taste. Finally, add a few drops of vanilla, mix, then taste to adjust flavors.
Notes
Feel free to add red pepper flakes, chopped chives or parsley.
Look Delicious? Pin it for the world to see!
Latest posts by Patricia Rain
(see all)