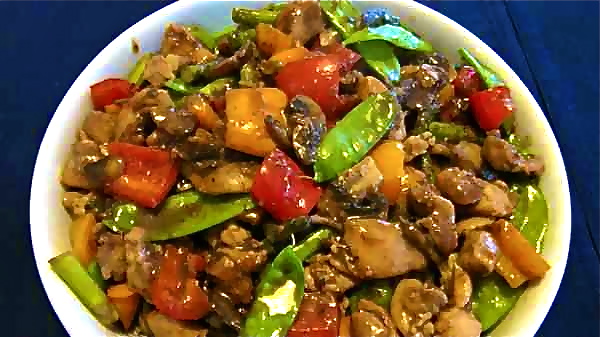 Whenever I prepare a really good stir-fry or have one at a restaurant or a friend's home, I'm reminded of how delicious this cooking technique is. Fresh, crunchy vegetables, little bites of succulent protein, and ingredients that add brightness and pop in the mouth. That's how I feel about this recipe. While there are several steps involved, you can easily prep the various segments while listening to music or watching a video, and you can then assemble everything right at the end and put it together quickly and easily.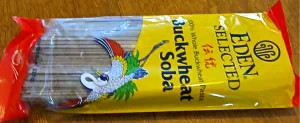 I have a passion for noodles but I'm allergic to wheat, so when I make Asian-style dishes with noodles I either use the rice or mung bean "glass" noodles or I use soba noodles. Traditionally soba noodles are made with wheat and buckwheat. However, Eden brand makes both the traditional and pure buckwheat soba. Increasingly you can find these products online as well as in stores like Whole Foods. My suggestion is to keep the noodles separate from the stir fry. When the noodles are cooked, add a bit of smoked sesame oil or a milder oil to them and separate them with a fork so that they don't stick together, and keep them warm until ready to serve. This way, if you have leftover noodles they haven't clumped together and you can use the balance in a salad or soup.
My final suggestion is to mix up the vegetables and proteins in this recipe. The bones (spices, flavors and volume) of the stir fry are good and allow for variations on the big ingredients. I think you'll find this a great go-to recipe; I do!
Print
Spicy Stir-fried Chicken and Vegetables
1–1/2 pounds air-chilled boneless, skinless chicken breast or thighs
1 pound mushrooms, stem ends trimmed and sliced or cut into halves or thirds
3/4 pound snow peas or thinner asparagus, cut on the diagonal into 3/4 inch pieces
or a mixture of both
1 red bell pepper, cored, seeded, and cut into 1/2-inch squares
1 orange bell pepper, cored, seeded, and cut into 1/2-inch squares
3–1/2 tablespoons coconut, grapeseed or sunflower seed oil
Marinade
2 tablespoons tamari sauce
1–1/2 tablespoons rice wine or sake
1 teaspoon toasted sesame oil
1 teaspoon non-gmo cornstarch
Seasonings
3 tablespoons minced scallions
2 tablespoons minced garlic
2 tablespoons minced fresh or bottled ginger
1 teaspoon hot chili paste or to taste
Chicken Sauce
3/4 cup chicken broth
3 tablespoons tamari sauce
2 tablespoons rice wine or sake
1 tablespoon Rain's Choice Cinnamon Spice Vanilla Sugar
1 teaspoon toasted sesame oil
Instructions
Cut chicken into 1/2-inch cubes and place them in a bowl. Add the marinade and turn the chicken cubes in it to coat them. Cover with plastic wrap, and let the chicken marinate for 30 minutes. (Chicken can remain in marinade for an hour or two without a problem)
Heat a wok or large skillet, add 2 tablespoons of the oil, heat until very hot, and add the chicken. Cook over high heat, stirring, until the chicken changes color and separates—about 3 to 4 minutes. Remove the chicken with a slotted spoon and drain. Wipe out the pan.
Reheat the pan, add the remaining 1-1/2 tablespoons oil, heat, and add the seasonings. Stir-fry seasonings for about 15 seconds, then add the red and orange peppers and mushrooms; toss them with the seasonings and stir-fry for 1-1/2 minutes.
Add the asparagus and Chicken Sauce, and cook, stirring continuously, to prevent lumps, until the sauce is slightly thickened. Return the cooked chicken to the pan, and toss lightly to heat through and coat the pieces. Scoop onto a platter and serve immediately. Serve with jasmine or basmati rice or soba noodles.
Look Delicious? Pin it for the world to see!
Latest posts by Patricia Rain
(see all)