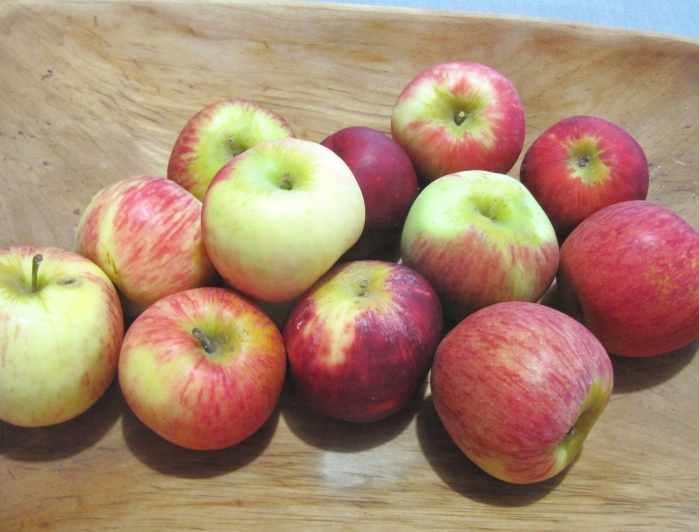 It's apple season again. Makes me think of returning to school with the ubiquitous apple in my lunch box. How about you?
While the supermarkets carry the standards like Red Delicious, you can usually find the tastier heritage varieties filling the farmers markets and countryside fruit stands. Yesterday when I drove the back roads of Watsonville to visit a friend, there were rows of trees loaded with Yellow Delicious, Newtown Pippins, Jonagolds and other heritage varieties. I picked up some Jonagolds and Yellow Delicious at my local farmers market; the old fashioned apples are worth seeking out.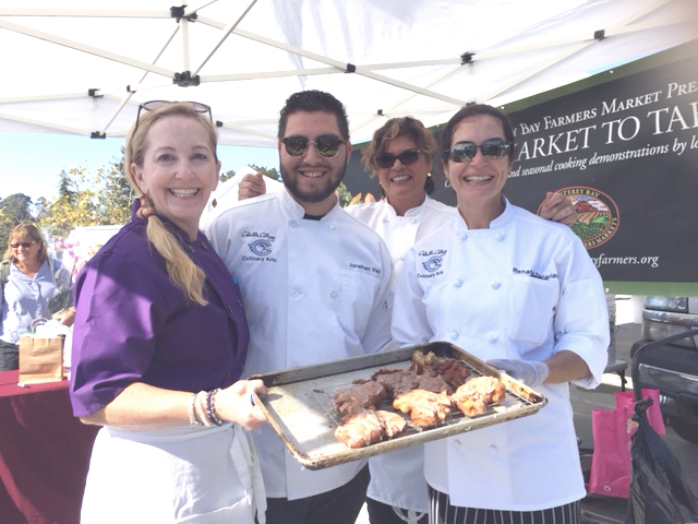 Recently my friend and colleague Anne Baldzikowski was at the Cabrillo market with her student team demonstrating how to make apple fritters. I realized as I reached for a third serving when the warm fritters were passed around, that if doughnuts contained fruit, I'd like them better. But fritters actually are doughnuts of a sort with their warm fried dough enrobing the flavorful apple slices. The apple juice glaze painted onto the warm fritters was absolutely the "icing on the cake."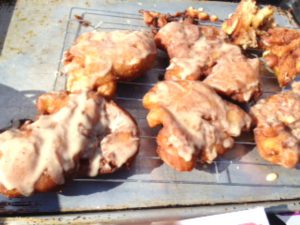 I recommend using apples with thin skins and complex flavors. I bought some freshly pressed apple juice at the market for the glaze as I want as much rich apple flavor as possible. Bottled or frozen apple juice works fine, however. This is a delicious party treat for the witches, ghosts, astronauts and princesses come late October, and the un-dead will enjoy them too, should they stop by. But make them before then too for a weekend brunch. Goes well with the Sunday paper.
Print
Apple Fritters
2 (10 ounces) firm apples, peeled, cored and cut into 1/4" pieces
2 cups (10 ounces) all-purpose unbleached flour
1/3 cup (2–1/3 ounces) granulated sugar
1 tablespoon baking powder
1 teaspoon salt
1 teaspoon cinnamon (1–1/2 teaspoons if using Ceylon Cinnamon (aka canela)
1/4 teaspoon nutmeg
1/2 teaspoon allspice
1/2 – 1 teaspoon Rain's Choice ground Vanilla Bean Powder (to taste)
2 large eggs
2 tablespoons butter, melted
4 cups vegetable oil for frying
Glaze
2 cups confectioners' sugar, sifted if lumpy
1/4 cup apple juice
1 teaspoon Rain's Choice pure Vanilla Extract
1/2 teaspoon cinnamon
1/4 teaspoon nutmeg
Instructions
Glaze
Place all glaze ingredients in a bowl and whisk until smooth. Set aside.
Fritters
Heat oil in a Dutch oven or heavy pot to 350 degrees. With heat source on high this may take 10 minutes.
Place apple pieces on a paper towel.
Sift together flour, sugar, baking powder, salt, cinnamon, nutmeg, allspice and ground vanilla powder.
Mix together the wet ingredients: apple juice, eggs and butter.
Add apples to dry ingredients.
Add wet ingredients to apple mixture.
When oil heats to 350 degrees, gently drop 1/3 cup of batter into the oil, scooping the batter out with a teaspoon or soup spoon. Immediately press down the batter with the back of a large metal spoon to flatten the fritter.
Add another fritter to the pan, keeping a close eye on the temperature of the oil. Keep the oil between 325 and 350 degrees. You may add up to 4 fritters at once.
Cook fritters on each side about 2 minutes, turning with a slotted metal spatula.
When fritters are dark brown, gently lift out of the oil and onto a metal rack positioned over a cookie sheet.
Continue cooking the fritters.
Drizzle cooked fritters with one heaping tablespoon of glaze and let cool 10 minutes so the glaze can set up.
Notes
You can serve the bigger pieces if you want, but after they're glazed, do feel free to cut them into smaller, more manageable pieces if you'd like. That way you can also get some to each diner while they're still warm.
Latest posts by Patricia Rain
(see all)