A week ago a friend gifted me some wild-caught albacore. How could I say no? I wanted to create something special that would highlight the character and flavor of the fish, while at the same time, keeping it moist and tender. I had just picked up a 2 pound package of multicolored cherry and pear-shaped tomatoes, that I wanted to include. I had also painstakingly shelled, par-boiled, and removed the skins off of almost two pounds of fava beans the day before. Clearly, they were destined for this dish.
As albacore can easily dry out, I decided to top it with a Butter and Caper Sauce and with lots of garlic and garlic chives to finish it. The salty, pungent flavors blended deliciously with the tomatoes, onions, fennel, and beans making it the perfect foil for thick, crusty bread or a bowl of pasta. Even polenta would love to soak up these flavors.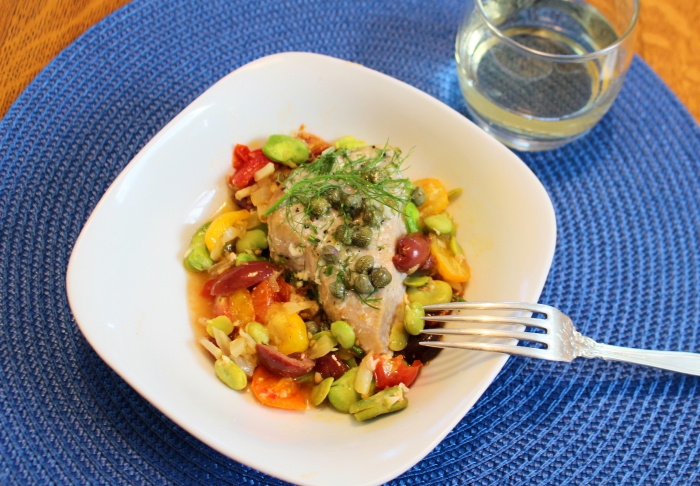 Don't use fava or other shelling beans unless you have time and don't mind shelling, or shelling and par-boiling. (I shelled and removed the skins off the favas while reading the news online. TV also works.) Instead, pick up a large package of frozen lima beans or edamame or 2 cans garbanzo or Cannellini beans. Much faster!
Any firm-fleshed fish like Halibut or cod will do so don't worry about "exotic" unless that's what you want. The most important things are easy-to-make and delicious. This recipe fits the bill. And, it's good enough for guests and easy enough for family. With luck you'll have leftovers.
Print
Albacore Baked with Tomatoes and Beans and Garlic Caper Sauce
2 tablespoons + 2 teaspoons extra virgin olive oil, divided use
1 small onion, diced
2 garlic cloves, minced
1 pint cherry tomatoes, halved or quartered (depending on size)
1 small fennel bulb, cored and thinly sliced plus save some fronds for adding to Butter Caper Sauce and garnish.
1/2 cup Kalamata olives, halved + a splash of their liquid
2 cans garbanzo, cannellini, fava, lima, or edamame beans, drained or thawed if applicable
1 lemon thinly sliced
4 4-6-ounce pieces of albacore or other firm-fleshed fish, skin removed, and wiped dry with paper towels.
2 tablespoons butter
1 clove garlic, minced
2 tablespoons capers, plus a little of the juice
2 tablespoons lemon juice
1/2 teaspoon Rain's Choice pure Vanilla Extract or, 1/4 teaspoon Rain's Choice ground Vanilla Bean Powder
handful of chopped tender fresh herbs, like basil, chives, or parsley (or a blend)
Instructions
Preheat oven to 400 degrees.
In a large saucepan heat 2 tablespoons of olive oil until it shimmers. Add diced onion and fennel slices and saute until onion becomes translucent and turns slightly golden (about 3-5 minutes). Add garlic and mix in, and cook for 2 more minutes.
Turn up heat slightly and add tomatoes and wine or broth. Bring to a boil until wine starts to reduce while stirring the vegetables.
Add beans and mix well, then remove from heat.
Pour mixture into a medium casserole dish. Add albacore steaks and nestle in with the other ingredients. Lightly coat with olive oil Place lemon slices throughout.
Put into the oven and cook just until fish is cooked through and beginning to flake, about 10 – 12 minutes. Don't overcook.
Remove from oven and allow to rest.
While fish is cooking melt 2 tablespoons of butter in microwave or small saucepan. Add garlic, capers and juice vanilla extract or powder, and 2 tablespoons lemon juice. Add in herbs and mix.
When the fish and vegetables come out of the oven, spoon the sauce over the pieces of fish. Any extra sauce can be spooned over vegetables.
Notes
Serve in bowls or over pasta or polenta.
Latest posts by Patricia Rain
(see all)