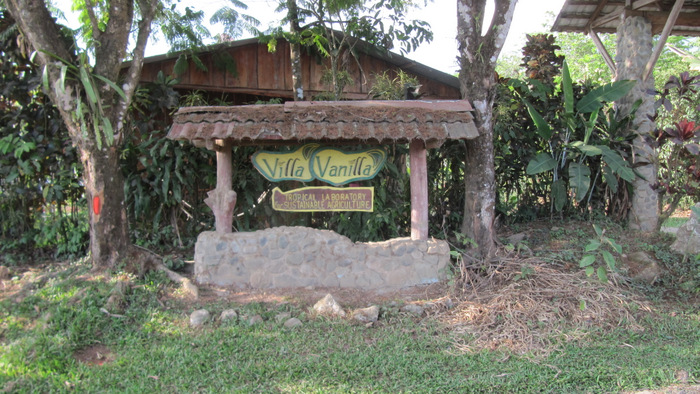 As a serious food enthusiast, along with my dedication to equitable opportunities for farmers, one of my favorite activities is visiting farms. No matter if they flourish in a temperate or tropical climate, I always learn from the farmers as well as from the plants, birds, insects and animals who call the farms their home. I indulged this passion during my recent trip to Costa Rica where I toured farms in the mountainous San Carlos district, a rain forest region in Alajuela province, famous for fine Arabica coffee, sugar cane, pineapples and cattle production. Vanilla is now grown on a few farms in this district, usually in tandem with other crops, including commercial production of trees for use in home building. From there I continued down to a vanilla and spice farm in the lowland Central Pacific coastal region in Quepos district, Puntarenas province.
Sustainable wood farm to use in home building, Alajuela province.
While tourists visiting Costa Rica might pass through San Carlos District on their way to Fortuna, a town filled with thermal springs at the base of the active volcano Arenal, most tourists know Quepos as the old banana port and now small town gateway to Manuel Antonio National Park and outdoor adventures such as river rafting, surfing, sports fishing and more. In fact, when I mentioned to friends that I was heading to Costa Rica, nearly everyone said, "You must visit Manuel Antonio Park; it's filled with exotic birds and monkeys!"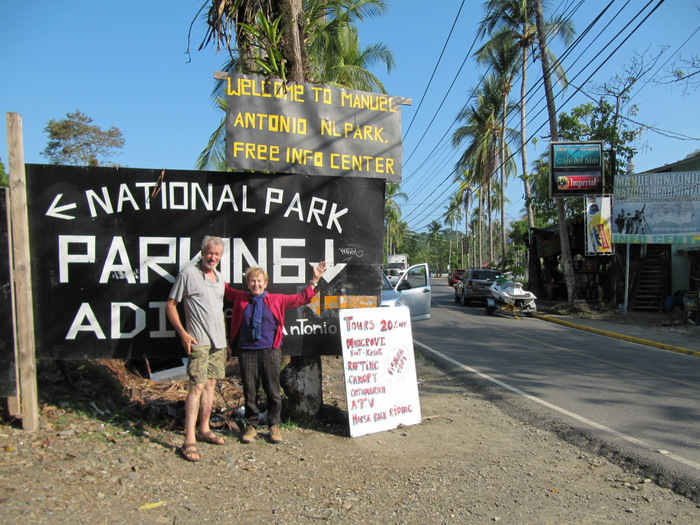 It was absolutely my intention to visit Manuel Antonio but time constraints didn't allow for more than a quick drive-by and picture with my host and friend, Henry Karczynski. However, I thoroughly enjoyed an excellent, leisurely mid-afternoon meal at Emilios, a trendy Italian restaurant in the nearby hills overlooking the Pacific.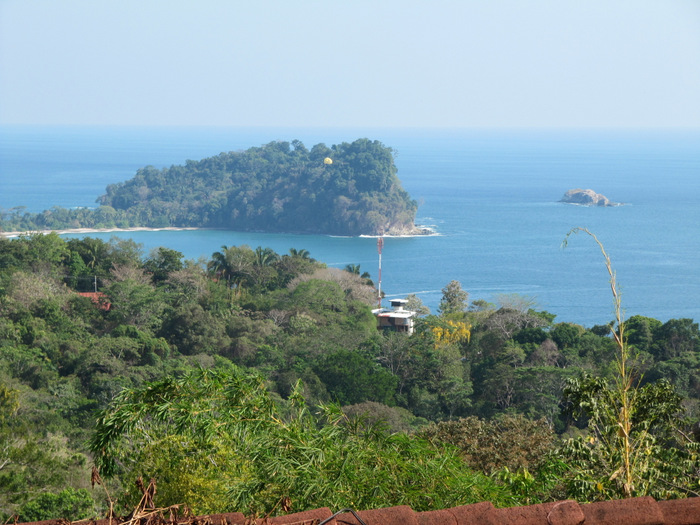 If you're in the area I highly recommend the fresh local tuna but be sure to save room for one of their excellent desserts such as the Maracuya (passion fruit) pie.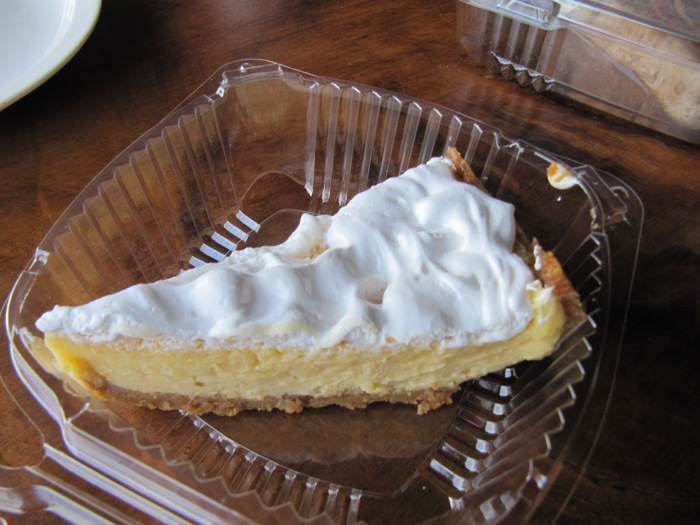 Villa Vanilla, is one of the most charming tropical farms I've ever visited. Located roughly eight miles outside of Quepos on a well-paved road, it's an easy drive by car or taxi. Before we actually pulled into the farm, however, Henry drove up the hill so that we could look down on the secondary forest that is slowly reverting to primary forest on the farm property. "When I purchased this land it had been used for raising cattle," Henry comments. "The forest is an important component of the farm's ecology and microbiology."
Indeed, throughout the afternoon and into the evening, the warm, humid air was filled with the calls and chatter of toucans, parrots, parakeets, bell birds and other colorful tropical birds, along with flycatchers, woodpeckers, the Yguirra, (aka, the clay-colored robin, Costa Rica's national bird), and other less "exotic" residents as well as North American birds that enjoy the warm Costa Rican winters.
Microbiology is a key word in Henry's lexicon. In fact, in some ways it defines much of his journey since signing up for the Peace Corps in 1975. "I'd just finished a bachelor's in marketing and a master's degree in business when the recession hit. Vets were returning from Vietnam and the job market was really tight. I decided to travel via the Peace Corps and look for a career once the market was better." This wise decision completely changed the trajectory of his life.
Henry's first assignment was with the Ministry of Agriculture at Hope Gardens in Kingston, Jamaica. His second was Costa Rica where he worked as the marketing director of a large potato cooperative. This led to ten years with USAID in small farm development throughout Central America. He knew soon after joining the Peace Corps that agriculture was where he belonged and the work he did over the next twelve years provided him with the best possible education for his life as a farmer. He saved his money with the intention of living in Costa Rica, and in 1987 the opportunity presented itself and he purchased the land that became Villa Vanilla.
We strolled through the demonstration garden in the late afternoon, a beautiful time in the tropics as the peak heat of the day is over and dappled sunlight filters through the trees.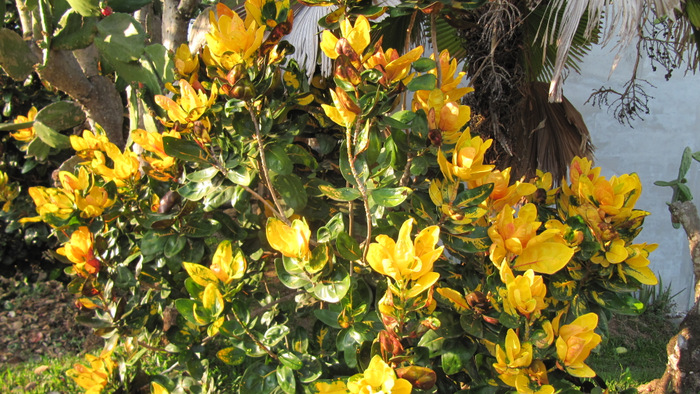 The first vanilla flowers were appearing on the vines.
The brownish flower on our right was just pollinated before it died. The one to the left was pollinated earlier today.
The pathway through the demonstration garden is filled with blooming plants, including stunning heliconias.
Originally, Henry focused entirely on vanilla as his only crop. For the first few years this served him well. Then, the region was hit with several hurricanes and the rainfall was phenomenal. Needless to say, it impacted everything. However, around this time Henry began to explore the concept of bio-dynamic farming, an ancient practice based on planting with the rhythms of nature and practicing inter-cropping and agroforestry. Soil health and attention to beneficial microorganisms are critical to effective farming and is a key component of bio-dynamic farming.
Once Henry committed to bio-dynamic farming methods and planted a greater variety of crops, the farm flourished and native fauna and flora began to return to the farm. He currently has 10 hectares under active cultivation, five hectares in pasture land plus some reverted to native forest. He has 6000 vanilla vines, 300 cardamom, 2000 turmeric and 100 ginger plants. Additionally, he has 500 cacao, 300 allspice, 500 Ceylon cinnamon, and 30 clove trees as well as three types of cayenne pepper and even some unusual plants for the Americas, such as tulsi (holy basil).
I asked Henry what he most enjoys growing, knowing that's kind of like asking a parent which of her children is her favorite. I was both surprised and not surprised when he immediately responded, "Vanilla and cacao." Surprised that he had real favorites, and not at all surprised by his choices. In the 30 years I've been intertwined with vanilla, every farmer I've known has considered one or both of these two very beloved crops as their favorite.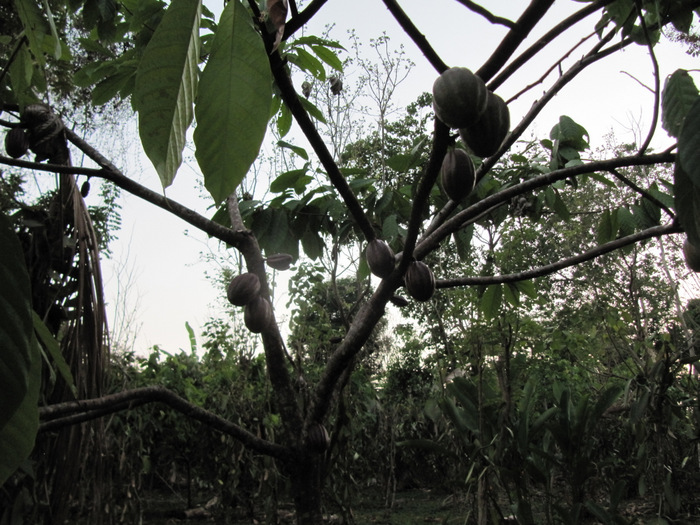 Cacao pods on the tree taken just before the tropical day ends.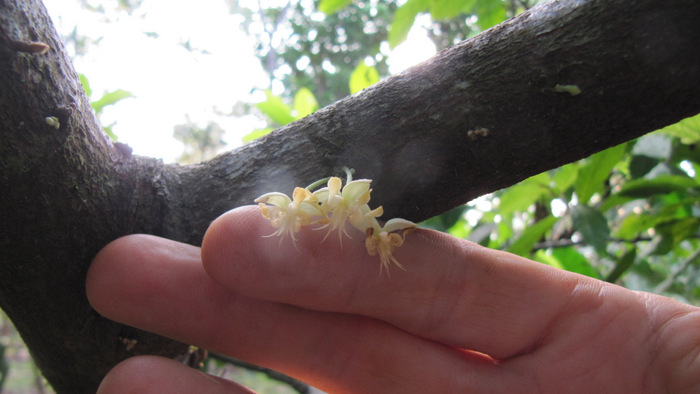 Tiny cacao flowers blooming on the tree. Cacao pods grow directly out of tree branches.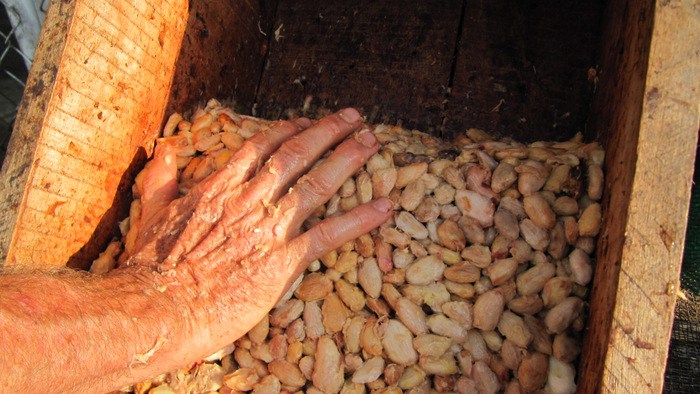 Cacao beans removed from the pods, going through fermentation. They will then dry before being shelled.
There was so much to see, but the light was failing as we walked to a beautiful point up a hill from the farm to see the last of the light on traditional forest.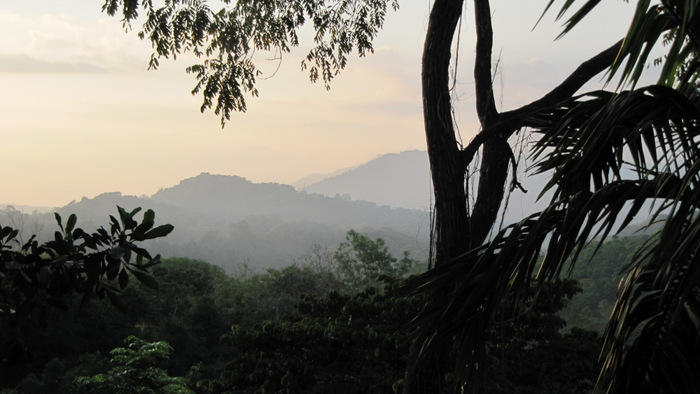 The birds were quieting in the forest but the cicadas were clicking and thrumbing around us, the sound almost unbearably loud. Below left are cinnamon twigs ready to be peeled and ground. On the right, tillandsias blooming.
These annoying visitors thoroughly enjoy dining on the immature growing leaves of the vanilla host trees and breaking the branches with their weight. Fortunately, Henry's dog, who is smaller than many of the iguanas, is fast as lightning in his work and either kills them or scares them away.
Henry's next project is already underway. Equipment has been ordered to begin bean-to-bar chocolate bars flavored with vanilla and his other spices!
To learn more about Villa Vanilla or to Contact the farm for a tour, here is the information you'll need. In addition to the beautiful demonstration farm gardens, you will be able to see vanilla, cacao, cinnamon and other spices being processed. You can also purchase products at the farm's Spice Shoppe. While Manuel Antonio may be your primary destination, be sure to make time for Villa Vanilla! (And when you're ready to eat, do go to Emilios.)
Latest posts by Patricia Rain
(see all)