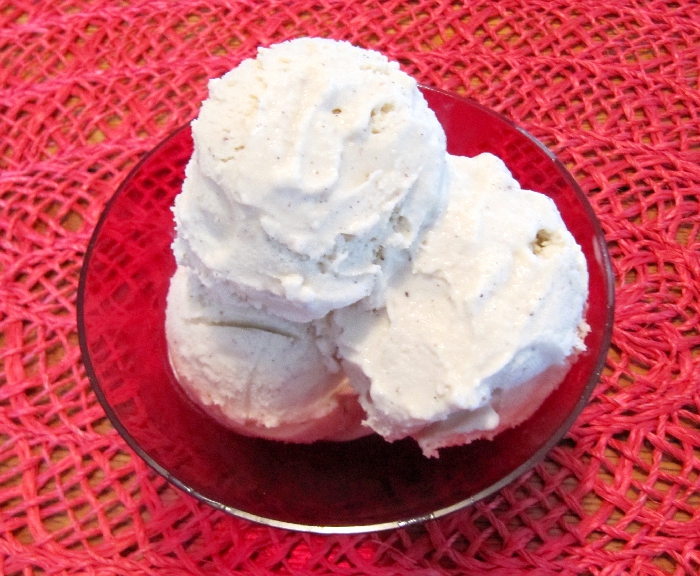 Who doesn't love the divine, inimitable flavor of pure vanilla ice cream? While it goes with everything – pies, cakes, tarts, cobblers and more – it's perfect just by itself or with so many other possibilities such as a lovely caramel or fudge sauce. Yummm!
Unfortunately, finding pure vanilla ice cream in the marketplace is a big challenge. Ever since the beginning of the 21st century there have been high-end pure vanilla substitutes called Natural Flavors. These substitutes are made with vanillin from plant sources other than vanilla beans. While they may smell and taste a lot like pure vanilla, natural vanillin, found in many plants besides vanilla, only contains part of the flavor profile of pure vanilla. So while they are a reasonable substitute, if you want to make certain that the vanilla ice cream you eat is made with pure vanilla and has all the amazing flavor notes contained in pure vanilla, purchase small-batch, artisan vanilla ice cream. Or, make your own.

My recipe calls for 1 vanilla bean plus a teaspoon of extract as I want big flavor. You can substitute freshly ground vanilla beans, vanilla extract or vanilla paste, or you can use a combination of the choices to create a richly-flavored frozen dessert.
To substitute freshly ground vanilla beans, add 1/2 – 3/4 teaspoon of ground vanilla bean to the heated cream. It will flavor the cream blend overnight. You can combine ground beans and extract as well.
If you wish to use our vanilla paste, you will need 1- to 1-1/2 teaspoons of the paste, added after the cream has been heated. Our paste is a blend of a triple-strength vanilla and freshly ground beans with only xanthan gum that acts as a binder. There is no added sugar or corn syrup in the paste.
And if you use our extracts, then add 1 tablespoon to the heated cream. Doesn't taste quite strong enough? Add a little more.
You can use this recipe as the base for making other flavors as well. Add very ripe fruits, crushed peppermint plus a little pure peppermint extract, chocolate chips or whatever else you'd like just as the churning liquid is starting to look like ice cream.
The following recipe is a custard based ice cream. The advantage of custard is that it doesn't get ice crystals quickly if you don't eat all the ice cream at once. You can also adapt this recipe to your preference. I use 2 egg yolks; some recipes call for 6. 2 yolks will create a very light custard; 4 will make a richer custard. You can also vary the milk and cream to your preference — for instance, more light cream, less heavy or a little more milk and less cream. As long as you're using an ice cream maker, you have a fair amount of flexibility.
Print
The Best Vanilla Ice Cream
1 Vanilla Bean open lengthwise
1 cup half-and-half or light cream
2 cups heavy cream
1 cup sugar
4 large egg yolks
1 teaspoon Rain's Choice pure Vanilla Extract
Instructions
Put half-and-half, heavy cream, and 1/2 cup sugar into a saucepan, then scrape the seeds from the split vanilla bean into liquid and then add the vanilla bean to the mixture. Gently warm over low flame until the sugar has dissolved. You may want to use a heat diffuser or a double boiler to make the custard unless you are very comfortable with your stove's settings.
Place the egg yolks and the remaining 1/2 cup of sugar in a bowl and beat until the mixture thickens and turns a pale yellow.
Add about 1/2 cup of the warm cream mixture to the egg yolk mixture and heat until blended. Gradually add the rest of the warm cream mixture to the egg yolks, beating continually. Return the custard to the saucepan and cook gently until it thickens enough to coat the back of the spoon. (Note: Don't rush this process as the custard will curdle. Stir constantly with a whisk as the custard thickens.)
Remove the vanilla bean from mixture then strain mixture through a fine mesh sieve. Scrape the remaining seeds from vanilla bean into the custard mixture and stir until well blended then add back into the blend. Add the extract to the custard.
Allow custard to chill thoroughly (ideally overnight so that it develops a really deep flavor). Make the ice cream according to the directions of your ice cream maker.
After making the ice cream, pack it into a container and allow it to cure for an hour or so before eating. However, if you love soft-serve ice cream, feel free to dive in!
Did you like this post? "Like" it, and share your thoughts in the comments below!
Latest posts by Patricia Rain
(see all)