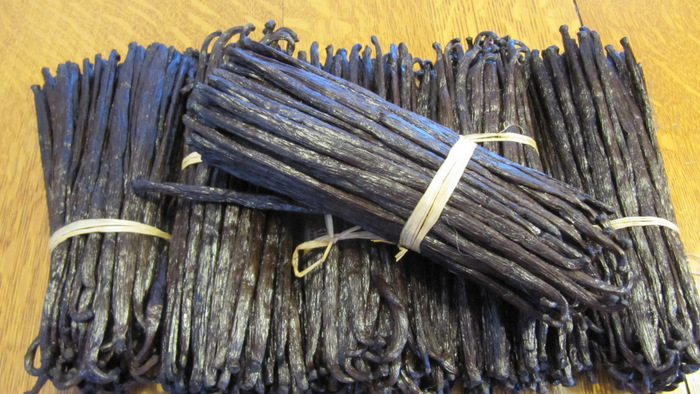 Homemade vanilla extract is easy and fun to make. It often isn't as strong as commercial vanilla extracts though it may have a larger flavor bouquet than extracts from the market. But the real pleasure is in making it for yourself or for giving as gifts. Before we get started, here's some information about how commercial extracts are made. I'm including this information here as people have some misconceptions based on commercial versus homemade extracts.
How commercial vanilla extract is made
Commercial extracts are made from extract grade vanilla beans. These beans are drier than gourmet grade beans as they will be ground to a fine powder. Gourmet grade beans are too moist and will gum up the machinery. The best commercial extracts are made with beans that have a high natural vanillin content. Vanillin is the most recognizable aroma of vanilla and makes up about 25% of the fragrance. 250 specific chemical compounds have been identified in pure vanilla, but there are actually at least 500 compounds in pure vanilla, which is why no imitation vanilla can match its flavor and fragrance.
The ground vanilla beans, known as vanilla extractives, are put into stainless steel drums that use a percolation system. A mixture of food grade sugar cane or grain alcohol and purified water circulates through the beans until the flavor has been pulled from the ground beans. Some companies use a cold process, others a warm process. Is one better than another? I honestly don't know, but most companies prefer the cold process.
Ideally the mixture would rest for several days before being strained, but meeting the demand for extract usually doesn't allow for this. I bring this up here as homemade extracts can age as long as you'd like.
The mixture is then filtered through very fine mesh screens to remove the majority of the extractives, then sugar, corn syrup, caramel color or other additives may be added to the extract. These sweeteners help to cover the harsh nose of the alcohol but are not necessary for making better extract. Finally, the extract is either stored in large containers or bottled into gallons and prepared for market. The longer this extract rests, the smoother the product as the flavors mellow and age.
Just like commercial extracts, homemade extracts benefit from the aging process. If you are making extracts as holiday gifts, you should ideally begin no later than September . As that often isn't practical, there are still a few tricks you can use that I'll share in a moment. First, choosing beans.
What kind of vanilla beans should you use?
Vanilla planifolia, is the primary species of vanilla used commercially. You probably know it as Bourbon or Madagascar vanilla. These are the beans I recommend you use as it will produce a familiar flavor. Unlike commercial extracts, you need gourmet-grade beans. While yes, you can use extract grade beans and grind them or you can purchase ground vanilla bean powder, you are going to get the richest, most flavorful vanilla using gourmet grade beans.
What kind of alcohol should you use?
It doesn't matter which alcohol you choose for making extract – it's more a question of which alcohol you prefer.
Vodka has the least flavor to interfere with the taste of the vanilla. Because rum is sweet, it's the best for making cordials, and vanilla brandy is lovely to pour over freshly baked holiday cakes or added to stewed winter fruits. All of the extracts can also be used in craft cocktails.
You can also add additional spices to the alcohol to make a vanilla and spice rum, vodka or brandy. In Reunion, Madagascar, and the Caribbean countries, most families have their own spiced blends that they serve for sipping. Sometimes medicinal herbs are added to the alcohol and used for coughs or stomach ailments. In Mexico they often blend Everclear with vanilla beans and piloncillo, the molasses-rich raw sugar.
How to make homemade pure vanilla extract
For each pint of alcohol, you need about ten vanilla beans. You can use more if you choose, but ten per pint is enough to get the extract flavored quickly. Split open the beans lengthwise to expose the seeds, keeping the ends of the beans intact. Place
the beans in a pint of high-quality vodka, rum or brandy. If you're using more alcohol, add beans proportionately. Because you are working with alcohol, make certain you make the extract away from an open fire, heater or the pilot light on the stove. There is no need to dilute the alcohol with purified water when making homemade extracts.
Store the extract in a cool, dark place such as a cupboard or closet for a minimum of four weeks. Shake the bottle several times a week. Sometimes the mixture may get cloudy or murky looking. Don't panic. The beans contain some pulp, which sometimes leaches into the alcohol. You're using alcohol so it's highly unlikely that bacteria is growing in the bottle. When you decant the extract into gift bottles or you are preparing to use it, strain the extract through a sieve lined with several layers of cheese cloth. This will guarantee a lovely amber extract, just the way it's supposed to look.
To use, either remove four of the beans for another purpose (you can add them with a fresh bean to make more extract, or you can use the beans for cooking), or let all the beans remain in the bottle, and periodically, add more alcohol to keep the bottle replenished. Eventually the beans will lose their strength but they should maintain their flavor for many months. If you are making the extract for the holidays, keep the beans in the alcohol as long as possible.
Homemade vanilla extract is a welcomed and appreciated gift
For gift making, make several liters of extract. Decant the extract into unusual bottles, adding a vanilla bean to each bottle, add a label and voilà, you have a very attractive gift. The extra bean in the bottle will also guarantee that the extract will be as rich as possible, even if you got a late start.
I sometimes tie a couple of extra beans to the bottle with raffia and include directions for making more extract.
You can also turn your homemade extract into a vanilla cordial for a truly unique and elegant gift.
How to make vanilla cordials
Follow the above directions for making extract. When the extract is at least four weeks old, remove the beans from the bottle and place in a medium saucepan. Add 1 cup sugar and 1/2 cup water. Bring to a boil, stirring constantly. Continue to boil about 3 minutes more, stirring occasionally. Allow the mixture to cool.
Pour the syrup through the sieve lined with fresh cheesecloth into a clean bottle containing the extract. Add a vanilla bean to the bottle if desired. Allow the cordial to mellow at least one week before serving. The longer the cordial ages, the smoother it will be. If you want a cordial that isn't quite this strong, double the amount of simple syrup.
The Vanilla Company carries the finest vanilla beans for making extract. Your purchase helps supports the work we do with farmers. Read more…
Latest posts by Patricia Rain
(see all)