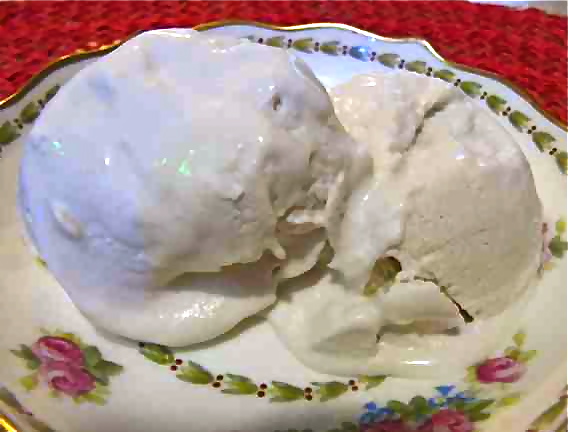 Just about everyone has a summertime ice cream memory. We didn't have the Good Humor Man where we lived, but when I was eight and my brother was four we visited our Connecticut cousins and discovered the joy of the arrival of the Good Humor Man in the neighborhood and the art of begging for a popsicle or ice cream bar.
That summer was also the first time I had homemade ice cream; I was in love! My aunt and uncle had an old fashioned crank ice cream maker. One of us kids sat on the metal bridge to make the cranking a little easier as it held the base still. It seemed like forever, but finally, it was ready. Bursting with freshly picked peaches, it was icy, soft and melted dreamily in our mouths.
A wonderful memory for all the kids who could have dairy; those who couldn't got popsicles. But times have certainly changed!
My grandsons can't have dairy. They never had ice cream sandwiches until they were four and six and I made them with Coconut Bliss ice cream with Enjoy Life gluten-free cookies. You would have thought I had invented cuisine! It's still a favorite.
At this point, I'm not sure whether I prefer dairy ice cream or coconut ice cream better. Because my boys love vanilla so much (fruit doesn't fall far from the tree), I make vanilla and, for special occasions I also make brownies and caramel sauce because that's what grandmothers do.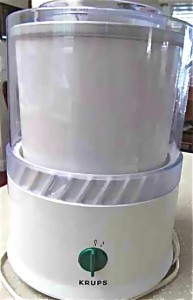 I have a Krups ice cream maker that I really like, but there are a lot of good options to choose from. You freeze the canister for 24 hours (or keep it in the freezer all summer so it's always ready), and whip up a batch of ice cream in 20 minutes. I've found that with coconut milk ice cream, it's better served a little softer than dairy ice cream, so I serve it when it's just ready rather than allowing it to "ripen" in the freezer for 30 minutes.
The best coconut milk I've found is Native Forest, a socially conscious business that uses BPA-free containers. The main thing about making the ice cream is that you need full-fat coconut milk, not light, and one can of coconut cream. If you can't find coconut cream, buy three cans of full-fat coconut milk and follow the instructions below.
Here's the recipe I use:
Print
Vanilla Coconut Cream Ice Cream
1 can full-fat coconut milk
1 can coconut cream or
3 cans of full-fat coconut milk
1/3 – 1/2 cup sugar, honey, maple syrup, or agave syrup
1– 2 teaspoons Vanilla Bean Paste — to taste
Instructions
Chill the coconut milk and cream in the refrigerator overnight.
In a medium-large bowl put the contents of 1 can of coconut milk and the can of coconut cream. You may need to use a dinner knife to release the cream from the can. If you don't have coconut cream, turn the other 2 cans of coconut milk upside down. Open and pour the coconut water into a container for another use, and add the solids to the bowl. The plan is to have the equivalent of 1 can of coconut milk and 1 can of coconut cream. Add the sweetener and vanilla.
Using an immersion blender, a hand-held mixer or a food processor, mix the ingredients until they are well blended. Add the ingredients to the ice cream maker canister and proceed following the manufacturer's instructions.
When the ice cream is ready you can serve it or put it into another container to "ripen."
Using this basic recipe you can add nuts, fruits cocoa powder, etc. to make a variety of ice cream flavors. If the ice cream maker only makes a quart, you will need to cut down the coconut milk/cream by 1/4 to make room for additional ingredients.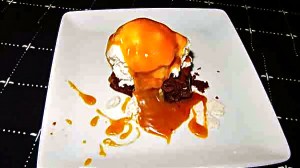 If you want to make a brownie sundae with caramel sauce, here is the brownie recipe, and here is the caramel sauce recipe.
Notes: A few years ago it was believed that coconut milk and cream were unhealthy as it is a saturated fat. However, this is a saturated natural vegetable fat filled with medium-chain triglycerides, which have since been proven to be a healthy fat.
You can substitute 1 teaspoon vanilla powder or 1 tablespoon vanilla extract for the vanilla paste or use 1/2 teaspoon ground vanilla bean powder and 1 tablespoon vanilla extract.
Look Delicious?
Pin it for the world to see!
Latest posts by Patricia Rain
(see all)