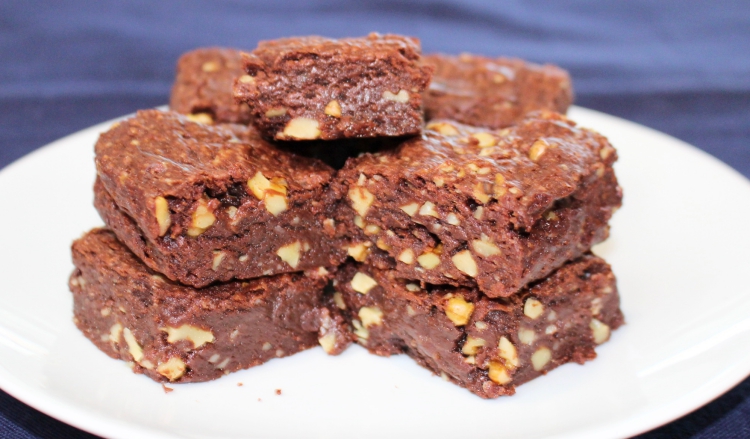 This recipe is actually a classic recipe that I got off of the Baker's unsweetened chocolate box. I use 2 teaspoons of pure vanilla extract and I under-bake the recipe so that the brownies have a crusty topping but are moist and fudge-like inside. That's the way that I happen to like them. You can always bake them a bit longer if you prefer.
You may also double this recipe and bake it in a larger pan. If the brownies actually last longer than a day, warm them briefly in the microwave; moist, gooey chocolate heaven! If this is how you like your brownies, you'll love this simple recipe.
Print
Gooey Brownies
8 tablespoons (1 stick) butter, cut into pieces
4 ounces best quality unsweetened chocolate, broken into pieces
1–1/4 cups sugar
2 teaspoons Rain's Choice pure Vanilla Extract
1/4 teaspoon salt
2 large eggs
1/2 cup unbleached all-purpose flour
2/3 cup walnut or pecan pieces, lightly toasted (optional)
Instructions
Heat oven to 350 degrees F. Position rack to lower third of oven
Grease an 8-inch square metal pan or line it with aluminum foil, pressing it against the four sides so that it fits tightly.
Melt the butter and chocolate in a medium saucepan on warm or place in a small bowl and heat carefully in the microwave until the butter is liquid and the chocolate has melted. Stir the two together and allow to cool slightly.
In a medium bowl add chocolate-butter mixture (If you used a saucepan to melt the butter and chocolate, use it as your bowl). Stir in the sugar, vanilla and salt. Add 1 egg, and beat with a wooden spoon until it is incorporated. Do the same with the second egg. Stir in the flour and beat well until the batter is smooth and glossy and starts to pull away from the sides of the bowl. Sir in the nuts if using and scrape everything into the baking pan.
Bake for about 20 – 24 minutes or until the brownies pull away slightly from the sides of the pan. (This requires a keen eye.) The top of the brownies will be a bit crusty but the center should be gooey still.
Cool brownies on a rack. If you have used foil, you can remove the brownie "cake" and chill it. Turn the "cake" out upside down on a cutting board and remove the foil. Cut into squares.
Makes 16 brownies.
Look Delicious?
Pin it for the world to see!
Latest posts by Patricia Rain
(see all)