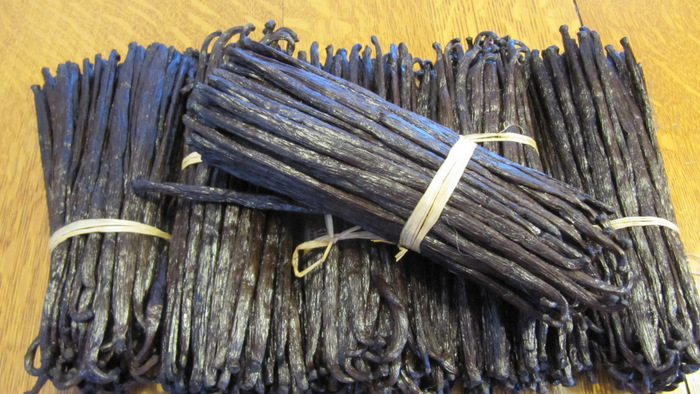 Enough customers have asked us this question that I realized that although I've mentioned this information in passing in blogs, we needed a blog that addresses this important question. My hope is that this will assist all of you who aren't quite sure about the best way to preserve your products.
Vanilla Beans
Gourmet quality vanilla beans should be flexible, ideally with an oily sheen, and they should smell rich and fragrant. A lot of people have been surprised when they first purchase vanilla beans from us as they're accustomed to the dry beans in the tube or other packaging they've purchased from the supermarket. Very likely they were flexible and oily when they arrived at the market, but the low humidity and bright lights make vanilla beans dry out very quickly.
So how do you store them? It helps to keep the beans in the heavy plastic packaging they arrived in when mailed. You can then put the beans and packaging in a glass or plastic container with a good, tight seal. Store in a cool, dark place, like a cupboard away from the stove or, even in a closet. If you live in an area that is both hot and humid, the beans can be stored in a glass jar without the plastic packaging. Beans are most comfortable when the temperature ranges from 60 degrees F (15.5 C) to 85 degrees F (29 C). Do not store vanilla beans in the refrigerator or freezer! The beans can dry out or rot depending on the humidity in the refrigerator. They typically become hard and dry if frozen.
Depending on how long Planifolia (Bourbon or Mexican) beans are stored, they may develop small vanillin crystals, which are sometimes confused with mold. Take one or more beans outside to the sunshine. If they glitter in the light, you have natural vanillin crystals, which means they're extremely high-quality beans. The crystals are edible.
If, however, the beans smell foul and the white, powdery substance doesn't glitter, it's mold. You can "rehabilitate" the beans if the mold hasn't permeated all the beans. First, separate out any beans with mold from the clean beans. Wipe the beans thoroughly with a paper towel or clean cloth. Now, wipe them very carefully with a damp towel. Allow the beans to dry completely and place them in a clean freezer bag and store them separately from the uninfected beans. If the mold reappears, the beans should be thrown out.
One last detail. Sometimes you will see brown streaks on the packaging. These are the volatile oils on and in the vanilla beans. You do want to make sure that the beans aren't sweating in the packaging because the room where they're stored is too warm or too humid. Conversely, you don't want too dry an environment or the beans will dry out. Even if beans become dry over time, they will rehydrate if they are put in a warm liquid. For instance, you can still use dry beans by heating them in cream or milk if you are making ice cream, custards, puddings, etc. They can also be used for making extracts. Very dry beans can be ground in a clean coffee or spice grinder. Remove the tips at each end of the vanilla bean before grinding for best success.
Vanilla Extract
Vanilla extract contains 35% alcohol by law, which translates to 70 proof. What this means is that extracts typically age and become more mellow and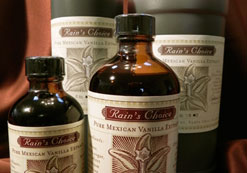 flavorful over the next year or two, assuming you haven't used it up already. Extracts do best in temperatures from 55 degrees F ( 12.8 C) and 80 degrees F (26.6 C) and away from light. Store in a cool, dark cupboard away from the stove or oven.
Why do we use plastic bottles for extracts in pints and quarts? While glass bottles (especially dark-colored glass bottles) are the optimal container to store extracts, from a seller's point of view, this works well only in small sizes. Restaurant and bakery kitchens typically purchase vanilla extract in pints-to-gallons. If a glass bottle shatters in a kitchen, everything shuts down while the glass is cleaned up. Anyone who has had a bottle or drinking glass shatter knows how small the shards can be and how far those shards can travel. Commercial kitchens want everything possible in plastic to avoid this dangerous issue. As a result, we bottle pints, quarts and gallons in plastic.
The second reason we use plastic is that glass is heavier and more fragile than plastic. As a customer, this means your package is more likely to arrive intact and for less money than if we used glass. Feel free to decant the extract into a glass container if you wish. The plastic is food grade, but it will keep as well in glass as in plastic.
Ground Vanilla Bean Powder
Store ground vanilla bean powder in the same way you would store vanilla beans. The ground powder typically keeps its flavor for at least a year if stored properly.
Vanilla Paste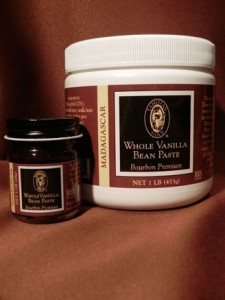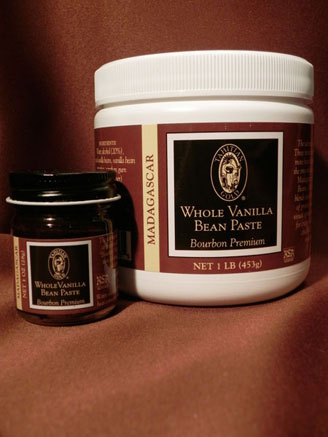 Vanilla paste is a combination of a triple strength extract and ground vanilla bean powder. Although it contains natural sugars, it does not have added sugar. As a result, it should be stored in the refrigerator once it has been opened. As long as the paste is kept in the original container, it will typically last at least a year in the refrigerator.
Natural Vanilla Flavor
Our natural vanilla flavor is a blend of pure vanilla extract and natural vanillin derived from plants other than vanilla. It should be stored in a cool, dark cupboard in the same way as pure vanilla extract.
Latest posts by Patricia Rain
(see all)