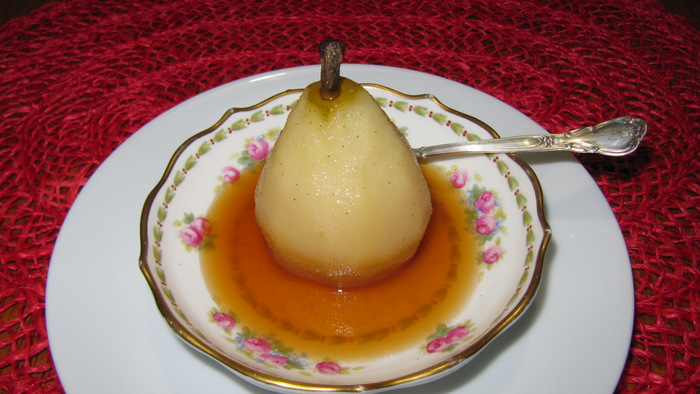 There are moments when winter feels like it's dragging on endlessly — dark, cloudy days, rain, sleet or snow outside, and predictably tedious days at work. We want a treat but, the holiday pounds we gained won't leave, or we want to look great at the reunion. What to do? Simply delicious fruit desserts!
This is the kind of recipe that works well with winter pears, apples, and even quinces if you're lucky enough to locate some. It's comforting, low calorie and even festive enough for a dinner party, and really satisfying! It's vegan and gluten- and dairy-free so no worries in adjusting a recipe to suit everyone.
The best pears for poaching are the green d'anjou or Bosc pears. They hold their shape well when poached and are ripe when still a bit firm. I made several poached pears recently and served some with Creme Anglaise, lightly dusted with freshly grated nutmeg.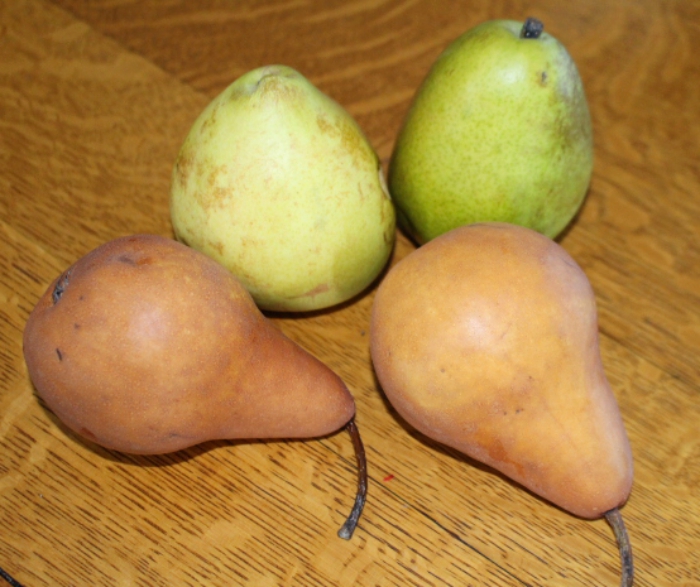 Don't worry if you don't have all the spices listed in the recipe. Use what you have and adjust the amount of spices you use and sweetening to match the wine or juice you use as your poaching liquid. If you're dreaming of excess, serve the fruit warm with ice cream on the side, or pass a pitcher of Creme Anglaise or bowl of whipped cream. And, in the morning, you have a guilt-free treat with coffee at home or the office. What possibly could be wrong with a recipe like this?
Print
Spiced Vanilla Poached Pears
4 – 8 ripe, but firm, pears (Anjou and Bosc are good choices)
1 bottle fruity white wine such as a Reisling or Gewurtztraminer
(can substitute white grape juice if preferred)
½ – 1 cup sugar or honey depending on sweetness of wine or juice
1 Rain's Choice Vanilla Bean, sliced lengthwise but still intact
1 cinnamon stick
4 allspice berries
4 black pepper berries
1 star anise
2 cloves
zest of 1 lemon
Instructions
Carefully peel the pears, leaving stems intact if possible. Cut ¼ inch off the bottom of each pear so that they stand up more or less straight.
In a deep saucepan, combine the wine (or juice), sugar, spices and zest and bring to a boil. Reduce the heat to a high simmer and add pears. The poaching liquid should cover pears at least half-way. Add more water, juice or wine, if needed. Cover saucepan with a lid.
Poach pears for 15 – 30 minutes (time varies based on variety of pears and ripeness), basting them frequently.
When pears are tender when pierced with a knife, remove from the stove and allow pears to remain in the liquid until time to plate them unless you will be serving them right away. If making the pears ahead, remove them with a slotted spoon into a bowl.
Bring the liquid back to a boil and cook until the liquid is reduced by half and is slightly thicker.
Remove liquid from the stove and strain out the spices and vanilla bean. Rinse and save vanilla bean for another use. Pour liquid over pears.
Serve warmed or at room temperature with syrup. Serve ice cream, Creme Anglaise or whipped cream on the side if you wish.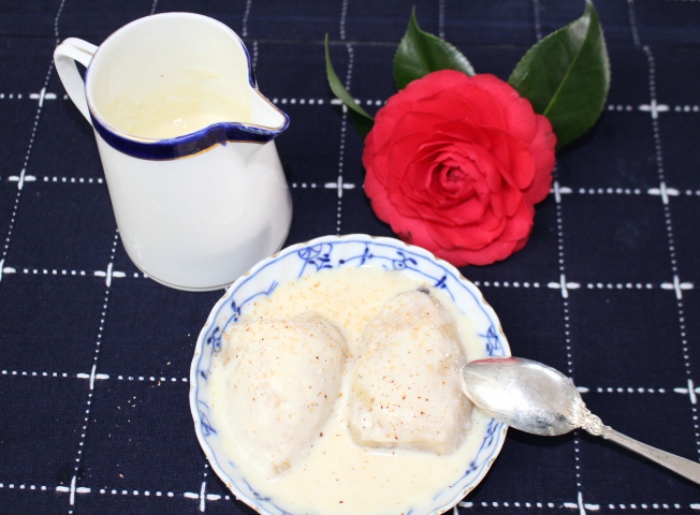 Did you like this post?
"Like" it, and share your thoughts in the comments below!
Latest posts by Patricia Rain
(see all)