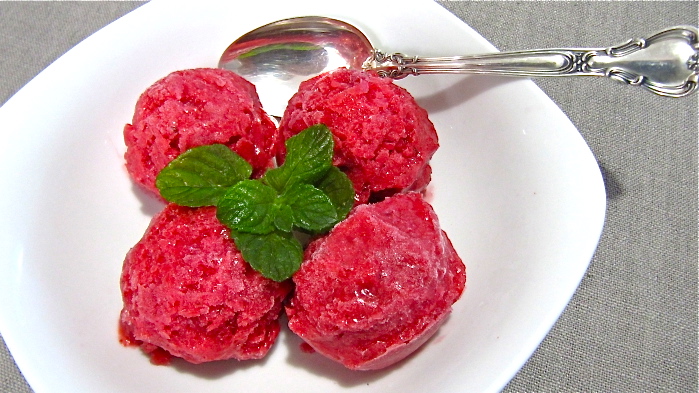 When the heat's on, the last last thing you want is kitchen time at the stove or have the oven blasting. This is when sorbets, granitas and popsicles are the best game in town. And what's better than something bursting with summer flavor but light on the waistline? You can start the process early in the morning, and enjoy the fruits of your labor (pun intended) later in the day when you crave an icy treat.
I first started making lemon sorbet (I didn't yet know about granitas) in 1972. I froze it in the 8-inch square pan I also used to bake brownies. Once the sorbet slush set up I used a hand mixer to integrate the ice crystals. Had I known about granitas I wouldn't have bothered struggling to beat the ice crystals into submission. When it was as smooth and frozen as the old refrigerator allowed, I scooped the icy mixture into melon halves or quarters — Cantaloupe, Honeydew, Persian, Crenshaw — which we savored in our small country garden in the Santa Rosa Valley.
David Lebovitz' book, Scoop, has an entire chapter dedicated to sorbets and granitas, which inspired the two recipes I made this week. My daughter gave me a large freezer bag filled with Santa Rosa plum pieces from her tree, with which I made a sorbet. I actually intended to make a granita as per David's recipe for Plum Granita, but I blended the lightly-cooked fruit, sugar, mint, vanilla and water in my Vitamix, which created a smooth, almost creamy, blend with no icy crystals.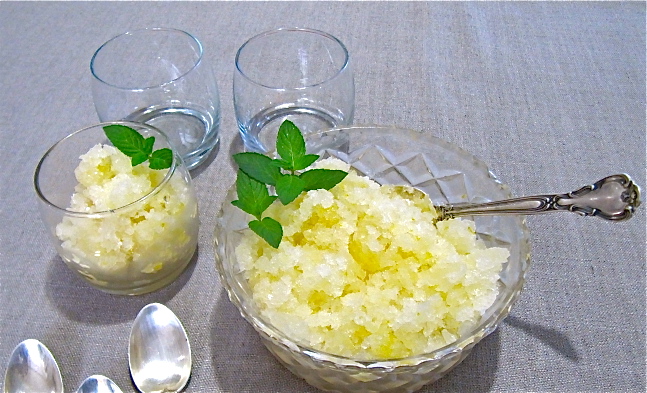 If you have a Vitamix or equally strong blender, you won't need an ice cream maker to create a creamy sorbet of any flavor though an ice cream maker will create a firmer sorbet. And, as granitas are, by their nature, fine, icy crystals, all you need is a container with 2-inch sides that can hold up to 2 liters (almost 2 quarts), and a freezer section in your fridge. Simple.
Here are two recipes to get you started. Lemon-Vanilla Granita. Plum-Vanilla Sorbet. I recommend David Lebovitz' book, Scoop, for more inspiration or for specific measurements, or use your imagination with whatever fruits you have access to for making spectacular icy treats. Pineapple, berries, nectarines, peaches or pears, watermelon, grapes, citrus — it all works. Vary the sweetness and water to taste. Happy summer!!
Did you like this post?
"Like" it, and share your thoughts in the comments below!
Latest posts by Patricia Rain
(see all)