Just writing the title of this entry draws me back to the beautiful
Southern Coast of Italy.  It's rugged, with towns carved from rocky promontories and scrubby vegetation deeply entrenched into the landscape, not unlike the Big Sur Coast of Central California.
We traveled by train to Naples then took the local Metro for another hour to Sorrento.  The Metro train was packed for the first twenty minutes, and we balanced our luggage with our legs while standing.  Slowly it  emptied out and we could see Mount Vesuvius and the signs to Herculaneum and Pompeii out the smudged windows.  We didn't have time to visit either village, but it was interesting to see the infamous volcano and the lush landscape surrounding it.
It was warm and humid, again feeling as if it might rain, when we arrived at the Ulisse Deluxe Hostel where we  stayed for two nights.  This was not what most of us think of as a hostel,  but rather, a hotel with hostel prices.  It's connected with a spa but we quickly learned that massages were booked out a week or more in advance by the droves of visitors who come to Sorrento for a month or two to escape the dreary English weather.
Our taxi driver from the train to the hostel attempted to talk us into a  drive along the Amalfi Coast in a Mercedes.  Fortunately, at the hostel we learned about a cruise along the coast, which happened to be scheduled for the next morning (it goes twice a week to Amalfi and Positano and once or twice a week to Capri).  We opted for the cruise, a much better choice as the road along the Coast is narrow, winding and treacherous in spots.  While there are buses that also travel along the Coast, we were told that  it's a long and not very comfortable trip.
Sorrento is larger than it first appears.  It's a hill town overlooking the Bay of Naples and is home to about 17,000 locals.  It's also a major tourist destination, and the main part of town is  designed for visitors who come for an extended holiday.  Lots of boutiques, department stores, restaurants and other shops that cater to tourists.  However, if you go even one or two blocks off the main drag, you'll find the town where locals live, work and shop.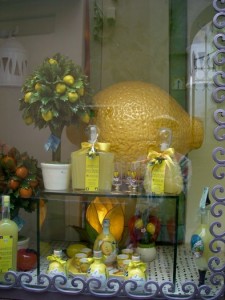 We chose a funky looking gelateria/trattoria, which at first glance, appeared to be an Italian version of an ice cream parlor/cafeteria. (An Italian Howard Johnson's came to mind.)  In fact, the food was excellent and we returned the following night.  As it turns out, it is a family run business that has  provided gelato for the Vatican for decades. Where else could we go but to a place famous for its gelato!
The cruise was a treat.  We left around 9:30 and returned a little after 5:00, so most of the day was spent traveling the coast and exploring the towns of Amalfi and Positano.
It has been a dream of mine to visit Positano for many, many years.  When I was 23, a 50-year-old neighbor became my second culinary mentor (my mother being the first).  He had lived in Positano in the 1950s with his lover who was writing an art history book .  He was a very good cook and opened my eyes to Mediterranean cuisine.
First, he had me throw out the sour cream which, in the early 1960s was a part of American "gourmet" cooking, and to replace it with olive oil.  He taught me about other types of olives than the innocuous black orbs  in cans, and introduced me to my first vanilla beans and how to use them.
He said that he and I should go to Positano and rent a villa on the hillside, with a great room for cooking and dining and suites on either side where we could entertain our lovers.  (I should  mention that my friend was gay, so he was not attempting to lure me away as his trophy wife.)
It was a delightful fantasy that never came to fruition.  We ultimately lost touch and I am sure he is long dead, but I wanted to visit the town of his dreams in his honor.  When sharing this story with my traveling companions, we fell into the "what if" fantasy.  I said that we probably would have started a cooking school in Positano and would have been well-received by guests from around the world.  Perhaps I would have met a successful — or famous — Italian man and now be a nonna to a passel of grandchildren.
The Amalfi Coast is a favorite of the rich-and-famous.  Anna Magnani and Berto Rossolini had a villa for a while in Furore and members of the international jet set are often spotted wining and dining in the gorgeous towns overlooking the sea.  In fact, roughly 400,000 people visit the Coast yearly, though it was not overrun with tourists while we were there.
In Amalfi we had a simple but very satisfying local dish in a little cafe — thick, crusty bread drizzled with olive oil and toasted, with cannellini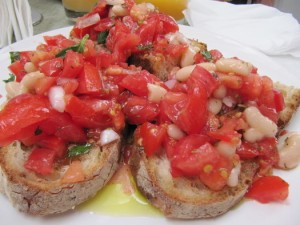 beans, chopped tomatoes, basil, garlic and more olive oil.  Super easy to make; super satisfying to eat.  If you drink, have it with a crisp white Italian wine.
The mainstays of Neapolitan food are tomatoes, lemons, fresh vegetables, red peppers and olives.  Seafood is obviously a part of the cuisine, but fishing as an industry is relatively small as tourism has largely replaced it.  Bufala mozzarella (made from water buffalo and incredibly good) is one of the primary cheeses.
The region is quite famous for its distinctive lemons that have been grown around Sorrento since the 1st century and along the Amalfi Coast since the early the 11th century.  Some of the lemons weigh as much as two kilos! In 1992 the lemons were given "Indication of Geographic Protection" under the European Union agricultural destination program, and the production and distribution are strictly controlled.
Sorrento lemons are the "secret" for the best limoncello. Unfortunately, I didn't know this at the time or I would have purchased some while I was there.  While I'm not wild about drinking it, limoncello is part of a famous regional dessert.  Which brings us to the Delizie al Limone that I had been eying in the restaurant the first night in Sorrento and purchased at a beautiful family bakery in Amalfi.  More about that in a moment.
First, the Cathedral of St. Andrew.  The church fills St. Andrew's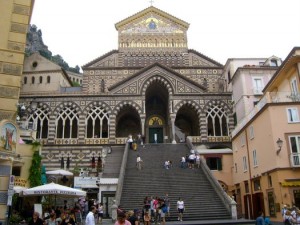 Square in the center of town with it's beautiful Arabic influenced stone work and arches.  It contains the relics of St. Andrew in a crypt.  As Sandra and I were touring the church, one of the church caretakers opened a small door in a cabinet as Sandra came through.  She wasn't prepared to see St. Andrew's skull inside and let out an startled gasp; the caretaker was quite offended. We struggled to restrain ourselves from a bout of hysterical laughter.
Along with the endless bottles of limoncello and other lemon-related gifts, we were amused by the rastras of red peppers being sold in the small shops catering to the tourists.  Although you can't read the sign
here, it says, "Viagra Naturale."
As we were walking down a side street I spotted a lovely looking pastry shop.  In my peculiar Spanish-Italian "dialect" I asked about the desserts.  The owner was so pleased that I was interested in his shop that he opened the pastry cases so that I could take unobstructed photos.  And it was here that I purchased the Delizie al Limone that was so good I could have wept!
The Delizie al Limone is next to the last row of pastries on the right bottom.  It's yellow with a flower of white cream on top.  Here's  a recipe I translated from Italian for this exceptional dessert that I plan to make.  First I need to make some Limoncello with my abundant supply of Meyer lemons. The topping is my recipe isn't quite the same, but it will be delicious nevertheless.
Positano is an artist's enclave and, as Rick Steeves says, it has "sold out" to the tourist trade. Nevertheless, it is charming and has some outstanding artwork in the galleries as well as high-end boutique clothing.  Standing in a courtyard overlooking the water, I could easily imagine my friend's memories of this town when it was not yet so heavily visited and I wondered what would have been my fate had I chosen to move there with him in 1967.
We sailed back to Sorrento just ahead of a thunderstorm that washed the narrow town streets clean and left the air fresh with the scent of lemon blossoms.  Lovely memories of a special place.
Latest posts by Patricia Rain
(see all)