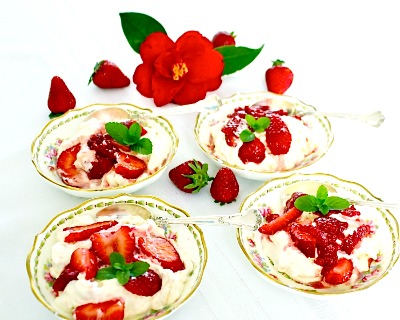 In 2014 I was a featured speaker at England's first national "Real Vanilla Day." Inspired and hosted by Janet Sawyer, owner and CEO of Little Pod, it was staged at Bickleigh Castle in Tiverton, Devon. It was a three day celebration, which included the launch of Janet's cookery book (as they say in the UK), Vanilla, cooking demos by several name chefs and bakers, and a hands-on baking event for children. And while it might seem odd to celebrate "real vanilla," to those of us who assume pure vanilla extract is everywhere, in Europe, vanilla beans or a synthetic coumarin/vanillin powder have been the available vanilla products until recently. Janet's mission is to promote real vanilla in support of the smallholder growers and to encourage more flavorful English desserts using pure vanilla.
Saturday evening's printed menu included a dessert puzzler — Eton Mess. I turned to others at the table for an explanation. I was told that it was a dessert of baked meringues broken into pieces, whipped double cream (whipping cream) and strawberries. The consensus was it was first served at Eton College and was probably the result of a kitchen disaster, hence the broken meringue.
I turned to Wikipedia. Indeed, Eton Mess is a longtime English tradition. It was first mentioned in print in 1893, probably originated at Eton College and is served at Eton's annual cricket match with the students of Harrow College. While strawberries are the traditional fruit, any summer fruits are fair game these days, and when bananas are used it is called Lansing Mess for Lansing College in West Sussex. According to Wikipedia, the word mess may refer to the appearance of the dish or to the blending of several ingredients mixed together and eaten as one. Who knew?
Real Vanilla Eaton Mess
Eton Mess is a quick-and-easy spring/summer dessert that doesn't need a recipe. The contrast between the fresh berries, crunchy meringue and the vanilla cream creates an explosion of flavors and textures. You can make the meringues yourself (with or without the almonds), or purchase them at a bakery or market. I used fresh strawberries and raspberries, a richly flavored vanilla whipped cream and homemade meringues leftover from a holiday dessert. I gently mashed the sliced strawberries and raspberries to release their juices and added a splash of Pelican Ranch Winery Raspberry Wine While it's my favorite raspberry wine (and contains our vanilla beans), you can easily find raspberry wines and cordials in most wine shops, or you can skip it. And, to make a super easy Eaton Mess, use high quality real vanilla ice cream instead of the whipped cream. Perfect for afternoon tea!
Latest posts by Patricia Rain
(see all)