Perfect Pineapple Upside-Down Cake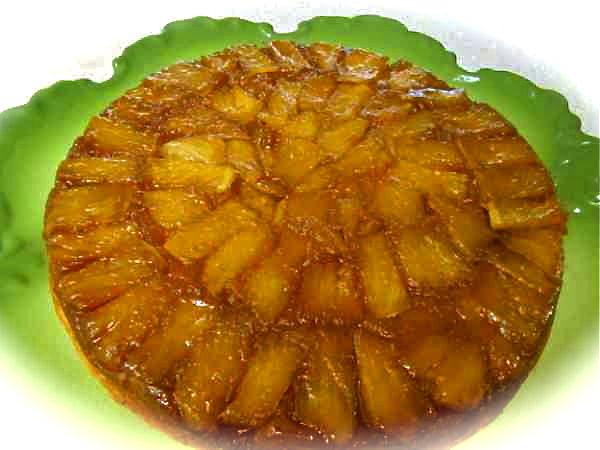 I love fresh pineapple! The best part about my infatuation is that pineapple is really nutritious and also reduces inflammation and pain.*
Years ago I found a recipe from Cook's Illustrated magazine for Pineapple Upside-Down Cake that made a big enough cake to fit a 10-inch cast iron frying pan. This recipe, with some simple adjustments in sweetening, works well with any fruit upside down cake. I thought I had posted this recipe on our site a long time ago and was surprised when I couldn't locate it. I also couldn't find the recipe in my personal recipe collection. (Turns out it was there, hiding in plain sight.)
Panic mode struck. I did not want to lose the recipe. I finally located a "best of" recipe from Cook's Illustrated and made the cake. I quickly realized that it wasn't right. So back to searching. In the process I found the original recipe I wanted, another interesting variation on the cake and my original spin on the recipe I had wanted.
Out of the search and with my changes, a new version of Pineapple Upside Down cake emerged. The PERFECT Pineapple Upside-Down Cake. When you make this recipe, I think you'll agree that it's special.
I personally far prefer fresh pineapple to canned but, if canned is what you like, go ahead. You can slice the pineapple however you choose. I like lots of pineapple and cram every nook and cranny with it. Add Maraschino cherries if you like. Or walnuts — or both. I like the addition of rum. I had golden rum but the flavor didn't carry through as well as I like, so I now use Meyers's.
While is cake is terrific served cold, I prefer warming it and serving lightly sweetened whipped cream on the side or passed in a small bowl.
Print
Perfect Pineapple Upside-Down Cake
Scale
Ingredients
Cake
1

–

1/2

cups unbleached all-purpose flour**

1

–

1/2

teaspoons baking powder

1/3 teaspoon

salt (or to taste)

3 tablespoon

s cornmeal (I like polenta grind but use what you like)

1/2 teaspoon

Rain's Choice ground Vanilla Bean Powder

1/2 cup

(

8 ounce

s) unsalted butter

1 cup

sugar

4

large eggs, room temperature and separated

2 teaspoon

s Rain's Choice pure Vanilla Extract

2/3 cup

pineapple juice or

1/2 cup

pineapple juice and 2 tablespoons dark rum
Topping
6 tablespoon

s unsalted butter

3/4 cup

packed brown sugar
Approximately

3 cup

s of pineapple slices cut into 3/8-inch thick slices (they don't have to be perfectly even)

2 tablespoon

s dark rum (optional)

1

10-inch cast iron skillet
Instructions
Preheat oven to 350 F.
Melt the butter in the skillet over medium heat. Add the brown sugar until the butter and sugar are well combined and slightly caramelized. Remove from heat and arrange the pineapple however you choose in the pan. Set aside.
Whisk flour, baking powder, cornmeal salt and vanilla powder together in a medium bowl and set aside.
In a medium bowl, cream the butter. Slowly add the sugar and beat for about 2 minutes, or until it's light and fluffy. Beat in the yolks, one at a time and add vanilla.
Add the dry mixture and liquid, alternating in 3 batches. If you are using single-acting baking powder, whip the egg whites first, then blend the dry and liquid ingredients.
In a separate bowl, beat egg whites until stiff peaks form. Fold ¼ of the egg whites into the batter until well combined. Add the remaining egg whites and fold into batter until no white streaks remain. Pour batter evenly into the cake pan, and bake until top is golden brown and cake tester comes out clean (about 60 minutes).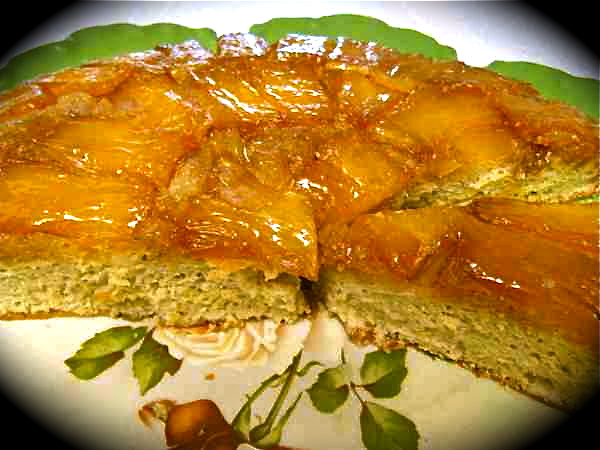 *For more information about pineapple as well as more recipes visit here.
Look Delicious?
Pin it for the world to see!
Patricia Rain
is an author, educator, culinary historian, and owner of The Vanilla Company (www.vanillaqueen.com), a socially conscious, product-driven information and education site dedicated to the promotion of pure, natural vanilla, and the support of vanilla farmers worldwide. She also does culinary presentations for food professionals, cooking schools, trade shows, food fairs, and private groups, and is a regular radio and TV guest.
Latest posts by Patricia Rain (see all)
Tags: pineapple, Pineapple Upside-Down Cake