Peanut Butter Cup & Cookies and Cream Cupcakes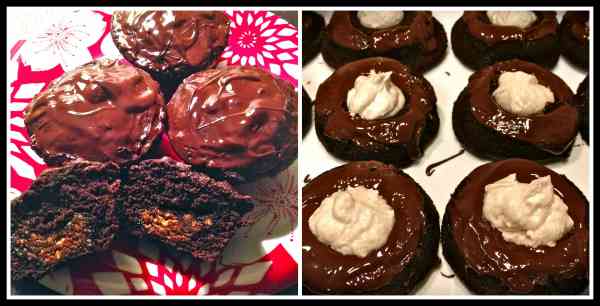 From Desserts in Jars 50 Sweet Treats that Shine by Shaina Olmonson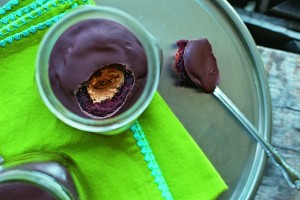 Peanut Butter Cup Cupcakes in a Jar
2014-09-03 11:48:12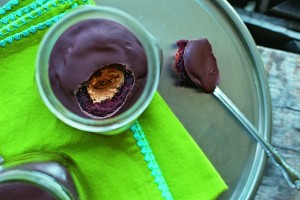 For the Cupcakes
1-1/2 cups granulated sugar
2 cups all-purpose flour
3/4 cup Dutch-process cocoa powder
1 teaspoon baking powder
1-1/2 teaspoons baking soda
1/2 teaspoon salt
2 large eggs
1 cup vegetable oil
3/4 cup buttermilk
1 teaspoon Rain's Choice pure vanilla extract
3/4 cup hot coffee or boiling water
For the Peanut Butter Filling
3/4 cup creamy peanut butter
1-1/2 cups confectioners' sugar
For the Topping
4 ounces dark chocolate, cut or broken into 12 pieces
roughly equal in size
Instructions
Preheat the oven to 350 degrees F. In a large bowl, sift together the granulated sugar, flour, cocoa, baking powder, baking soda, and salt. In a separate bowl, beat together the eggs, oil, buttermilk, and vanilla. Mix the wet ingredients into the dry ingredients. Whisk in the hot coffee just until incorporated. Set aside.
In a separate bowl, mix together the peanut butter and confectioners' sugar until smooth. Roll into twelve balls 1-1/2 - 2 inches in diameter. Scoop about 3-1/2 tablespoons of cupcake batter into the bottom of each of twelve 8-ounce jars. Place a peanut butter ball in the center of each jar and cover with an additional 2 to 3 tablespoons of batter. Wipe up any batter from the outside of the jar or around its rim.
Place the jars 2 inches apart on a large baking sheet. Bake the cupcakes for 18 to 20 minutes, until the tops spring back when touched. Remove from the oven, immediately place of of the chocolate pieces on top of each hot cupcake, and allow the chocolate to melt. Using hot pads, carefully tilt each jar so that the melted chocolate covers the surface of the cake. Let the cakes cool, and serve and room temperature.
Makes 12 individual cupcakes
https://vanillaqueen.com/
Cookie's & Cream
2014-09-04 13:31:10
Along the line of childhood favorites, by replacing the peanut butter filling with this simple vanilla cream filling, you've got a whole new treat. Prepare the cupcake above, glaze with the chocolate and top with the following cream filling. For these I used a donut pan to create a crevice for the filling, but using a jar will work nicely too.
Vanilla Cream filling
1 cup butter or spectrum palm oil
2 1/2 cups confectioners sugar
1 tablespoon Rain's Choice vanilla extract
Instructions
Mix and bake the cupcakes as stated in the chocolate peanut butter cup recipe above, minus the peanut butter filling.
Glaze with chocolate and cool.
While waiting for the glaze to cool, mix the butter sugar and vanilla with an electric mixer until fluffy and creamy. Top and serve.
https://vanillaqueen.com/

Look Delicious? Pin it for the world to see!
Patricia Rain
is an author, educator, culinary historian, and owner of The Vanilla Company (www.vanillaqueen.com), a socially conscious, product-driven information and education site dedicated to the promotion of pure, natural vanilla, and the support of vanilla farmers worldwide. She also does culinary presentations for food professionals, cooking schools, trade shows, food fairs, and private groups, and is a regular radio and TV guest.
Latest posts by Patricia Rain (see all)
Tags: Cake, cupcakes, On Chocolate, peanut butter, vanilla
Trackback from your site.