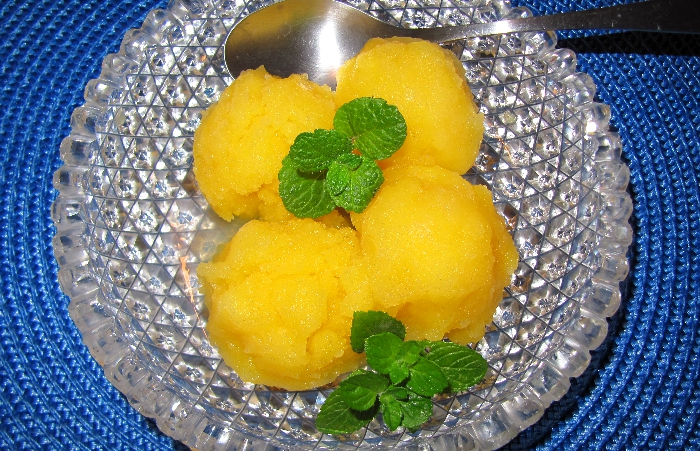 Can it really be possible to have summertime without frozen desserts? Anyone who fondly remembers the ice cream truck or going to an ice cream parlor and indulging in some of the amazing options, would agree that it would be a pretty boring summer without ice cream dripping down our sleeves whether it's a simple bowl of frozen sweetness or indulging in a sundae, milkshake or popsicles.
Sorbets are, at least in my mind, the grownup compromise to a really rich dessert after dinner. Because this blog is about both sorbet and creamsicles I've made orange sorbet. However, this recipe is good for tangerine, grapefruit and other fruit juice sorbets. Your choice. All you need to do is to adjust the sweetness of the juice accordingly. And, quite honestly, sorbets make a great palate cleanser when served at the end of a rich meal or between courses if you're pulling out the stops during the holidays or otherwise. So here are the recipes. Stop with sorbet or make creamsicles for everyone. One very grownup option, is to add a little Grand Marnier to the sorbet before freezing. Just don't add too much or it won't fully freeze.
To Make Creamsicles you can either make the orange sorbet recipe that follows as well as our really good vanilla ice cream, or you can purchase
both and move right on to making the creamsicles either in popsicle molds or by allowing the sorbet and ice cream to be just soft enough to swirl the two flavors together. I admit that I chose to buy freshly squeezed orange juice to save time. A pint of juice cost $1.99; a pint of ready-made, good quality sorbet cost $5.95.
Allow the ice cream and sorbet to soften until it's easy to spoon, but not so soft that it's about to melt. Spoon about 2 tablespoons of the orange sorbet into each mold and tamp it down. Add the ice cream using the same technique, leaving enough space at the top of the mold to add another 2 tablespoons of sorbet. When the molds are filled, put on the top to the mold, and insert the popsicle sticks into the slits provided. Freeze until very firm.
The easiest way to unmold the creamsicles is to fill a bowl large enough for the mold to fit with lukewarm water. Place the mold into the water for 20 – 30 seconds, then remove. Test one creamsicle to see if it comes out easily. If necessary, put it back in the water for another 15 seconds, and unmold.
I admit, I haven't had much experience with filling popsicle containers. My fantasy was there would be perfect delineations between the orange sorbet and the vanilla ice cream. As you can see, there aren't. I think I should have filled the orange sorbet then frozen it solid before adding the vanilla ice cream, froze it, and then added the last of the sorbet. The bottom line, however, is everyone went crazy for them so no one really cares in the greater scheme of things.
Print
Orange Sorbet and Creamsicles
2 cups fresh orange juice (from about 6 oranges or buy a pint of freshly squeezed orange juice)
2 – 3 tablespoons lemon juice
2 – 3 tablespoons agave syrup or honey (or more if needed)
1/2 teaspoon Rain's Choice pure Vanilla Extract
Instructions
In a bowl, mix juices, sweetener and extract. It should be slightly too sweet as it will taste less sweet when frozen). Chill until cold, 2 hours.
Churn in an ice cream maker until softly frozen, 15 to 20 minutes. Eat right away, or transfer to an airtight container and freeze until hard, at least two hours. Soften slightly and fluff with a fork before serving.
Latest posts by Patricia Rain
(see all)