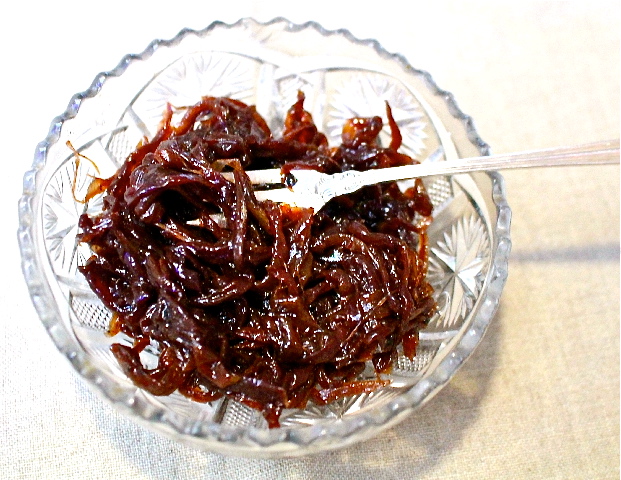 If you've ever eaten a burger, a sandwich or anything else that features caramelized onions, you likely had a wow moment — a how could something as humble as an onion be so sweet and pack so much flavor? Really. Onions?
So, in late November, as I was stalling as long as a I could before climbing out of bed and into the chilly morning, I started thinking about something new I could make to give friends and family for the holidays. Onion jam came to mind.
I'd never tasted onion jam, but I could imagine how it might taste. As onions are inexpensive, I planned making several cases of it as gifts. Off to the computer to explore the possibilities.
I was surprised by the amount of brown sugar in the recipes and that no oil was used. When onions caramelize, they're quite sweet. If you slow cook onions in olive or other vegetable oils, they will caramelize. Finally I came across a recipe for a savory onion jam in the lifestyle and food blog, Nourish and Nestle. It was significantly different from anything else I'd seen; the "aha!" I'd been seeking. I purchased several pounds of onions and got to work.
Key ingredients in preserving food are sugar and fat. I decided I would use about 1/3 of a cup of brown sugar to three pounds of onions to help caramelize them. And, while three pounds of onions doesn't sound like a lot, wait till you peel, slice and separate the individual pieces of three pounds of onions. It feels monumental, especially when tears pour down your cheeks and your nose runs. (Fortunately I had an appointment with my optometrist later that day. He suggested wearing swim goggles. It works.)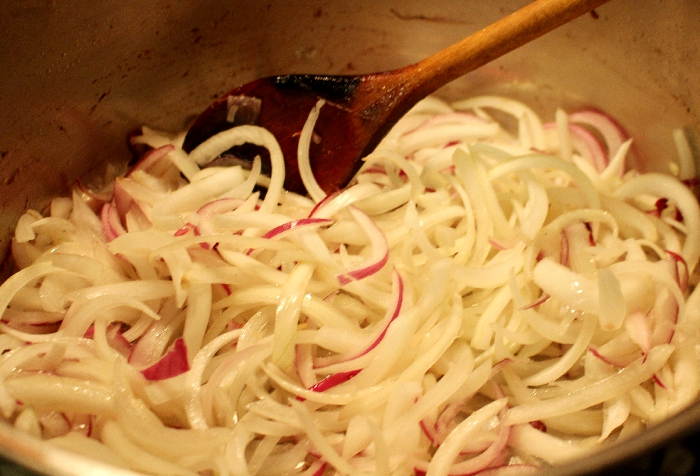 As far as spices are concerned, you can be creative. I think allspice is highly underused. It's really a great spice. I decided to use it instead of something mild like thyme. Glad I did. As for the wine, I used a Cabernet because I thought the tannins would provide a good balance to the sweetness of the onions. They do. However, in one of the batches I used part Cabernet and the rest of a bottle of Chardonnay. I liked it as well. We all know how I feel about vanilla, and of course it adds its own specialness.
There is one downside to this recipe. The onions cook down so much that nine pounds of onions produced roughly 3 pints of confit. Is it worth the effort? My family, friends and I were blown away by how incredible it is! Will I make several cases of it? Probably, but not in the time frame I originally envisioned.
I packaged the confit in 1/2 pint jars and then refrigerated them. You can process the confit for ten minutes if you want, but the reality is if you're giving the confit away as gifts, most people will use it right away. I also plan to make more to give to friends I will see in late January. And, while I really like the look of onion strands, you can save a significant amount of time by chopping the onions instead.
One last comment. I chose to call this recipe "onion confit" over "onion jam," as confit means to preserve. This is such an elegant condiment, it deserves the slightly exotic and elegant name.
Print
Onion Confit
Prep Time:

60

Cook Time:

120

Total Time:

3 hours
3 lbs of onions*
1–1/2 tablespoons olive oil
1/3 cup brown sugar
2 cups dry red wine**
6 tablespoons balsamic vinegar
1/2 teaspoon salt, or to taste
2 teaspoons freshly ground black or white pepper or to taste
1–1/2 teaspoons allspice
1–1/2 teaspoons Rain's Choice pure Vanilla Extract
Instructions
Peel the onions then slice in half lengthwise. Make a v-shaped cut at the base of each half to remove the root end. This will help to make separating the onion slices easier.
Slice the onions lengthwise in thin slices about 1/16" – 1/8" thick. Separate the onion pieces into individual strands. If you prefer, slice and chop the onions to a large dice.
In a heavy pot or Dutch oven, add oil and heat over medium-high heat until the oil shimmers. Reduce the heat to medium and begin adding the onion strands in thirds. When the first third begins to cook, stir well and add the second, repeat and add the third until all onions are cooking.
Cook the onions for 45 minutes on medium low heat, stirring frequently. When the liquid from the onions has evaporated, add the brown sugar, turn the heat up to medium, and allow the onions to begin brown and caramelize. Keep a close eye that they don't burn. When they are lightly caramelized, add the wine, vinegar, allspice, salt and pepper and bring to a boil.
Reduce heat and simmer for 45-60 minutes or until the liquid has reduced and thickened. Turn off the heat and add vanilla extract. Stir well, then allow the confit to rest and cool. The confit will keep for at least three weeks refrigerated.
Notes
*You can use any variety of onions. I used a blend of yellow, red and Maui sweet onions along with shallots.
** You can also use a blend of red and white wine or a dry white wine.
Latest posts by Patricia Rain
(see all)