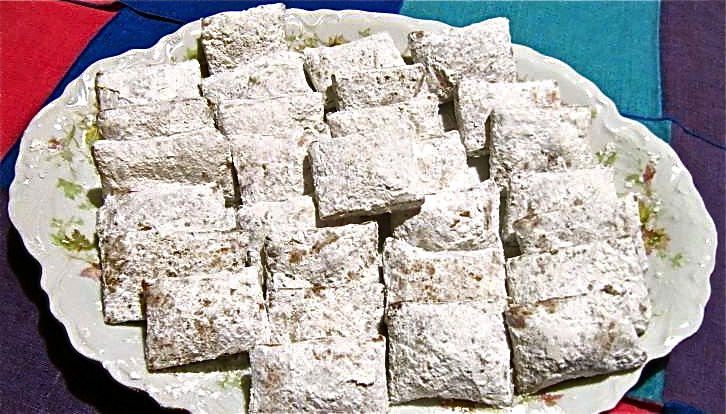 It's Fat Tuesday, the last day of Mardi Gras. Time to eat Beignets and drink Cafe au Lait, best made with a coffee-chicory blend or French Roast. Quite honestly though, you can make any day special by making and serving Beignets and you don't necessarily need Cafe au Lait, though, why not?
A suggestion: If you are gluten-intolerant or have a wheat allergy (I do), you can make this recipe by substituting a gluten-free bread or pizza blend one-for-one. I used Pamela's Bread Mix. The dough will not rise quite as much as it does with all-purpose flour, but the beignets will still puff up when fried. Also, if you have leftover beignets, they warm up nicely when put in the microwave for 10 – 15 seconds.
Be sure to wear an apron as the powdered sugar gets everywhere!
Print
New Orleans-Style Beignets
1 cup milk
1/4 cup sugar
3/4 teaspoon salt
1/2 teaspoon fresh nutmeg
2 teaspoons Rain's Choice pure Vanilla Extract
1 package active dry yeast
2 tablespoons lukewarm water
2 tablespoons vegetable oil
1 large egg
3–1/2 cups all-purpose flour
1 quart high-heat vegetable oil for frying
Powdered Sugar
Instructions
In a medium-saucepan, heat the milk to the scalding point but do not boil. Add sugar, salt, nutmeg and vanilla. Cool to lukewarm.
Sprinkle the yeast into warm water and stir until the yeast is dissolved.
Add oil, egg and dissolved yeast to the milk mixture and blend with a spoon. Transfer mixture to a large bowl and add the flour gradually, beating well until mixed. The dough will be very soft. Cover the bowl with a towel and set the bowl in a warm, draft-free place to rise until it doubles in size (about 1 hour).
Lightly flour a rolling board or work surface and gently knead dough. You don't want to activate gluten strands too much as dough will become tough. Roll dough to about a 1/4-inch thickness in a rectangle of about 12 x 18 inches. Cut dough into 2″ x 3″ rectangles (roughly 36). Don't worry if they're not perfectly the same size. Cover with the towel and let rise for about 45 minutes.
Add between 1/3 and 1/2 pound of powdered sugar to a plain brown bag.
Add frying oil to a heavy-bottomed pan. Add a candy or deep-frying thermometer to manage heat. Bring oil to 375 degrees, then carefully add beignet dough pieces to pan. Do not crowd.
Using a slotted spoon, turn beignets after 30 – 45 seconds so that they brown on all sides. Fry until golden-brown then remove and drain on paper towels.
When beignets are drained, toss into paper bag and shake well so that beignets are thoroughly covered with powdered sugar.
Notes
Leftovers? Warm beignets briefly in microwave.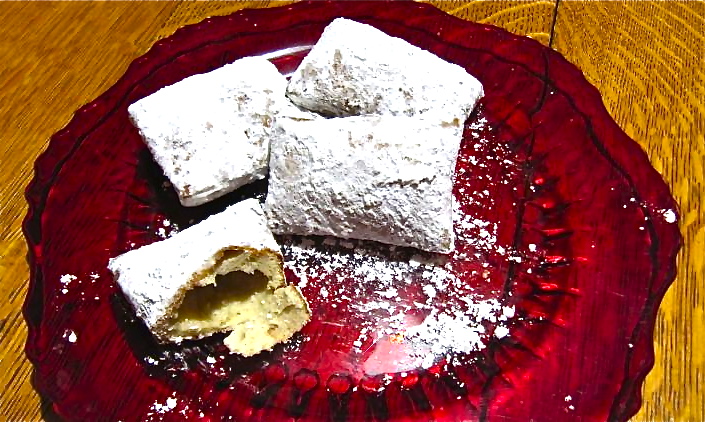 Latest posts by Patricia Rain
(see all)