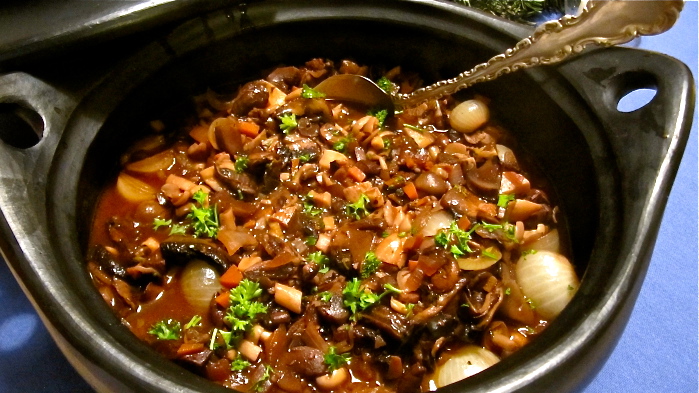 While perusing Food 52's weekly recipes for inspiration recently, there was a post for Mushrooms Bourguignon. I was planning a New Year's Eve dinner for friends and wanted an elegant option for my vegan friends. What could be more elegant than a variety of meaty mushrooms in a flavorful, dressed-up sauce?
This is my spin on the recipe, which I altered some. Instead of straight portobellos, I used as variety of specialty mushrooms, including shitakes, alba clamshells and royal trumpets as well as portobellos and the smaller cremini mushrooms.
Instead of beef broth, which is the classic broth used for Boef Bourguignon, I used mushroom broth, which emphasized the beautiful earthiness of the mushrooms, and I used Zinfandel wine, which is a smooth, mellow red that's an excellent match with this dish.
I served the mushrooms over a brown and wild rice pilaf, but wild rice pancakes would be exceptional if you're up for the bit of extra work required, and buttered egg noodles egg noodles or potatoes gratin are two other worthy options.
This recipe was a huge hit with all of my guests and very impressive. Perfect for a special party or romantic dinner for two.
Print
Mushrooms Bourguignon
3 to 4 tablespoons fruity olive oil
2 tablespoons butter, softened (substitute Earth Balance if making a vegetarian entree)
2 pounds 1/4-inch thick sliced mushrooms*
1–1/2 cups pearl onions fresh, if possible, or use frozen, thawed
1/2 carrot, finely diced
1 large shallot or medium cippolini onion, if available, diced
1 teaspoon fresh thyme leaves
3 cloves garlic, minced
1 cup full-bodied red wine, such as Zinfandel or Burgandy
2 cups mushroom broth if possible or substitute vegetable broth
2 tablespoons tomato paste
1–1/2 tablespoons all-purpose flour
1/2 – 3/4 teaspoon Rain's Choice ground Vanilla Bean Powder
Sea salt and pepper to taste
Sour cream (or vegan sour cream) and chopped chives for garnish (optional)
Instructions
Heat two tablespoons of olive oil and one tablespoon of butter or Earth Balance in a medium Dutch oven or heavy sauce pan over high heat. Sear the mushrooms and pearl onions until they begin to take on a little color, but the mushrooms do not yet release any liquid — about three or four minutes. It helps to do this in a few batches. Remove them from the pan and set aside.
Lower the flame to medium and add another tablespoon of olive oil or a little more if needed. Toss the carrots, onions, thyme and a few shakes of salt and cook for about 10 minutes, stirring occasionally, until the onions are lightly browned. Add the garlic and cook for just 1 more minute.
Add the wine to the pot, scraping any stuck bits off the bottom, then turn the heat all the way up and reduce it by half. Stir in the tomato paste and the broth. Add back the mushrooms and pearl onions with any juices that have collected and once the liquid has boiled, reduce the temperature so it simmers for 20 minutes, or until mushrooms are very tender.
Combine remaining butter, flour and ground vanilla powder, with a fork until combined; stir it into the stew. Lower the heat and simmer for 10 more minutes. If the sauce is too thin, boil it down to reduce to the right consistency. Season to taste.
To serve, spoon the stew into a serving bowl and sprinkle with chives. Serve sour cream on the side.
Notes
While you can use just portobello or cremini mushrooms, consider some of the more exotic mushrooms such as shitake, alba clamshell or royal trumpet or chantrelles, mixed in with the more standard mushrooms if they're available in your market. You will achieve a richer, more full-bodied flavor this way. If you are nervous about the vanilla, you won't easily taste it in the dish, but it showcases the mushrooms and sauce, as vanilla works well as the backup chorus to the main flavors.
Adapted from Food 52
Latest posts by Patricia Rain
(see all)