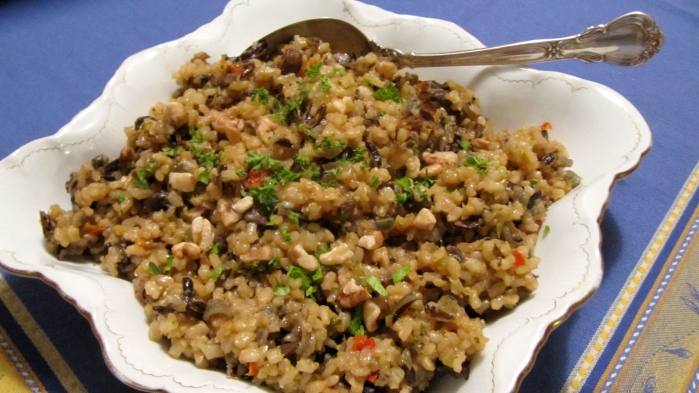 At the risk of being stoned to death for blasphemy, I admit that I have never liked bread stuffing! From the time I was very young, I always helped my mother tear the pieces of stale bread into a big bowl (without the crusts, of course) and mix the bread, onions, celery and herbs as she blended in the butter. I wasn't crazy about the sage, but mostly I didn't like the mushy texture or how it made me feel after eating it. In fact, I've been allergic to wheat my entire life though we didn't know this when I was a child.
My allegiance has always been to rice and wild rice dishes, whether served as pilaf or stuffed inside a holiday turkey or especially fancy roasted chicken. It has substance, tooth, texture, crunch and a variety of pleasing flavors and it's good the next day and the day after and can be served as a side dish or as the base for anything from a beef stew to roasted tofu to simple slices of roast beef or chicken.
This recipe serves 8 but is easy cut in half or even into quarters with a small tweak here and there. I highly recommend it. Feel free to substitute pine nuts or pecans — even pistachios — for the walnuts, skip the dried fruit and even change the herbs. Make it yours!
Print
Brown and Wild Rice Pilaf
2 tablespoons olive oil
1 medium onion, chopped
2 ribs celery, finely chopped
1 – 2 cups of mushrooms, chopped
1/2 – 1 cup chopped red bell pepper (optional)
1 or more garlic cloves minced
2 teaspoons fresh sage leaves thinly sliced
1 – 2 tablespoons parsley, minced 1 teaspoon cumin
Salt and freshly ground pepper to taste
2 cups brown rice
4 cups vegetable or chicken stock or water
1/4 cup dried cranberries or sour cherries
1 cup cooked wild rice
1 teaspoon Rain's Choice pure Vanilla Extract
2 tablespoons butter, melted
1/3 cup pine nuts, pecans or walnuts, toasted
Instructions
In a stock pot or 4 – 6 quart container, heat 1 tablespoon oil. Saute onions for 5 minutes on medium heat, until they are becoming soft.
Add another tablespoon olive oil and add celery, mushrooms, red bell pepper, garlic and sage, Cook until they soften and take on color, adding a little more oil if needed. Add parsley and cumin and season with salt and pepper.
Add brown rice to pot along with liquid for cooking. Stir and put lid on pot. Bring to boil then reduce heat to high simmer.
When rice is partially cooked, add cranberries or cherries. Continue to cook until moisture is absorbed. Stir once again, add vanilla extract, then turn off heat and allow to finish cooking. If necessary, add a little more liquid.
Add in cooked wild rice and melted butter and mix well. Adjust seasonings. Top with pine nuts or tree nuts.
Latest posts by Patricia Rain
(see all)