Print
Murbe Teig
Pastry Crust
2–1/2 cups flour
2 teaspoons baking powder
2 tablespoons sugar
1/2 pound (2 cubes) chilled unsalted butter
1 egg, beaten
1 teaspoon Rain's Choice ground Vanilla Bean Powder or 1/2 teaspoon Rain's Choice pure Vanilla Extract
2–3 pounds of apricots, plums, nectarines, peaches, or apples, sliced into 1/2 – 1-inch slices (larger if your prefer)
Streusel Topping
1–1/3 cups granulated sugar
1 teaspoon cinnamon
1/2 teaspoon Rain's Choice ground Vanilla Bean Powder or
1 teaspoon Rain's Choice pure Vanilla Extract
Salt
2–1/2 tablespoons flour
1/8 pound (1/2 cube) melted butter
Instructions
Preheat oven to 350 degrees F.
Sift flour and baking powder together into a medium-large mixing bowl. Mix in sugar. Cut chilled unsalted butter into the pastry, either by grating it with a grater or with a pastry cutter. You can also put the flour, etc. into a food processor and add the butter in small pieces to blend. Don't over-blend it. Add egg and ground vanilla bean powder or extract, and blend in.
Mix well. Press into a half-sheet baking pan. You can partially bake the crust to keep fruit juices from softening the pastry crust, or simply cover the pastry crust with sliced fresh plums, apricots, peaches or apples. Large pieces of fruit can be used or thin slices overlapped if you want a very densely laden fruit dessert. You will need roughly 2 pounds of fruit.
In a medium bowl, blend together the streusel topping ingredients using a fork, until the ingredients are blended together — small lumps of streusel are fine. Using your fingers, spread the streusel evenly over the entire sheet of fruit. No need to press it in.
Bake 30 minutes or until fruit is tender and topping has caramelized the top of the pastry.
Serve at room temperature or warm. Lightly whipped cream is optional but delicious!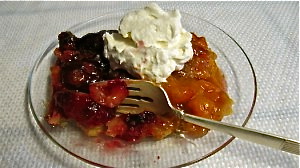 Look Delicious?
Pin it for the world to see!
Latest posts by Patricia Rain
(see all)