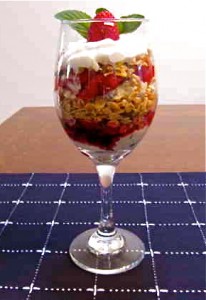 Print
Maple Brunch or Dessert Parfaits
6 ounces reduced-fat cream cheese (Neufchatel), softened
2 tablespoons Greek yogurt
2 teaspoons Rain's Choice pure Vanilla Extract
1 tablespoon maple syrup
2 cups fresh raspberries, blueberries, sliced strawberries and/or sliced stone fruits
1 cup Maple granola
Topping
4–8 tablespoons plain Greek yogurt
Maple syrup to taste
1/2 teaspoon Rain's Choice pure Vanilla Extract
Instructions
In a medium bowl, combine cream cheese, yogurt maple syrup and vanilla. Beat with an electric mixer on medium speed until smooth.
In four glasses or glass bowls, layer half the cream cheese mixture, half the fruit and half the granola. Repeat layers. Top with mint leaves or a large berry.
Recipe for Maple Granola.
Look Delicious?
Pin it for the world to see!
Latest posts by Patricia Rain
(see all)