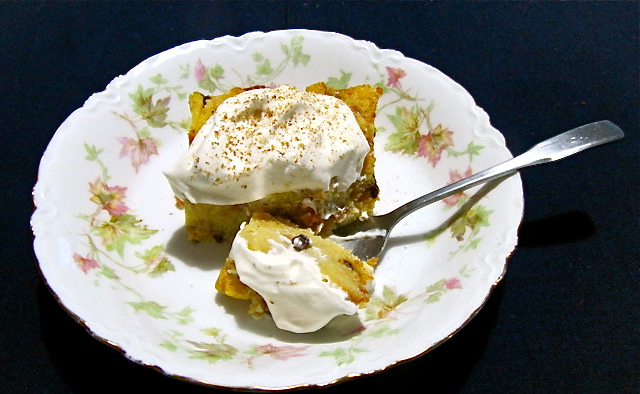 It's the end of the holiday season. You're cleaning out the refrigerator and discover a big chunk of stale pound cake wrapped in foil. Or, there's the nut cake you were gifted; you've meant to serve it before now but it's gotten too dry. No need to waste what you've already got as stale cake just begs for new life!
Dry cake? Bathe it in spirits! Years ago, friends of mine discovered a holiday cake I had given them months before that had gotten lost in the back of their refrigerator. Full of butter, sugar and nuts, it was essentially fine, just very dry. They doused it in rum or brandy (I don't remember which, but either works), then wrapped it in a cloth soaked in spirits and tucked it into a plastic bag. Two weeks later they had a party and the cake was a hit.
A slightly crazy-but-delicious option, especially if the leftover cake is pound cake, is French Toast. Make it just like you would with stale bread and serve it with Creme Fraiche and berry jam, or Gianduja (homemade nutella). Decadent, sure, but it goes well with the Sunday paper or even as a mid-week dessert. You can also toast sliced stale cake then smear it with butter or jam, another simple, guilty pleasure.
Pound cake, sponge cake, angel food or chiffon cake stars in your own version of Trifle. You can make a large bowl of Trifle for a party, or use jam jars for individual servings. Here's my recipe for Lemon Trifle; make your own version with what you've got on hand.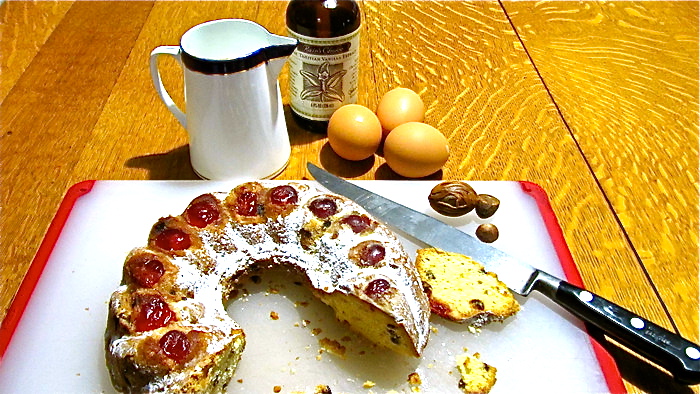 And then there's Cake Pudding! Infinitely more interesting than Bread Pudding and so adaptable for making it however you'd like. If you've never made bread pudding, it's basically stale bread that is covered with a rich custard and baked. Except now cake's the star. I had an Austrian pannetone that had spent 15 months in the freezer and needed repurposing. Filled with almond pieces and currants and dotted with glaceed cherries, it didn't need additions to make it interesting though I added allspice and nutmeg to the custard base. However, instead of allowing an even balance of cake and custard, I wanted to use the entire cake so I wedged it into the casserole dish, then poured the custard over it. The cake soaked up the custard but there was just enough custard to give it a creamy texture. Want it more "custardy?" Use less cake.You can add chocolate chips or syrup, nuts, caramel sauce or increase the custard by a third for a really creamy dessert. Who knew leftover cake could be so much fun? What's your favorite stale cake redux?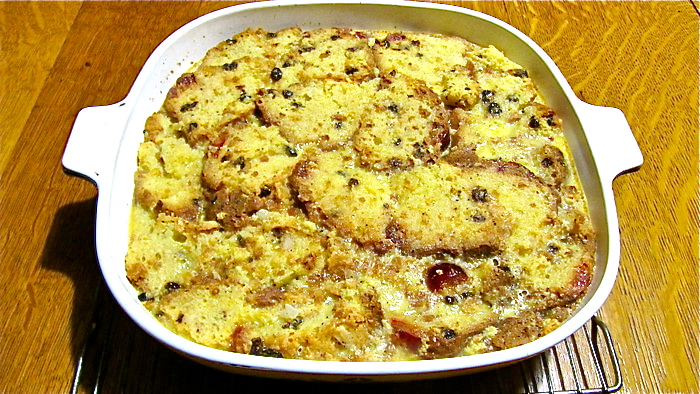 Print
Let Them Eat Cake Pudding!
Leftover pound cake or other dense cake — the equivalent in weight to seven or eight pieces of good quality white bread (about 8 ounces)
5 large eggs
1 cup sugar or less depending on sweetness of the cake and personal taste
1–1/4 cup light cream
1–1/2 cup whole or 2% milk
2 teaspoons Rain's Choice pure Vanilla Extract
1 teaspoon each fresh allspice and nutmeg
Topping
1 cup whipping cream
2 tablespoons confectioners' sugar, sifted
1 teaspoon Rain's Choice pure Vanilla Extract
Instructions
Preheat oven to 375 degrees.
Cut cake into pieces about 1/4 – 1/3 inch thick and layer the bottom of a 3 quart casserole dish with the cake. For creamier pudding, don't layer the cake pieces tightly together. Set aside.
In a large bowl combine eggs, sugar, cream, milk, vanilla and spices. Whisk until well blended. Pour the mixture over the cake.
Using a spatula or the back of a spoon, press down on the cake to help the liquid soak into the cake. Cover with plastic wrap and allow the pudding to rest for at least 30 minutes.
While the pudding is doing its magic, adjust the oven to 350 degrees.
Heat up a quart of water to boiling.
Remove the plastic wrap and place the cake pudding into a larger pan and put it on the center rack in the oven. Carefully pour boiling water half-way up the side of the pudding dish.
Bake for 35 – 45 minutes or until the pudding is golden brown and the custard is full set.
Carefully remove the pudding from the water bath and set it onto a rack to cool.
Serve pudding warm or at room temperature. Pass whipped cream or substitute ice cream if preferred.
Notes
If you don't want to use whipped cream or ice cream, you can lightly dust the pudding with confectioners' sugar or serve it just as it is. You can also serve sliced bananas or strawberries or fresh raspberries on the side.
Latest posts by Patricia Rain
(see all)