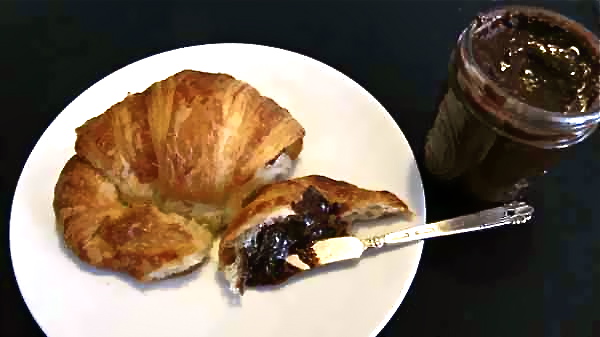 The first time I had Nutella was in a very unlikely place — on the island of Tahiti! Because Tahiti is a French Protectorate, all kinds of delicious European treats are readily available in markets, except on some of the smaller islands. Also, fresh baguettes are delivered several times a day to even lowly gas station convenience stores! It was crazy wonderful.
At any rate, I was staying at a pension where they provided natural alarm clocks for everyone, in the form of a band of semi-wild chickens. Fortunately, they also served breakfast, which included the aforementioned baguettes along with a variety of jams and Nutella. Although the baguettes were no longer warm, they were very fresh and the Nutella was the perfect antidote for a night during which I was wakened several times by dueling roosters. Even better, I sat next to a small group of Italians who had grown up on Gianduja (same thing only homemade), and we visited cheerfully in a mixture of Italian (them) and Spanish (me). It was a watershed moment.
My absolute favorite way to use Gianduja is on a fresh croissant in the morning or butter cookies with afternoon tea or evening dessert. Make sure to warm the spread first, either in a microwave, or in a pan with hot water on low heat as it's easier to spread and so much more delicious!
You can use skinned walnuts or almonds if you wish. I imagine you could even use pistachios. This is how the paste should look. Not as thick as peanut butter but well ground: When you add the chocolate, cream and butter, use a whisk. It will not be completely smooth as there are tiny bits of hazelnut. This spread is so much better than Nutella — richer, less sweet, and much more flavorful! An easy, delicious gift to yourself and others.
Print
Gianduja — Homemade Nutella
2 cups hazelnuts, mostly skinned
1/4 cup sugar
1 pound semisweet or bittersweet chocolate, coarsely chopped
1 stick unsalted butter, cut into pieces, at room temperature
1 tablespoon Rain's Choice pure Vanilla Extract
1 cup heavy cream
1 /4 teaspoon salt
Instructions
Preheat the oven to 350 degrees F. Spread the nuts on a baking sheet and roast until deep brown, about 15 minutes. Let cool completely. Rub the nuts in a kitchen towel to remove the skins.
Grind the hazelnuts and sugar in a food processor until a paste forms, about 1 minute.
Place the chocolate in a medium metal bowl. Set the bowl over a large saucepan of simmering water until the chocolate is melted. Remove the bowl from the heat; then add the butter and vanilla and whisk until completely incorporated. Whisk in the cream and salt, then the hazelnut paste.
Pour gianduja into jars, dividing equally. Let cool.
Notes
Spread will keep well for several weeks in the refrigerator (if it lasts that long).
Latest posts by Patricia Rain
(see all)