Jam Cakes are a quick, cheerful, dessert with ingredients that you're bound to have, unless you haven't been to the store in weeks. The recipe makes six or more cupcake size "cakelets," depending on the size of your tins. Perfect when you can't stop thinking of something sweet but you don't want an entire cake. That said, the recipe is a snap to double.
Use whatever type of jam you'd like. In the photo above I used tart cherry jam I bought thinking it had more than just cherries. However, it was almost entirely cherries, with only a bit of jam binding it. I had the last of a jar of raspberry jam in the fridge, so I briefly warmed it in the microwave, then pressed it through a sieve to remove the seeds. I blended the cherries into the jam and added a big squeeze of fresh lemon juice along with a tiny bit of tart cherry juice. Voila, lots of cherries and lots of "jamminess" too.
For the icing I used some of the raspberry-cherry jam along with some tart cherry juice and blended it with the powdered sugar. My plan was to place a fresh cherry on top of each, but the cakes had a slight mound on top and I realized the cherries wouldn't stay put. But, there were enough cherries in the jam to place one tart cherry on top of each little cakelet as well as to tuck one plus jam into the dough for the signature treat in the more-or-less middle of each. I brought them to a Memorial Day gathering, everyone said, "Ooohhh" in unison, and they were gone in a matter of minutes.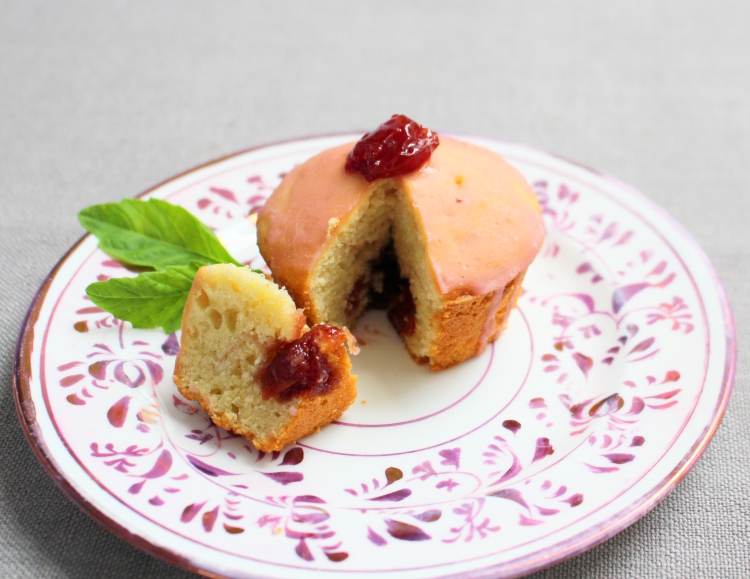 The cherries were heavier than just jam, so they sank to the bottom. As soon as they had cooled a bit, I gently pushed them up slightly. I then put the cakelets into cupcake papers and no one was any the wiser. Because the topping is drizzled over the top of the cakes, you can't effectively bake them with the cupcake papers.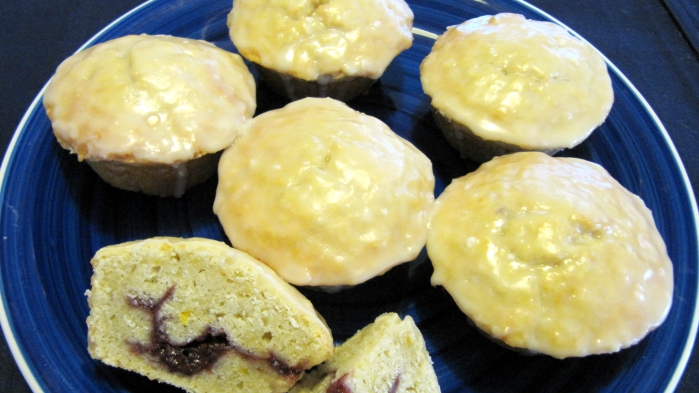 In this photo I made the recipe as it's written and filled the centers with homemade raspberry jam. The combination of the citrus glaze and the berry jam balanced nicely.
I used the citrus glaze on another batch of cakelets and filled them with homemade Lemon Curd. Sometimes I've skipped the glaze and simply dusted them with powdered sugar. Perfect for an afternoon treat or packed for lunch at school or work.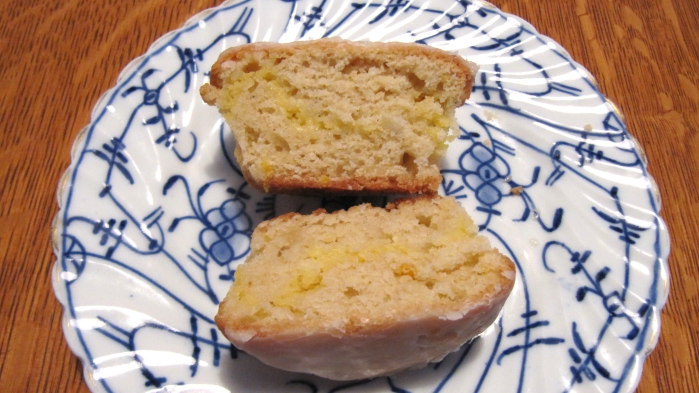 The upshot is, play with the recipe and flavor them however you wish. You can even make a chocolate glaze and put Nutella in the centers. The best part about having something special in the center, is the unexpected additional surprise, making every bite a treat!
Print
Jam Cakes
1/2 cup (1 stick) unsalted butter, room temperature
3/4 cup sugar
1 teaspoon finely grated orange or tangerine zest
2 large eggs, separated
1 teaspoon Vanilla Bean Paste or 2 teaspoons Rain's Choice pure Vanilla Extract
1–1/2 cups all-purpose unbleached flour
1/2 teaspoon baking powder
1/4 teaspoon salt
1/4 cup milk
12 teaspoons jam or lemon curd
1–1/2 cups powdered sugar
1/4 cup freshly squeezed orange or tangerine juice
Squeeze of fresh lemon juice (amount to taste)
Instructions
Preheat oven to 350 degrees F. Butter a standard 6-cup muffin tin; set aside.
In a medium bowl, beat butter, sugar and zest until light and fluffy. Beat in egg yolks one at a time until creamy; set aside. Into a small bowl, sift together flour baking powder and salt. Add flour mixture and milk to butter mixture; set aside.
In a clean bowl, whisk egg whites to soft peaks; fold into batter. Divide half of the batter among muffin cups. Make an indentation in the middle of each; fill with 2 teaspoons jam. Top with remaining batter.
Bake until a cake tester inserted in top cake layer comes out clean, about 30 minutes. Unmold cakes and transfer to a wire rack to cool. In a small bowl, whisk together powdered sugar and juices. Place rack over parchment or wax paper; drizzle cakes with glaze. Let glaze set up then drizzle again until glaze is used.
Look Delicious?
Pin it for the world to see!
Latest posts by Patricia Rain
(see all)