Jam Cakes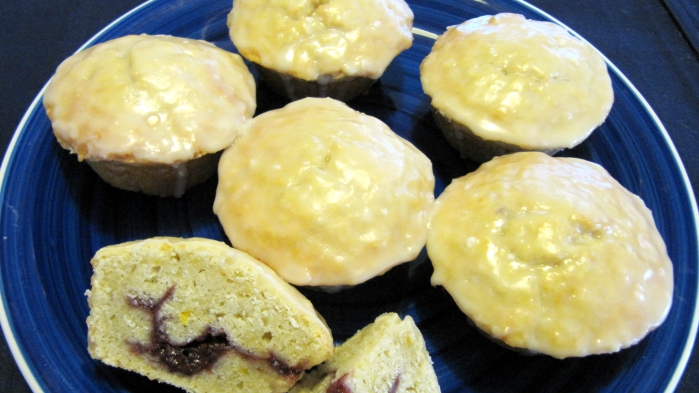 Jam cakes are a quick-to-make dessert with ingredients usually found in refrigerators and pantries. The recipe makes six or more cupcake size "cakelets," depending on the size of your tins. You can use whatever type of jam you'd like. In the photo above I've used raspberry jam. In the photo below I used lemon curd. The cakelets were very lemony and delicious. I've also sometimes skipped the glaze and used powdered sugar instead. Perfect for an afternoon treat or packed for lunch at school or work.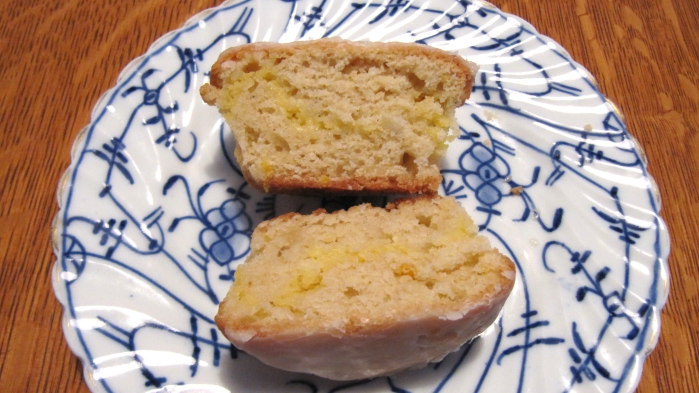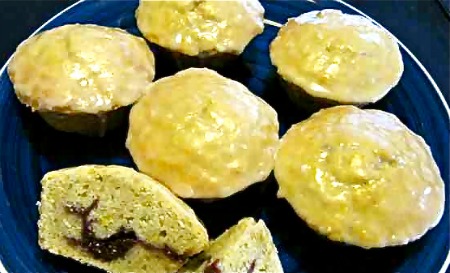 Jam Cakes
2017-03-27 21:06:36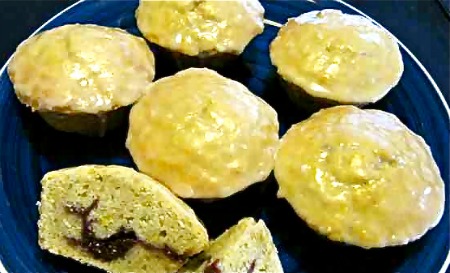 A simple, delicious recipe for
Ingredients
1/2 cup (1 stick) unsalted butter, room temperature
3/4 cup sugar
1 teaspoon finely grated orange or tangerine zest
2 large eggs, separated
1 teaspoon vanilla bean paste or
2 teaspoons vanilla extract
1-1/2 cups all-purpose unbleached flour
1/2 teaspoon baking powder
1/4 teaspoon salt
1/4 cup milk
12 teaspoons jam or lemon curd
1-1/2 cups powdered sugar
1/4 cup freshly squeezed orange or tangerine juice
Squeeze of fresh lemon juice (amount to taste)
Instructions
Preheat oven to 350 degrees F. Butter a standard 6-cup muffin tin; set aside.
In a medium bowl, beat butter, sugar and zest until light and fluffy. Beat in egg yolks one at a time until creamy; set aside. Into a small bowl, sift together flour baking powder and salt. Add flour mixture and milk to butter mixture; set aside.
In a clean bowl, whisk egg whites to soft peaks; fold into batter. Divide half of the batter among muffin cups. Make an indentation in the middle of each; fill with 2 teaspoons jam. Top with remaining batter.
Bake until a cake tester inserted in top cake layer comes out clean, about 30 minutes. Unmold cakes and transfer to a wire rack to cool. In a small bowl, whisk together powdered sugar and juices. Place rack over parchment or wax paper; drizzle cakes with glaze. Let glaze set up then drizzle again until glaze is used.
https://vanillaqueen.com/
Look Delicious?
Pin it for the world to see!
Patricia Rain
is an author, educator, culinary historian, and owner of The Vanilla Company (www.vanillaqueen.com), a socially conscious, product-driven information and education site dedicated to the promotion of pure, natural vanilla, and the support of vanilla farmers worldwide. She also does culinary presentations for food professionals, cooking schools, trade shows, food fairs, and private groups, and is a regular radio and TV guest.
Latest posts by Patricia Rain (see all)
Tags: Jam Cakes, Teatime Jam Cakes